Bugles blown: Mayawati flags off campaign for UP 2017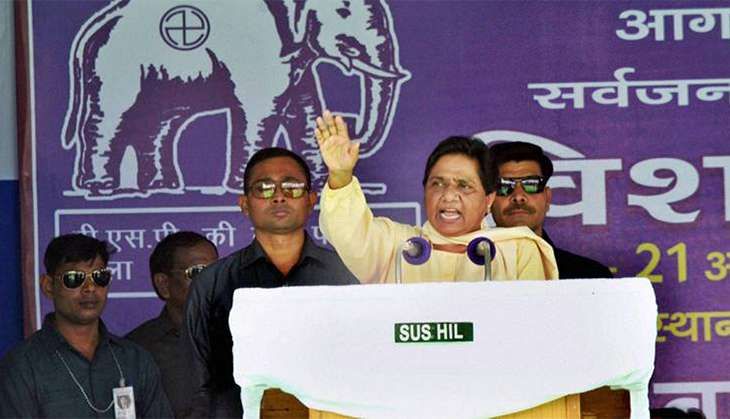 Twenty one days after BJP President Amit Shah had to cancel his Agra rally when his party failed to gather 40,000 Dalits, BSP supremo Mayawati on 21 August, Sunday, showed who is the boss in UP.
In a show of strength, thousands congregated at the Kothi Meena Bazar leading to jams across Agra and many complained of how they couldn't even reach the venue. Shah too had chosen Kothi Meena Bazar as the venue for his rally which never happened.
A strategic attack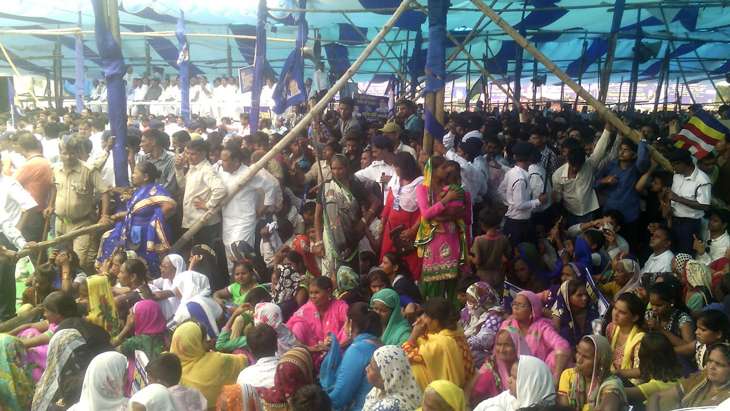 Catch Team
Sounding the bugle for the 2017 UP assembly elections, BSP chief trained her guns at the BJP, especially Prime Minister Narendra Modi, for his failed promises and policies. Targeting RSS chief Mohan Bhagwat, Mayawati said, "RSS chief says Hindus should produce more children, but would he ensure food for them. He should first arrange food for these children."
On Saturday, Bhagwat in a public meeting at Agra, had claimed there is no law that forbids Hindus from having more children and that they should do it to keeping the national interest in mind.
Also read - Battleground UP: how Mayawati is laying the groundwork for 2017
Attacking the BJP government, Behenji said, "Modi government lied on bringing back the black money and his government wants to end reservation. Ever since BJP has come to power, Muslims are being targeted and the right-wing forces are exploiting them." She added that Modi government has failed at all levels and that their policies are not becoming reality on ground.
Her scathing attack on the BJP and RSS was strategic since Behenji has upped the ante on Dalit-Muslim consolidation which she believes could see her return as the chief minister for the fifth time.
Choosing Meena Bazar as the venue for her first rally in the run up to the assembly was part of this strategy since it falls in Dalit-dominated Agra Cantt and borders Muslim dominated Agra South assembly constituency.
Another reason for choosing Agra over others is that it elected the highest numbers of legislators from this district as compared to others in the state. BSP has 6 MLAs from the district. While Agra Cantt, a reserved constituency, is represented by BSP MLA, Mayawati has announced Barkat Ali as its candidate from Agra South for the 2017 elections. She is hoping of Muslims supporting her not only here but elsewhere as well.
With this intent, she will hold her next rally in Mulayam Singh Yadav's Muslim-dominant Azamgarh. With elections just around the corner, she will hold a rally every week beginning next month.
Grabbing the bull by the horns
The recent attacks on Dalits and Muslims have given Mayawati an opportunity to woo these two segments that hold the key to who rules the state whose politics defines the predominant narratives of India's politics. She even spoke about Daya Shankar Singh, who recently referred to her as prostitute, and said, "Those who spit towards the sky should know that it falls back on them."
On allegations of BSP selling tickets to aspirants, Mayawati said, " I want to ask our opponents, you say the BSP is a spent force, we are finished then why would people be so interested in buying our tickets? The truth is that other parties want to malign us."
Adding to it, she said, "In BJP ruled states, Dalits are being harassed, be it Rohith Vemula or Gujarat or what Daya Shankar Singh said about me." Taking jibes at Congress and BJP, the BSP chief said that sharing meals with Dalits means nothing. She even accused UP chief minister Akhilesh Yadav for supporting anti-social elements in the state. "The state government is only interested in helping goondas and mafias."
Two hours later for the rally, Behenji came on stage amongst thunderous applause and cheers by crowd of close to a lakh. The cheering continued as Mayawati spoke for an hour where she appealed to Dalits hoping they stand by her in the forthcoming elections.
With Dalits constituting 21% of the state population, Mayawati has every reason to woo this electorate and if she gets a share of the 18% of the Muslim population, no one can rule out the possibility of her toppling Akhilesh Yadav.
More in Catch - Mayawati shows who's boss, reshuffles BSP rank and file
BJP's Mission UP: Veterans sulk as outsiders lead Amit Shah's army