Boost for Cong in Mumbai: veteran Kamat to reconcile with party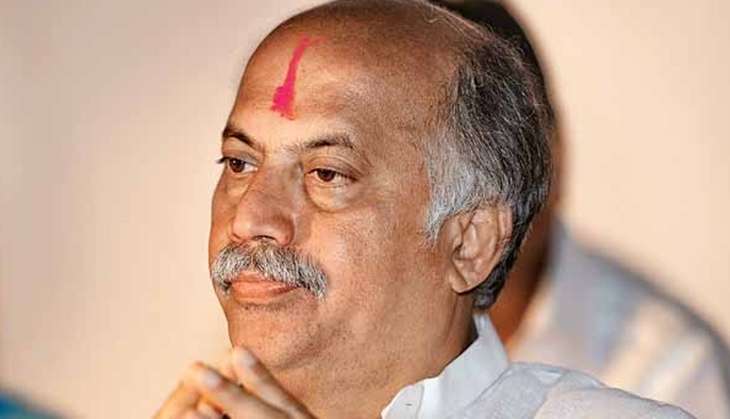 The frustration
Veteran leader Gurudas Kamat had resigned from the Congress on 6 June
He was frustrated at the high command not listening to him when it came to his forte - Mumbai politics
The reconciliation
The Congress had insisted that Kamat was a part of the family, and didn\'t accept his resignation
Now, desperate attempts to convince him to return are beginning to bear fruit
More in the story
Why the Congress needs Kamat in its fold
The internal politics of the Mumbai Congress, and whose head will roll to placate Kamat
Two weeks after veteran Congress leader Gurudas Kamat resigned, desperate attempts by the party leadership to convince the Maharashtra politician to return to the party fold are beginning to pay dividends.
Congress insiders claim that Kamat could take back his resignation after a deal was brokered between him and the central leadership.
Also read- Congress leader Gurudas Kamat resigns, quits politics
It seems Congress general secretary and Maharashtra state in-charge Mohan Prakash could be made the scapegoat to accommodate Kamat before the crucial Mumbai Municipal Corporation (MMC) elections, to be held early next year.
Considered a Congress stalwart in Mumbai, Kamat's absence could have an adverse impact on the grand old party's chances of wresting control of the MMC.
"He could even work against party interests if he is not allowed a say in Mumbai politics. This should be a major cause of concern for the party, considering the overwhelming support he has in north-east Mumbai," said a Congress leader.
Kamat vs Nirupam
While Kamat's demand to replace Sanjay Nirupam as president of the Mumbai Regional Congress Committee has not been accepted, the party is likely to axe Mohan Prakash to appease him.
Reportedly, Kamat has been sulking ever since Nirupam's promotion as regional chief. Even the party's decision to nominate Narayan Rane as an MLC candidate was opposed by Kamat.
The decision to give prominent positions to 'outsiders' didn't sit well with Kamat, considering that both Rane and Nirupam were earlier with the Shiv Sena.
"Those who grew up in politics criticising the Congress and its leadership are now being given preference over those who have dedicated their lives in service of the party. This was bound to create factionalism within the party, and since Rahul Gandhi was firmly backing Nirupam, Kamat was not left with many options," said a Mumbai-based Congress leader and Kamat sympathiser.
Nirupam and Kamat have been at loggerheads ever since the former was made the Mumbai Congress chief. In fact, Kamat had publicly chided the party for appointing Nirupam.
Since then, Kamat's supporters have repeatedly complained of being sidelined from day-to-day party affairs. These differences led to a widening of the rift within the Mumbai Congress unit, and this feud became public when Kamat decided to miss two of Rahul Gandhi's events held in Mumbai, in January and April.
When the high command didn't respond
Upon being repeatedly ignored by the central leadership, Kamat finally tendered his resignation on 6 June, and, in a text message to his supporters, he wrote: "Over the last more than 44 years, I have worked with most of you and served the Congress. For several months now, I have felt I need to take a back seat, to enable others to get the opportunity. I met the honourable Congress president about 10 days ago and expressed a desire to resign."
In the same message, he mentioned that he had written letters to Sonia and Rahul Gandhi, and since they didn't respond, he would like to 'retire from politics'.
Must read- 'Since there was no reply': What Gurudas Kamat is not saying
Days after his message, the Congress said rejected his resignation and said no to his wish to quit politics, claiming that he was to be "an integral part of the Congress family".
In fact, party spokesperson Randeep Singh Surjewala "categorically and squarely" rejected reports of his decision. "He was, is and will always remain a part of the Congress family. I am certain Congress leadership will discuss with him his future role and responsibility in the party, so that it can benefit from his experience," he had said.
Such is Kamat's popularity amongst Congress workers in Mumbai that a day after his resignation, 25 Congress corporators offered their resignations in solidarity with Kamat. But the issue was taken care of after Kamat requested them to not do so.
Since then, there has been speculation about Kamat taking back his resignation and returning to active politics, which now seems a certainty.
Worried about the party's fate in Rajasthan and Gujarat, of which Kamat was the state in-charge, Congress leaders were aware how he had led to the party's revival in these BJP-ruled states. His exit could further jeopardise the party's plans of taking on the BJP, especially in Gujarat, where the Congress has been out of power since 1995.
Fourth resignation
Those who have observed Kamat's politics claim that his resignation was "a deft political move", which he has repeatedly used to his advantage.
"He has a history of tendering resignations," said one of his rivals within the party. In fact, this is the fourth time Kamat has resigned over differences with the party high command. In 1988, he quit as the All India Youth Congress president, in 2008 as Mumbai Congress president, and in 2011, as Union Minister in the UPA government.
On all these occasions, the party leadership persuaded him to get back on board. The Congress is hoping that this time too, the 62-year-old will yield to its efforts to persuade him.
Edited by Shreyas Sharma

More in Catch
Sonia calls, Gurudas Kamat answers; will fly to Delhi to discuss issues
Lesson for Cong in Haryana RS fiasco: Don't ignore ground realities
Congress in crisis: Grand Old Party, same old problems