BJP slams Mamata govt after Bengal PWD blocks Amit Shah, Bhagwat events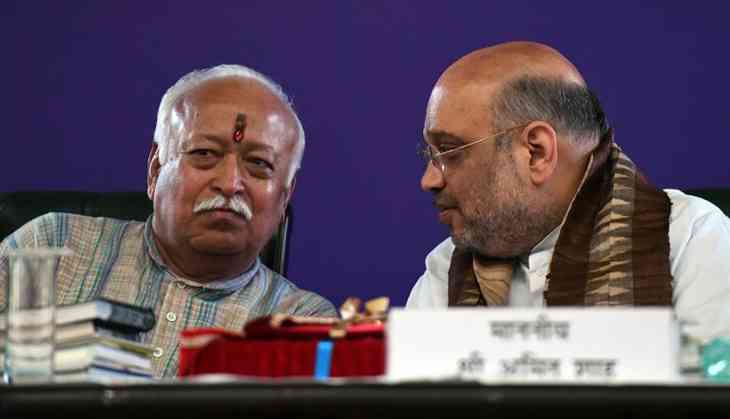 West Bengal BJP had big plans in the weeks to come. While BJP President Amit Shah was supposed to inaugurate a party programme in Netaji Indoor Stadium, RSS Chief Mohan Bhagwat was to do the honours at Mahajati Sadan to mark Sister Nivedita's 150th birth anniversary.
However, the All India Trinamool Congress (AITC) government ruined their plans by denying permission to hold both events. The state Public Works Department (PWD) informed BJP's state unit that the stadium space would not be available for the programme due to PWD work scheduled there and mentioned same for Mahajati Sadan as well.
According to senior officials of Bengal BJP, the programme in Netaji Indoor Stadium, the one Shah was to attend, was scheduled for 11 September. PWD's cancellation thus comes just a week before the set date.
The Mahajati Sadan was booked by the Sister Nivedita Menon Trust for 3 October, Sister Nivedita's 150th birthday.
Rantidev Sengupta, general secretary of Sister Nivedita Mission Trust said, "We have been told by the state PWD officials that they will be conducting repair work from 26 September till 6 October, and so our booking has been cancelled. We are looking for an alternative place to host our program."
This double cancellation has sent the state unit into a tizzy with members calling it a conspiracy on AITC's part.
A section of BJP leaders said that if state PWD department was supposed to conduct repair work, they should have informed the party at the time the venues were being booked. According to them, this is just a conspiracy to not allow the BJP to conduct any political programmes.
"This is a conspiracy hatched against us by the ruling Trinamool Congress government. They knew very well that we could gather enough supporters when Amit Shah inaugurates the BJP worker's meet and so they have canceled the event. We will continue our program as per schedule in different locations, but we won't cancel it," Dilip Ghosh, state BJP president said.
"State PWD has told us that they will conduct repair work during this time and even members of the Trinamool Congress Chhatra Parishad (TMCCP) came and requested for a booking at Mahajati Sadan on last week of September. We have canceled that too. BJP is unnecessarily trying to create a political issue out of it," Jyotipriyo Mullick, state minister in charge of food supplies department said.
Adding to this cry for conspiracy, Governor of Tripura, Tathagata Roy, tweeted –
Those who canceled Mahajati Sadan booking are so sick,no courage to say out loud the real reason. Instead,they give the stupidest of excuses

— Tathagata Roy (@tathagata2) September 5, 2017
Mahajati Sadan was booked for Nivedita Mission Trust,in which PP Mohan Bhagwatji was to speak. Booking suddenly canceled on a langda excuse

— Tathagata Roy (@tathagata2) September 5, 2017
Soon after Roy's tweets, AITC spokesperson Derek O'Brien responded with –
Is this man really the Governor of a State? https://t.co/nANyjlyhPG

— Derek O'Brien (@quizderek) September 5, 2017