BJP's own Robert Vadra? Anandiben's daughter Anar caught in land row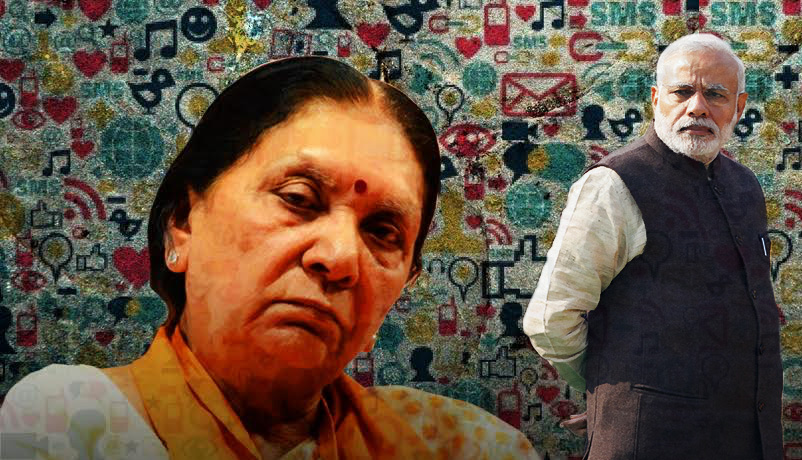 The allegations
Anar Jayesh Patel is Gujarat Chief Minister Anandiben\'s daughter
A company run by Anar\'s business associates was given 250 acres of land at throwaway prices
The pressure
Thanks to the allegations, pressure is mounting on Anandiben to quit
The heat may also singe PM Modi, who was Gujarat CM when the deal occurred
More in the story
Anandiben and party chief Amit Shah don\'t get along - will he ask her to resign?
Why are some in the BJP calling Anar the party\'s own Robert Vadra?
Gujarat Chief Minister Anandiben Patel is under tremendous pressure to quit. And it's because of her daughter, Anar Jayesh Patel.
Allegations have surfaced that a company run by Anar's business associates was allotted 250 acres of land near the Gir lion sanctuary at just Rs 15 per square metre.
The heat may also singe Prime Minister Narendra Modi's fingers. After all, when the alleged transaction took place, Modi was the CM and Anandiben the revenue minister in his cabinet.
MUST READ: Exclusive: AcheDin for Guj CM Anandi Ben'd son. His co. shares zoom 850% in 18 months
The alleged transaction
A company called Wildwoods Resorts & Realties was given 250 acres of land near the Gir sanctuary at an official rate of Rs 15 per square metre. The notified value of this land was around Rs 50 lakh per acre at the time.
Wildwoods was also allegedly given permission to buy 172 acres of agricultural land and change its land use from agricultural to non-agricultural.
Wildwoods was given 250 acres of land at Rs 15 per sq m. Its notified value was Rs 50 lakh per acre
Wildwoods' current owners, Dakshesh Shah and Amol Shripal Sheth, have close business ties with Anar Patel. They took over Wildwoods in 2011-12.
According to the Economic Times, Shah has a 50% stake in Anar's company, Anar Project Limited. Shah's firm Parshva Texchem is a co-owner of Wildwoods, and also has substantial share in Anar's Relish Pharmaceuticals. Shah is also director in at least three companies owned by Anar.
The report cites documents filed with the Registrar of Companies to claim "a host of transactions between companies that received the government's land allotment as well as other companies run by Shah and Sheth and companies where Anar Patel has significant equity presence".
'BJP's own Vadra'
Senior BJP leaders see this imbroglio as a major setback to Modi's proclamations of a corruption-free India. One such leader compares this episode to the disputed land dealings of Congress president Sonia Gandhi's son-in-law, Robert Vadra.
Also read: Solve Patel problem or quit: BJP to Guj CM Anandiben
"The party has put the Congress in the dock over Robert Vadra's business affairs. But Anandiben's daughter could prove to be BJP's own version of Vadra," the leader says.
Sources in the BJP say party president Amit Shah will soon discuss the matter with the Prime Minister. But they also say that Shah has made up his mind to seek Anandiben's resignation over the issue. He refused to respond to queries posed by Catch in this regard.
The BJP has so far maintained a studied silence on the issue. It has refrained from fielding its brigade of spokespersons in Anandiben's defence. The spokespersons are apparently waiting for guidelines from Shah before taking a stand.
Plot against Anandiben?
Political pundits are wondering why this matter has surfaced just over a year before Assembly elections are due in Gujarat. Political circles as well as the BJP itself is rife with speculation that it is the result of intra-party rivalry.
Observers believe a faction of BJP leaders is working to weaken Anandiben's position. These leaders have apparently leaked the documents related to this alleged scam.
It is worth mentioning that Shah and Anandiben have always shared an uneasy relationship. Both leaders are barely on talking terms. This despite the fact that they have worked under the same Modi dispensation in Gujarat for years. While Shah is Modi's most trusted lieutenant in the party, Anandiben also enjoys close ties with him.
Despite being two of the PM's closest aides, Amit Shah and Anandiben are barely on speaking terms
Few people know that Shah was not very keen on Anandiben's ascension as the Chief Minister of Gujarat. But he couldn't do much as he was not party president at the time. He eventually agreed to Anandiben's appointment with a heavy heart, but not before he was assured of a plum post in the party organisation by Modi.
This rift was evident when Shah recently got a second term as the party president, his first full term. Anandiben reportedly refused to attend Shah's coronation, citing ill-health. Sources say she changed her mind only when the Prime Minister personally called her to insist that her presence was necessary.
Pressure builds
The people at the centre of the row, Anar Patel, Dakshesh Shah and Amol Sheth, have refuted all allegations, stating that "all transactions were above board".
In a Facebook post on Friday, Anar wrote: "To do ethical business with social morality is everyone's right. So far, whatever I did, I did it in a righteous manner, building reliability. I get hurt when people have assumptions and judgements for one's morality. Truth always prevails and I abide by it with humanity."
However, this has not deterred the Congress from crying foul. It has demanded Anandiben's immediate resignation and a Supreme Court-monitored SIT probe. Senior party leader Anand Sharma accused the PM of turning a blind eye towards this land deal.
Also read: Gir land deal row: Congress demands resignation of Anandiben Patel, targets PM Modi