BJP's Lakshmi Bai: Dayashankar Singh's wife Swati party's new trump card
Uttar Pradesh is now witnessing a tussle between Dalit pride and Kshatriya self-esteem.
Dayashankar Singh was expelled from the BJP for spewing vitriol against Mayawati. However, the party is now preparing to use Dayashankar's wife Swati Singh as its trump card for its upper caste politics.
Also read- Mayawati worse than a prostitute, says BJP leader. Modi to pay the price
A belligerent Swati has opened a front against Mayawati for the below-the-belt remarks made by BSP leaders against her family. She is now evoking the pride of the Kshatriyas to rally the caste behind her.
After Dayashankar's comments, Mayawati had raised the question of a woman's dignity; Swati has now projected herself as the answer to that question. And while Mayawati is raking up the issue as a question of Dalit honour among her core support base, Swati is responding in kind. She has also pointed towards the mental agony faced by her 12-year-old daughter and mother-in-law following the controversy.
Also read: Allahabad: Row over poster depicting Mayawati as Shurpanakha, Dayashankar's wife Swati as Durga
A new Kshatriya face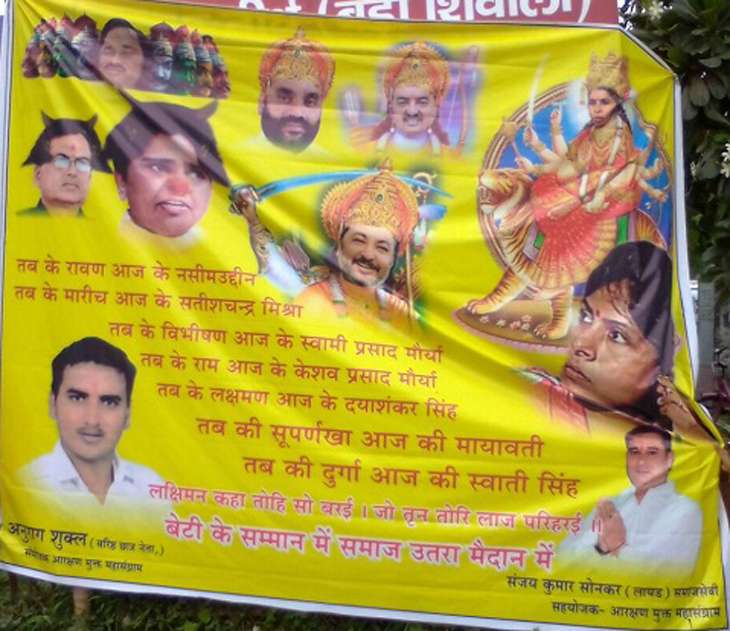 A controversial poster demonising Mayawati and calling Swati Singh 'Durga' (Photo: Rajasthan Patrika)
The BJP leadership is astute enough to realise the political dividends hidden in this battle. The upper castes constitute the core vote bank of the party. It cannot afford to lose these votes.
At a time when the Samajwadi Party is projecting Raghuraj Pratap Singh (Raja Bhaiya) and Revati Raman Singh as its Kshatriya faces, the BJP is seeking to bolster its Kshatriya vote bank by capitalising on this issue. And Swati is the latest ace up its sleeve in this electoral calculation.
There are speculations that Swati might be fielded as a BJP candidate in the upcoming state polls. Swati will project herself as a victim, in all likelihood, to garner the votes from her community. BJP may also use her as a star campaigner in the Poorvanchal region.
There is also a possibility that Swati might contest elections as an independent candidate, in order to garner support from other Kshatriya leaders, who would otherwise be opposed to the BJP.
Modern Rani Lakshmi Bai
Swati is an MBA and LLM by training, and possess a firebrand personality. The BJP will try to portray her as a new age Rani Lakshmi Bai by raising the issue of 'mental torture' inflicted on her family by BSP leaders.
Swati is likely to find an appeal among the youth, and even Kshatriyas tilted towards other parties will find difficult to oppose her. They might even be forced to support her.
Her case is reminiscent of Raja Bhaiya's political career. Authorities' action against him played a major role in catapulting him to a position of prominence as a Kshatriya leader, despite his long criminal record.
Raja Bhaiya's house was raided and he suffered a loss of property. Riding on the wave of sympathy, Raja Bhaiya's wife successfully contested elections, while the husband emerged as an influential Kshatriya leader in the state.
The BJP wants to repeat the same story in Dayashankar and Swati's case.
Amit Shah's folly
There is no doubt that Dayashankar Singh has proved to be a liability for the BJP. His single statement has foiled his party's efforts at engineering a new social formula ahead of the elections.
In the words of a senior BJP leader, "This single incident has proved to be a setback for Modi's attempts to woo Dalits and other backward segments during the past two years."
Ironically, Modi and his party can hardly blame anyone for this fiasco. It would have been easier for the party to distance itself from the controversy by passing the blame to some senior leader. However, Dayashankar was BJP national president Amit Shah's own choice. Shah had handpicked him for the post of party vice-president, to balance Rajnath Singh's influence.
Dayashankar was once Rajnath's protege, but the two leaders fell apart in 2012. Since he became one of Rajnath's detractors, Dayashankar has associated himself with various factions in the party.
Several news reports suggest there is a clamour for Dayashankar's return within the party. But, senior BJP leaders reject such rumours as a figment of the media's imagination. According to them, the party will not commit the mistake of bringing back a controversial leader. It would rather flaunt Dayashankar's expulsion among Dalits and other backward classes as proof of its commitment towards their concerns.
At the same time, it would strengthen its mass base among upper castes by projecting Swati. Dayashankar was BJP's mistake by all means. Now, it wants to turn this mistake to an advantage by catapulting Swati into the electoral arena.
Edited by Shreyas Sharma
More in Catch
Arrest Dayashankar Singh for his misogynistic remark, demands Mayawati
Dayashankar Singh is an 'illegitimate child': BSP MLA's response to 'prostitute' barb
BSP workers' abuse also deserves condemnation, but not from BJP