BJP's headache in Himachal: Dhumal or JP Nadda as CM nominee in 2017?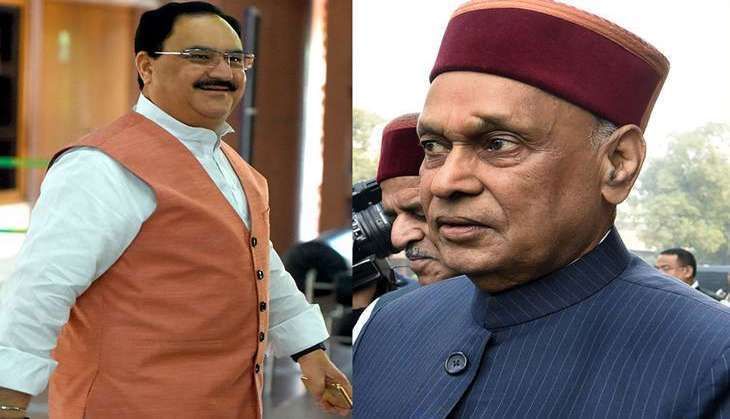 The BJP in Himachal Pradesh is in a fix over who to project as the chief ministerial candidate in the 2017 assembly election - JP Nadda or Prem Kumar Dhumal?
His supporters believe that Dhumal, former chief minister and Leader of the Opposition, remains the most dominant personality in the party and, thus, the front runner. But the proximity of the central health minister to Narendra Modi and Amit Shah is making them nervous. Nadda's recent statement that he was ready to be the CM nominee if the party so wished has only added to the confusion.
Also Read: Rise of Anurag Thakur; the perfect mix of cricket and politics
The statement has rattled the BJP unit, which had been marching behind Dhumal.
Earlier too, in June, Nadda, speaking at the BJP Prashikshan Shivir in Kullu, had indicated he could return to the state politics ahead of the 2017 election. "I am a staunch party man. I resigned as a cabinet minister in Himachal to move to Delhi to serve the party. And even today, I am ready to take any responsibility entrusted by the party high command," he had said.
Considered close to the two most powerful men in the BJP - Modi and Shah -- Nadda has subtly left it to the high command to take a call on his future. It is believed that Nadda wouldn't have made such a statement if he didn't have the high command's backing, particularly Shah's.
State BJP leaders though are apprehensive about Nadda taking centrestage, arguing it would have "serious repercussions" for the party. "If Nadda does become the chief ministerial candidate, the BJP will have to sit in opposition for yet another term. Except for his proximity to the PM and Shah, he has no mass base in the state," said a BJP leader on the condition of anonymity.
This leader added that in Himachal, the Congress and the BJP have taken turns to rule, but history could be made if Nadda is given preference over Dhumal. "Even the corruption allegations against Congress chief minister Virbhadra Singh would not be able to stop the Congress from returning to power."
Dhumal and Nadda have been at loggerheads with each other and it is said that the latter was forced to resign as the state forest minister in 2010 due to his differences with the former. Dhumal then got a breather when Nadda was taken out of state politics and sent to Delhi to take up a national role.
Also Read: Is Virbhadra Singh favouring Gautam Adani to get CBI off his back?
After his resignation as state minister, Nadda was appointed by the then BJP president Nitin Gadkari as the party's national general secretary, apparently for his organisational skills. During this stint, Nadda managed to impress Modi and Shah and was given the charge of Union Health Minister in the BJP government.
Tracing his roots to the RSS, Nadda was a leader of the ABVP and later worked with both Gadkari and Shah in the Bharatiya Yuva Morcha from 2001 to 2004. He gained such prominence that he was even considered as a potential replacements for the then BJP president Rajnath Singh. Ultimately, it was Shah who took over as president, but Nadda continued to be on the best of terms with him.
His projection as the chief ministerial candidate, however, will certainly face opposition from Dhumal, who has the backing of the BJP's state unit. In fact, three-time state party president Satpal Satti has already endorsed Dhumal's candidature: "The next assembly election will be fought under Prem Kumar Dhumal's leadership as he is well conversant with state politics."
A popular leader from Hamirpur district, Dhumal has been chief minister of the state in 1998 and 2007 and is known for his connect with the masses. He also boasts of close ties with the central leadership. He, thus, poses a tough challenge to Nadda, who is yet to prove his mettle in state politics, not least when it comes to taking everyone along.
"They are pushing Nadda's candidature but it won't be easy to sideline Dhumal who has the party in his iron grip," said another BJP leader.
Dhumal, however, has a weakness of his own. He has been facing heat over promoting his son Anurag Thakur in state and national politics, much to the envy of some younger leaders.
Still, Dhumal and Nadda's jockeying for primacy notwithstanding, the final call is likely to be taken by the party's high command. But whatever the call, it is bound to have some fallout. The ruling Congress would be hoping that Nadda is declared as the CM candidate as that would give them an outside chance of staging a comeback.
Also Read: Going strong against all odds: what makes Virbhadra tick in Himachal?