BJP may look South for Gopal Gandhi opponent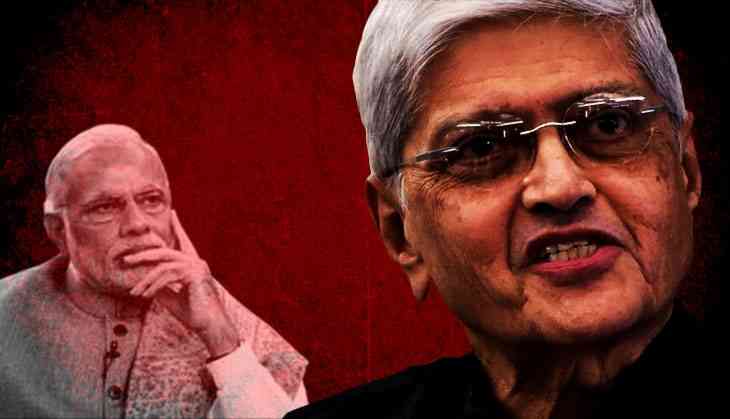 Gopal Krishna Gandhi seems to have put the Bharatiya Janata Party in a quandry. The Narendra Modi government stole a march over its detractors when it named Ram Nath Kovind, a Dalit, as its presidential candidate. But now the Opposition move to nominate the Mahatma's grandson for vice-presidentship has stumped the ruling side.
The BJP seems to be finding it difficult to mount a challenge against the widely respected former diplomat, also a grandson of Chakravarty Rajagopalachari. While not many would hazard a guess, and BJP chief Amit Shah might well pull out another rabbit from his hat, speculations are rife that the party's VP nominee could be from South India.
"Gopal Krishna Gandhi is widely respected and going by his credentials and his noncontroversial image, it is difficult to oppose him. But at the same time, the party does not and will not support him. There is a strong case for nominating someone from South India," said a source.
Shah had talks with RSS chief Mohan Bhagwat who has been camping in the national capital. A decision regarding this will be taken during the party parliamentary board meeting which is slated for the week.
With the BJP mostly refraining from commenting on Gandhi's candidature, political observers feel it is an indication of their discomfort.
"Unlike in the case of Kovind, it will not be smooth sailing for the BJP challenging Gandhi. Besides his lineage, Gandhi has an impressive record both as a diplomat and as the Governor of West Bengal. The party's silence so far on the issue, perhaps is an indication of that," said Professor Sabyasachi Basu Ray Chaudhury, the Rabindra Bharati University Vice-chancellor.
"It is quite difficult for the BJP to oppose Gandhi. So they would look to challenge him on the lines of caste or religion and of course, region. The BJP would certainly look to put up someone from the South," added the Basu Ray Chaudhury.
Party sources too indicate that its choice could be someone from the south to boost its prospects and expanse in the region.
The deets about Gandhi
A known Modi-baiter, Gandhi has been persistently criticising Modi and his policies. In a recent column, Gandhi described Modi's visit to Israel "ill-advised".
After all, for a party whose chief described Mahatma Gandhi as a "chatur bania", it's a compulsion to oppose his grandson's candidature.
"More than his credentials what matters, is that Gandhi is a partisan character fielded by the Opposition. BJP has numbers and needs a Vice President of its choice to be heard in the Rajya Sabha where it is in minority. The BJP has a compulsion to oppose him and they are sure to find some reasons to oppose him. The BJP could field someone from the tribal community or a woman to challenge Gandhi," said Prof Prakash Sarangi of Ravenshaw University.
According to Sandeep Shastri, National Coordinator, Lokniti Network, the rectifying regional imbalance would be a big consideration.
"The BJP would prefer somebody from the South because too many posts are with politicians from the North. It is virtually monopolised by the North. So they would like to go somebody from the South especially at a time when it is facing criticism for imposing Hindi in the South," said Shastri.
U-Turn?
Gandhi's candidature saw the coming together of arch rivals Trinamool Congress and the CPI(M). Will the BJP also pull off a surprise by supporting him?
Professor G Nancharaiah of Hyderabad University feels it could be a possibility.
"Modi repeatedly invokes Gandhi whether for Swachh Bharat or Gau Rakhsha. Gandhi's name continues to be relevant and influential till today. Opposing someone of Gandhi's lineage might not suit Modi. Gopal Gandhi has an impressive record so opposing him might backfire for the BJP. So it wouldn't be surprised if the BJP actually supports him," said Nancharaiah.
"Going by Gopal Gandhi's South Indian links, parties from the region are likely to support him as well. The JD(U) has supported him and there is a likelihood that even the Shiv Sena may do the same. All these factors may well play a role in BJP ultimately doing what may seem too improbable to many," he added.
Edited by Jhinuk Sen