BJP leaders back firecrackers: Guess Patakhas are Hindu after all!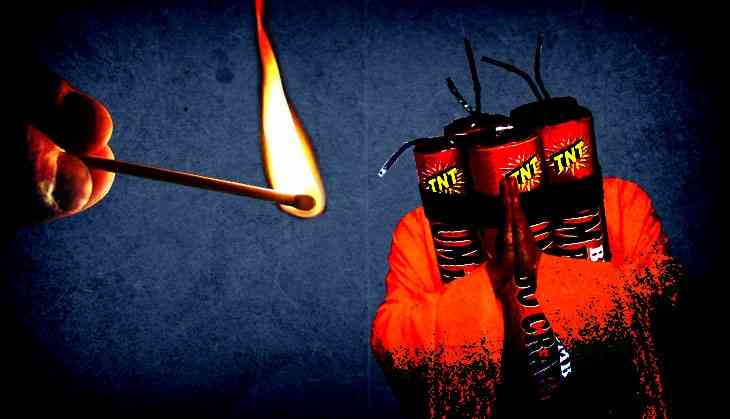 In the entire arsenal of crackers Delhiites used to hoard before Diwali every year, the "Laxmi bomb" had a place of pride. At the top was, of course, the king of "bombs", the colloquial name for firecrackers in North India, the "Aloo bomb", but "Laxmi bomb" was only one shade less impressive.
Given the fragile sentiments of Hindutva fundamentalists, it was surprising how a large movement never came up protesting the association of a Hindu goddess with a tube full of explosive powder that shred the image of the goddess into pieces.
The absence of that kind of opposition is finally beginning to make sense. Crackers, after all, are Hindu and bursting them is a Hindu thing. Just like feasting on mutton on Eid is a Muslim thing. At least this is what BJP would like the country to believe.
Officially, the party has not denounced the Supreme Court's order banning the sale of firecrackers in Delhi and NCR till November 1. However, some BJP leaders have clearly let it be known that they are against the ban and will in fact support efforts to bypass it.
To be sure, traders are also upset with the top court's order but that's because the order came very late in the day, just 10 days short of Diwali. They had already stocked their shops and godowns with firecrackers worth lakhs and will now incur huge losses because none of those will be sold.
The BJP leaders' opposition to the ban, however, has nothing to do with these concerns. They feel that the court's reasoning of crackers causing pollution is a sham and that the real reason behind the ban is a concerted attack on Hindu festivals and, by extension, Hinduism.
The spokesperson of BJP's Delhi unit, Tajinder Bagga, is running a campaign to distribute crackers free of cost in slums.
We got 1.5 lakh . 60,000 in Bank too https://t.co/dBogu1Fr72

— Tajinder Bagga (@TajinderBagga) October 10, 2017
Bagga claims the ban is an attack on Hindu festivals and he is fighting it to save his religion.
#PeoplesCourt
Ban crackers throughout the year. Why are these bans imposed only at the time of Hindu festivals?: @TajinderBagga, BJP pic.twitter.com/AMlU8yncrw

— India Today (@IndiaToday) October 10, 2017
#FirecrackerDebate Same crackers are equally dangerous on New Year & Christmas. Ban on Diwali only is against Hindu tradition: Mr Bagga, BJP

— Republic (@republic) October 10, 2017
धर्मो रक्षति रक्षितः https://t.co/i47oQYRE9H

— Tajinder Bagga (@TajinderBagga) October 10, 2017
Interestingly, Bagga has also said his campaign will not be a violation of the court's order because only sale of firecrackers has been banned, not free distribution and bursting.
Some Media friends asking,This is contempt of Court?
No,Court banned selling,we are distributing free, 2nd bursting is allowed. https://t.co/BS1ZsehabN

— Tajinder Bagga (@TajinderBagga) October 9, 2017
Bagga is not alone in the BJP. Senior party leader Bhupendra Singh, Home Minister of Madhya Pradesh, tweeted out Diwali wishes early this year and added an invitation to 'friends in Delhi' to celebrate the festival in his state. In Madhya Pradesh, there is full freedom to burst crackers, Singh proudly announced.
मध्यप्रदेश में पटाखे जला कर दीवली मनाने की पूरी स्वतंत्रता है।उमंग के साथ दीवाली मनाइये, दिल्ली के मित्रों को भी म प्र आमंत्रित कीजिए।

— Bhupendra Singh (@bhupendrasingho) October 10, 2017
उमंग, आवेग, उत्साह, जोश, सहित प्रफुल्लता से दीवाली मनाएं, मध्यप्रदेश सरकार पूरे वर्ष पर्यावरण संरक्षण के लिए काम करती है, किसी एक दिन नहीं। https://t.co/mGcyk1JkMq

— Bhupendra Singh (@bhupendrasingho) October 10, 2017
That this sentiment against the SC order is widespread in the Sangh Parivar circles has been made clear by the disdain openly put out by the right wing eco-system on social media.
Can I just ask on cracker ban. Why only guts to do this for Hindu festivals? Banning goat sacrifice and Muharram bloodshed soon too?

— Chetan Bhagat (@chetan_bhagat) October 9, 2017
Now it's a time for 107 crores Hindus stand up for ur rights unless u will be ignored in our own country.
F*ck secularism
#CommunalCracker

— Rony Rajput (@rony_rajput123) October 9, 2017
Cutting Oaks on Xmas/Butchering Animal on Eid/Crackers On New Year, IPL, Award fun/Election Result/Loudspeaker Are Secular.#CommunalCracker pic.twitter.com/56OO6tK3kp

— Raushan Raj (@AskRaushan) October 9, 2017
True this...#CommunalCracker Delhi-NCR pic.twitter.com/8O4uw4qUS6

— Truth Prevails ॐ (@Anurag4Bharat) October 9, 2017
#CommunalCracker horrible decision by SC, cutting the Hindu ties, we are slaves in our own country, cant even celebrate Diwali, is this Curse for India, but other Communities Cherish with no restrictions-why always Hindus made to Suffer in a country of 85% Hindus-foolish Hindues

— Jai Hind (@Gautam13878864) October 9, 2017
RT if you think 'Crackers Ban' is wrong. People who oppose Diwali with Crackers, dares to oppose Bakr-Eid with Blood? #CommunalCracker

— Sara Ali Khan (@SaraKhanWorld) October 9, 2017
Wn will Courts ban namaz on roads, azan on loudspeakers & bloodshed on Eid & Muharram, that'll mk bans truly secular!#CommunalCracker

— RD (@DharRenuka) October 9, 2017
Is it just a matter of time before the BJP endorses this campaign officially?