#BiharPolls Phase 3 draws near. But this battle for Patliputra is still undecided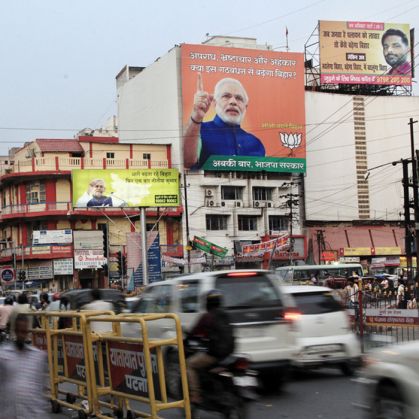 Match on
Phase 3 of Bihar Polls are on 28 October and the race is still wide open
Everybody agrees Nitish Kumar has done a good job, but not all will vote him
Modi vs Nitish
Many fear Nitish\'s alliance with Lalu; some are turned off by his split with BJP
Among BJP voters, its only Narendra Modi who matters
More in the story
How good governance will work for Nitish
Is anti-incumbency a factor
Piece of advice: Don't bet on the Bihar elections if you don't have your ear to the ground: Anti-incumbency is palpable, but the urge for change is not the same as it was during the last general election.
Travelling from Buxar to Patna a mere three days before the region goes to polls, I could sense a feeling of solemnity among my co-passengers. At the same time, a simmering undercurrent was hard to miss.
This is one state that sure understands the value of its vote. And today's Bihar is eager to take pride in its new found confidence.
While good governance is one of the biggest issue, this election is also a battle of personalities between Prime Minister Narendra Modi and Chief Minister Nitish Kumar.
People are in a mood to reject muscle power, casteism and political hegemony. Leaders like Lalu Prasad, Ram Vilas Paswan and Pappu Yadav are almost missing from public discourse.
Welcome to Patliputra
Life-sized hoardings put up by both alliances welcome anybody entering state capital Patna. While Modi and party chief Amit Shah dominate BJP posters, the bigwigs of the Grand Alliance are surprisingly missing from its banners and posters - its only Nitish.
Canvassing for votes has to strictly adhere to the model code of conduct: A huge BJP hoarding in front of Patna Junction was pulled down right before us.
In the six Assembly constituencies in Patliputra, there is little anti-incumbency against Nitish. People of all sections and with varying political loyalties acknowledge his achievements.
There is resentment against his alliance with Lalu. The Manjhi episode and his decision to part ways with the BJP have also alienated some voters. But, nobody denies the fact that he has put Bihar back on the track.
Everybody says Nitish is fine. But not all of them will vote for him in #BiharPolls
"It was a six-hour journey from Arrah to Patna. It was only due to the CM's attempts that this bridge was constructed across the Ganga, and now it takes only an hour," said Ram Singh, pointing at the river bridge from the window of our compartment aboard Purva Express.
"We have better roads and power supply, but the state still lacks opportunities of education and employment. The process of shaping the future generations has simply halted," said Singh, who thinks Nitish should have gone it alone.
After the PM on Sunday addressed rallies in Naubatpur constituency of Patna district, along with three other places, his scathing attack on Lalu have become a talk of the town. But the ambivalence remains.
Appreciation vs apprehension
Mohammed Bashir, a rickshaw puller near Patna's famous Gandhi Maidan, shares his concern: "Presently, I can pull rickshaw all night long without fear. Nobody hassles me. But I don't know what to expect after a change in the government."
Junaid, a student at Patna University, however, thinks change is necessary. "The talk of riots and communalism is only until the elections are over. After a government is formed, there will be development."
Among several people passing by the Maidan are Zahir Khan and his friend. While Khan rooted for the BJP, his friend pitched for Nitish. "Girls more secure here than in Delhi or Mumbai, are they not?" she asked rhetorically.
On the other hand, Mrinal and Piyush - two filmmakers - said they had no doubt that at least the Kayasths of Patna would unflinchingly back the BJP. They also made it clear that it was only Modi who mattered, and no other party leader.
The mood among the lower middle-class suggests it has accepted Nitish's break-up with the BJP and reconciled with his formula of social engineering.
"We started getting pension under Nitish rule. Bihar was never as peaceful as under him," said Sheela Devi, a pavement vendor.
The sentiment resonates among shopkeepers of Apna Bazar, a prominent market for textbooks. Shopkeepers there outrightly veto change. "You should have seen this market a decade ago. Nitishji lifted us up from being street-vendors and made us proper shopkeepers by putting us into shops. Commute has also become easier. You tell us, who should we vote for?"