Bihar's Muslims: why they will vote Nitish-Lalu, but stay angry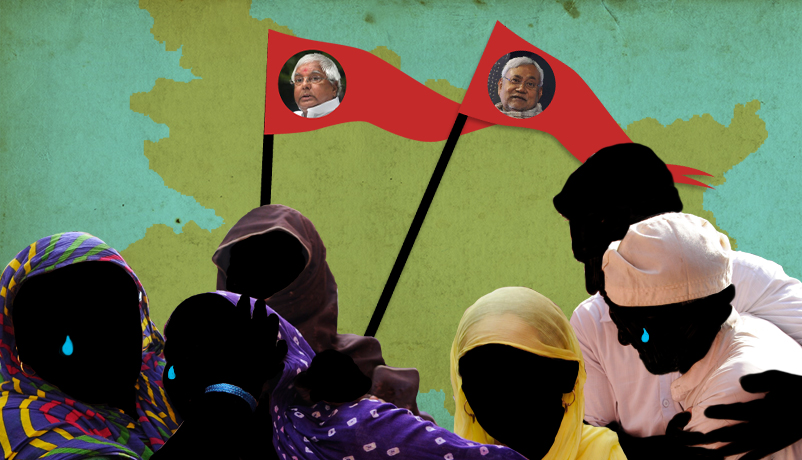 The fear
Muslim youth at the Phulwari Sharif dargah don\'t want to talk about the Bihar election
They are conscious of speaking their minds in front of the media, for fear of being \'found\'
The choice
A senior office-bearer at the Khankah says Muslims are tired of being used politically
Muslims will still vote for the \'lesser of the two evils\' - the grand alliance
More in the story
How NDA is trying to make Muslims irrelevant in this election
On a hot, bright day, the sounds of silence hang heavy over the Phulwari Sharif Khankah in Patna. There's no wind, and the children in the courtyard of the madarsa are merely whispering the tenets of the Quran.
Pigeons, such an integral part of the atmosphere at any shrine in the country, fly low and settle back down. The smell of incense sticks is conspicuous by its absence - burnt out sticks remain embedded in sand-filled bowls, but no fresh ones are burning. Some drying flowers are the last remnants of devotion at this ghostly dargah, and two elderly men washing the marble floor push them into a dark corner too.
A wedding is set to take place. But there's little sense of joy in the air.
The sense of negativity is all-pervading. And it's not just at Phulwari Sharif - across Bihar, any conversation with Muslims is full of negativity.
The fear of being found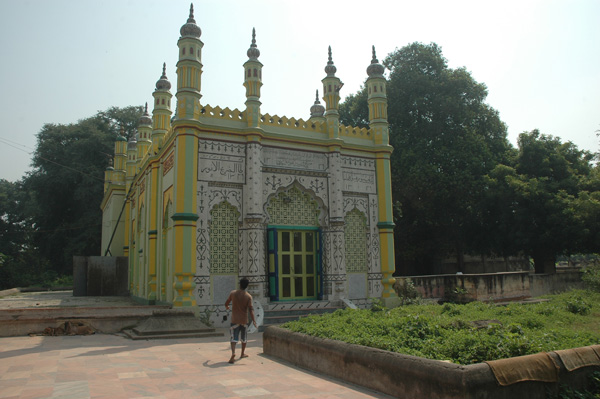 The lynching of Mohammad Akhlaq in faraway Dadri in Uttar Pradesh has got Muslims worried. Most seem scared of answering questions from the media.
"Look at the atmosphere in the country. Is this what the fathers of the Constitution promised to the citizens of India?" asks Abdul Razak, a government employee, who has come from Motihari to attend the wedding.
Youth fear the media: "You'll publish our views. Then people will see our photo and find us"
The youth at the function ask us why we want to know whom they'll vote for.
One of them says, "Aap log chhap denge. Log humara photo dekhenge aur humko dhoondhenge (You'll publish it. Then people will see our photo and find us).
Shamim, however, picks up the courage to speak. "We want educational institutions, jobs and security. We'll vote for the one who can deliver these things for us," says the engineering student, a first-time voter.
Razak comes forward a few steps, and asks the youth to go back to the function. "Don't worry, we will vote for democracy, for the values of our secular country and for the constitution," he says.
Everyone wants to use Muslims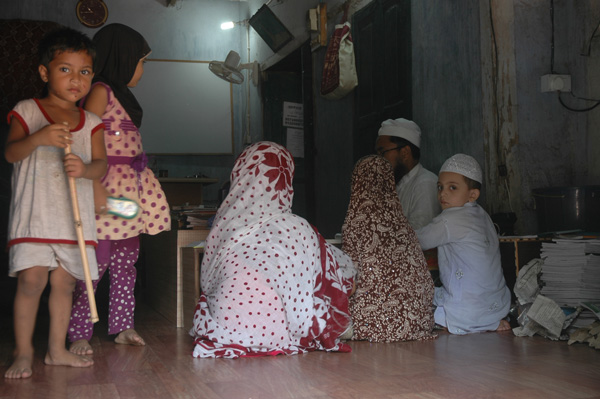 Nearly seven kilometres from the Patna Junction railway station, Phulwari Sharif is one of the most important Islamic pilgrimage sites in the state, and in north India. People from all parts of the state and the country visit this shrine.
The priests and elders at the dargah are not ready to go on record, in the absence of the head of the Khankah or monastery, who is out of town.
Others have been directed not to speak to media. "It is a tough time. We don't want to comment when all the media is interested in doing is manipulating things according to its agenda. We don't want to attract trouble," says a senior office-bearer in the Khankah.
Another office bearer, Maqsood Ahmed says: "Whatever happened in Dadri, whatever is happening in the country - what sort of atmosphere is this? We are pained because everyone wants to use Muslims. But there are some who don't even want Muslims in this country."
Muslims and NDA on opposing sides
This fear and helplessness has actually led to clarity on the whom the Muslims will vote for en masse. While there were few doubts about it in the first place, now it's even more obvious that they'll vote for the grand alliance.
Players like Ram Vilas Paswan, who have got their fair share of the Muslim vote in the past, have joined hands with the NDA, and have thus fallen out of favour.
The NDA knows this fact very well. In fact, a recent speech by PM Narendra Modi actually made no bones about the fact that he doesn't care about the minority vote, and is actually pulling for a Hindu consolidation.
"Nitish and Lalu are conspiring to take away 5% reservation from OBCs, EBCs and Dalits and give it away to minorities. I will die to protect your rights, and will never allow conspirators to steal away your reservation."
"Police and intelligence agencies think we are terrorists. All we want is a job and a career"
Sidelining Muslims is not a new strategy - it happened in the 2014 general election too. It's not a coincidence that there are only 22 Muslim MPs in the 16th Lok Sabha, representing just eight states. Four of them are from Bihar, while the neighbouring state of UP has not elected a single Muslim MP.
In Bihar, the NDA has given tickets to only 10 Muslims among a total of 243 assembly constituencies. Of these, the BJP is fielding just two, while Paswan's LJP, which has one Muslim MP, is fielding three Muslims.
On the other side, the grand alliance has given tickets to 33 Muslims, of which RJD has the biggest share, with 16.
RSS and Owaisi factors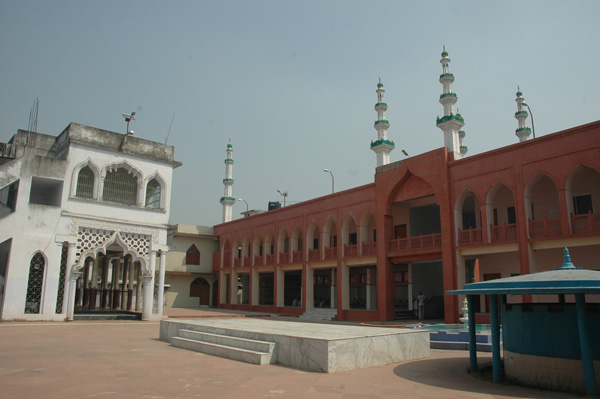 With Modi taking a communally-charged position on reservations, the RSS has forged another strategy. At the grassroot level, Sangh volunteers are raising slogans distinguishing between 'good' Muslims and 'bad' Muslims.
According to them, Muslim women who wear sarees and families that stay close to Hindu rituals are to be appreciated. The volunteers are trying their level best to divide the vote, especially in Muslim-majority areas.
But it's not just the RSS.
Outside the Khankah is a busy market with narrow lanes. A group of youth are chatting about miscellaneous things.
We ask them if they know who Asaduddin Owaisi is.
"Not really. We've heard his name. He is also contesting the polls," a few of them respond.
Police think we're terrorists
Among these youth, Asif is the most informed. He says, "Owaisi is a logical Muslim leader. He may not get a great number of votes this time, but there is no harm in pinning our hopes on him."
Among the wedding party, Shamim and the other youth have never seen Owaisi. One of them has seen a clip on WhatsApp, which was shared by his Mumbai-based brother.
But Asif has seen Owaisi in TV debates, and his speeches in Parliament. "He is well-read. He knows things and is not baseless in his arguments."
He adds: "Muslim youth in Bihar keep getting picked up by the police. Police and intelligence agencies think we are terrorists. They keep looking for guns and explosives in our bags, when all we want is a job and a career. This is very frightening. We are not safe, not matter who is in power or which state we live in."
Faith in democracy
In Bhojpur district, Muslims told us: "No one has forgotten the incidents in Forbesganj and Darbhanga (violence against Muslims). The UPA was no less brutal and biased against us. But we have to choose between bad and worse. Nothing good has happened to us in almost seven decades of independence."
However, many Muslims in the state give credit where it's due - to Lalu Prasad Yadav for his efforts against the communal agenda and hard Hindutva.
At the same time, they also recognise the efforts made by the Nitish Kumar government in maintaining communal harmony. Over the last one year, Nitish has spent a lot of sleepless nights trying to avoid any untoward incident in the run-up to the elections.
Nevertheless, the Muslims are worried about adequate representation in the assembly. They are worried about arrests, discrimination and isolation. They are worried about freedom and liberties. And in the choice between 'bad and worse', they are consolidated behind the grand alliance.
Back at Phulwari Sharif, the father of the bride-to-be, Abdul Wahab holds out a sliver of hope for the future. "All we want is democracy. Nothing but democracy can rule this state and the country."