Bihar Cong heads for split, high command sends senior leaders to firefight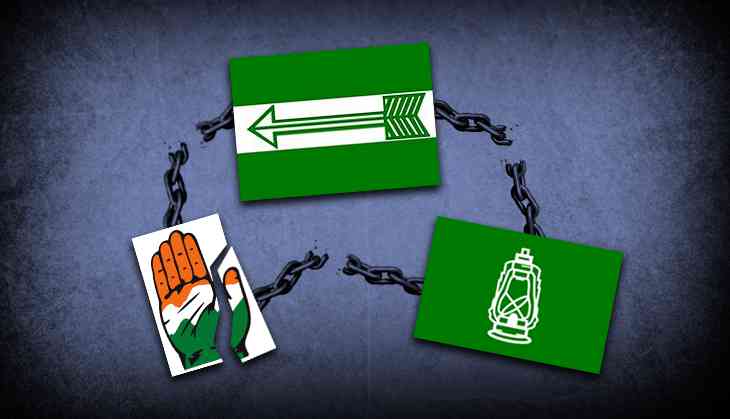 The Congress lived through the ignominy of a dozen of its MLAs rebelling ahead of the Rajya Sabha elections in Gujarat. But that may not be the end of its troubles. Sources say the party is heading for a split in Bihar.
Chief Minister Nitish Kumar's decision to sever ties with the Grand Alliance and join hands with the BJP-led NDA again has exposed the faultlines in the state unit of the Congress.
This is why the grand old party has rushed its Lok Sabha chief whip Jyotiraditya Scindia and senior leader JP Agarwal to Patna, to take stock of the situation and have discussions with all stakeholders. The two leaders will share their assessment with the party high command on their return.
Interestingly, the Congress's Bihar in-charge, CP Joshi, is not part of the team, clearly suggesting that the senior leadership wanted a fresh perspective on rumours of some party MLAs quitting and joining Nitish's JD(U).
Chaudhary the engineer
As reported earlier by Catch, Bihar Congress chief Ashok Chaudhary is alleged to be the architect of the rebellion. A senior Congress functionary added to this speculation, also claiming that Scindia and Agarwal were now holding discussions with MLAs and office-bearers to understand the mood within the state unit.
Sources say Chaudhary has grown particularly close to Nitish since he was made a minister in the Grand Alliance cabinet. They say he has organised several programmes for the Chief Minister while ignoring efforts to revive the Congress in the state.
All this has led to the banner of revolt being raised against him. There has been a lot of talk about replacing him as state Congress chief, but it has never materialised, because of complex caste equations in the state.
"Chaudhary was more loyal to the Chief Minister than the Congress high command. In fact, he organised a mahakaal puja for the Chief Minister in Patna and another one in Varanasi. The mahakaal puja was organised to ensure Nitish becomes the Prime Minister. But it does not seem to have helped, considering Nitish has now accepted Narendra Modi as his Prime Minister," said another senior Congress leader.
He went on to suggest that close to a dozen MLAs could possibly switch sides at Chaudhary's behest, and drastic measures are needed to stop this exodus. In fact, several top leaders from the state have even met the senior leadership in Delhi and asked them to remove Chaudhary from the post of state unit chief to reduce his influence on other party leaders and legislators.
Sources say Nitish has even made an offer to Sadanand Singh, the Congress Legislative Party leader. "Chaudhary is colluding with Nitish in engineering these defections. Nitish seems to have told Singh that since age is not on his side, he will be made an MLC and later a minister. Meanwhile, Singh has been promised that his son would be given a ticket from his constituency, Kahalgaon," a source said.
Nitish's poaching policy
Nitish is known for engineering defections in Opposition parties to secure his position. Earlier, in 2014, Nitish had masterminded similar defections from the Rashtriya Janata Dal, six of whose senior leaders, including former minister Shakuni Chaudhary, had joined the JD(U).
Then, Nitish also poached two of BJP's top leaders – Vijay Kumar Mishra and Rana Gangeshwar Singh – in 2014. Mishra was then made an MLC, while his son Rishi Mishra won the Jale by-poll in 2014 contesting on a JD(U) ticket.
A Bihar Congress source cited several other incidents wherein Nitish ensured defections from other parties, and then made these turncoats either ministers or gave tickets to their family members.
"At present, Nitish enjoys a wafer thin majority in the state, and to safeguard his chair, he is pushing for these defections. If these MLAs resign from the Congress, the total strength of the Assembly goes down, giving some cushion to Nitish for the time being. Also, when the by-polls are held, both the BJP and Nitish would ensure that they win some of these seats, which will secure his position as Chief Minister," he said.
Some hope for the future
The high command's decision to send Scindia and Agarwal to Patna seems to have pleased many Congress leaders. "This has been going on since the Grand Alliance fell apart, but no one was taking it seriously. Now that the situation has sort of spiralled out of control, senior leaders are being rushed to Patna, which is a positive thing," said a Congress leader, on the condition of anonymity.
He further added that people in the state are confused over the Congress's stand on Nitish's betrayal. "While the central leadership has been critical of Nitish, there has been no word from the state unit, which is somewhat embarrassing. People ask us why is the Congress not hitting the streets like Lalu Prasad Yadav and Sharad Yadav have," he said.
"This is giving people the perception that we still support the JD(U), which does not bode well for the party. Even the media is avoiding us, unlike Tejashwi Yadav or Lalu."
Moreover, the two senior Congress leaders are also holding discussions with the state unit on the strategy forward, particularly alliance politics.
It remains to be seen whether the central leadership will see off this storm without much damage, or will it yet again face the same embarrassment that it did in Gujarat.