Bihar BJP MLA gives up clothes in the name of Gandhian satyagraha
N Kumar
| Updated on: 10 February 2017, 1:45 IST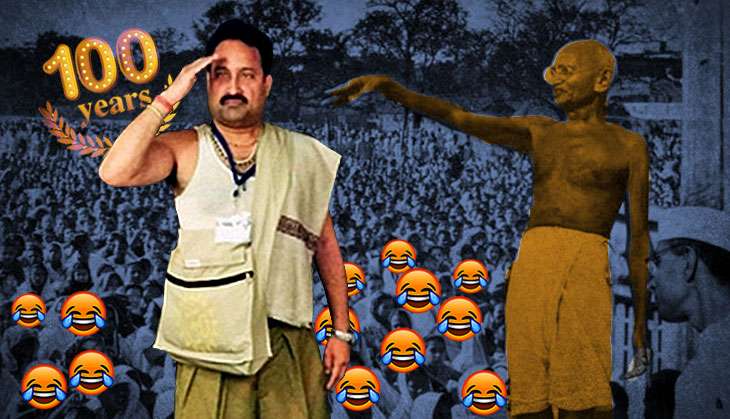 "I have hoped and prayed many times. I have beseeched for a state highway to be built from Manuapul to Ratwal, as promised by Chief Minister Nitish Kumar in public. All the paperwork is done. But the government has been unfair - it has still not issued a tender for the state highway. I, as a Gandhian and a man of principles, have left my kurta with Union minister Nitin Gadkari, and am going to leave my pyjama with Chief Minister Nitish Kumar. I have put my thoughts in front of you, the public, and welcome anyone who would like to join me. Yours, Vinay Bihari, ex-minister and MLA, BJP, Lauria Yogapatti Assembly constituency."
This was a Facebook post put up by Vinay Bihari, accompanied by photographs which showed him wearing just a vest and shorts. The media in Bihar lapped it up.
The fact that he mentioned the word 'Gandhian' in his post made many people start looking at him like he was some kind of revolutionary, and his attempt to walk around in a vest and shorts is now being passed off as a serious revolution.
Who is Vinay Bihari?
Thanks to his talent for bargaining, Bihari is currently a BJP MLA. In the last Vidhan Sabha, he was an independent MLA who kept sidling up to Nitish Kumar, and succeeded in weaning a ministerial berth out of him. He was made the minister for art and culture, a move for which Nitish was heavily criticised, because Bihari is infamous for being a master of lewd songwriting. There was also a court case against him in Arrah, and a non-bailable warrant was issued against him.
And yet, Bihari remained a minister under Nitish, and also under Jitan Ram Manjhi when the former left his chair for a while. When Manjhi started opposing Nitish and launched the Hindustan Awam Morcha, Bihari switched sides and joined him. Then, when HAM allied with the BJP, Bihari made sure he contested on the BJP's symbol and won.
Not allowed to set foot in his own constituency
But that's just one part of his story. When it comes to Bihari, the people of West Champaran district recall another story from three or four years ago.
Siddharth, a social activist from the region, says it's strange to see Bihari championing a 'Gandhian' movement, because ahead of the 2010 Assembly elections, the people of the region used to stop him from entering his own bastion.
In some Assembly segments of Bettiah (the seat of the West Champaran administration), common citizens as well as landless farmers, labourers and Dalits had formed a union, which made all the candidates in the region sign a pledge that, upon becoming MLAs, they would raise the major issues at their own level, and if they don't, they'll resign. Among these issues was the resettlement of displaced people along the Gandak river, and getting land for the landless.
Bihari signed the pledge, but never raised a single issue in the Vidhan Sabha. Instead, he focussed his attention on Bhojpuri cinema and organising Bhojpuri programmes. The public reminded him of his pledge again and again, but Bihari never paid any heed to them. Consequently, the public started demanding his resignation, and the movement became so popular that Bihari didn't dare to come to his constituency.
A Gandhian revolution or mere drama?
Siddharth points out that this is the centenary year of Mahatma Gandhi's satyagraha in Champaran, and says people have been expecting politicians to cash in on it by trying to pass off melodrama as 'practising Gandhian philosophy'. And when Siddharth and others asked pertinent questions to Vinay Bihari's supporters, they were brushed off without a reply.
Coming back to the demand for the state highway, Bihari is quick to talk about his persistent efforts. "For the past so many years, I have been struggling to get this road made. I have written to the CM, as also to the Union minister, sat on a dharna, but to no avail. Frustrated, finally I have resorted to a movement, and will not wear kurta-pyjama until the construction of the road doesn't begin," he says.
"The kurta I have stopped wearing and sent to Gadkari is not the kurta of a BJP legislator, but a symbol of the BJP's self-respect and prestige. As soon as the construction of the road starts, I will take it back with honour. Similarly, the pyjama is not that of a legislator, but of the development and good governance of CM Nitish Kumar. My pyjama will be a constant reminder to the CM of the promises he made on 28 November 2013, in front of a huge crowd of 1.5 lakh people, that this road will be made into a state highway. But later, he turned his back towards it, because the BJP won at the Centre."
And so, Bihari goes about his business wearing a vest and shorts, while his supporters hail him as a great revolutionary. Meanwhile, those who know him well enough continue to believe that it's just drama in the name of Gandhian satyagraha.
Edited by Shreyas Sharma