Who was Bhagat Singh and who does he belong to?
Chaman Lal
| Updated on: 14 February 2017, 6:02 IST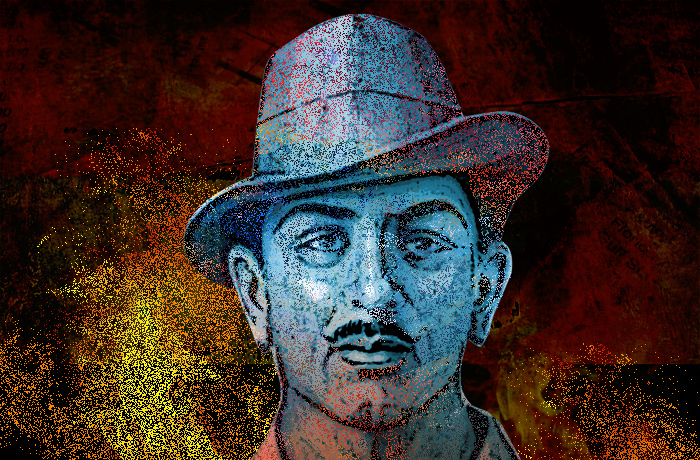 The society in India has been on the edge for the last few months.
It started with writers' protests in the form of AwardWapsi after the brutal assassination of Prof MM Kalburgi. But the large mass of more than hundred writers could never imagine that their most decent protest form against increasing intolerance in the country would lead to such verbal abuses, heaped upon them from Hindutva trolls in such an organised form at social, print and electronic media!
Read: On Bhagat Singh's 85th death anniversary, read his letter on atheism
That was not all. More issues came up at Film and Television Institute if Indian (FTII) in Pune, at Hyderabad Central University (the tragedy of Rohith Vemula's suicide) and then a planned attack on the students of Jawaharlal Nehru University and on the institution itself by generating Hitler-style phoney issue of ultra-nationalism.
The extreme form came by blatantly falsifying known facts of history. In response to Shashi Tharoor's comparison of Bhagat Singh and Kanhaiya Kumar, Bharatiya Janata Party's spokesman crossed all limits of decency for the Martyrs by telling white lies - "Bhagat Singh went to gallows chanting 'Bharat Mata ki Jai'"
Inqilab Zindabaad, not Bharat Mata ki Jai
Despite their personification by some of the worst ultra-nationalist films - the whole world knows by now that the three heroes - Bhagat Singh, Sukhdev and Rajguru - chanted only two slogans: "inqilab zindabad" (long live the revolution) and "samrajyavad ka naash ho" (down with imperialism) until the hangman pulled the noose past 7 pm on 23 March, 1931.
They also sang songs like "Sarfroshi ki Tamanna" and refused to wear the customary black cover on their faces.
And now, in March 2016, phoney nationalists, whose party and ancestors played no role in India's freedom struggle or in making "the nation" are trying to overturn history in pure Goebblian style of Hitler's regime in 1933's Germany. Perhaps they are doing it to repeat the massacre of Communists - in this case also the followers of Bhagat Singh - in India, as it has been done in Germany, Indonesia and Chile.
Bhagat Singh belonged the most to India's working people - workers, peasants, Dalits and oppressed
Already, Akhil Bharatiya Vidyarthi Parishad has shown its fangs on 18 March by trying to disturb and disrupt a talk on Bhagat Singh's life and writings organised by a students' group at the gate of Delhi University.
Our Bhagat, their Bhagat
What was Bhagat Singh and to whom does he belong to? When everyone is trying to appropriate the supreme hero for their narrow political motives, due to the Indian people's emotional bonding with him, it becomes not only necessary but urgent to know him objectively.
Bhagat Singh was born into a truly liberal and nationalist family at Chak No. 105, Lyallpur Bange, now in Pakistan. The family was quite affluent but self-sacrificing.
Also read: Things Modi should know about Bhagat Singh
The house where he was born has been declared a 'heritage property' by the Government of Pakistan. Incidentally this year, for the first time, a mela has been organised by the followers of Bhagat Singh in Pakistan.
Bhagat Singh was called 'Bhagan Walla' - The Lucky One - by his grandmother at the time of his birth as his father and uncles were released from jail around the same time. Then that became Bhagat Singh.
This time, when he is celebrated at his birthplace on his martyrdom day, it is like being reborn into the same house after 109 years, but this rebirth is in the form of ideas.
Bhagat Singh was best understood and presented by Periyar EV Ramasamy
The people of Lyallpur, now Faisalabad, considers him a 'son of the soil'. In 2007, during Bhagat Singh's birth centenary, Zahida Hina, a celebrated writer in Urdu in Pakistan, said: "Bhagat Singh was the first martyr of Pakistan in the freedom struggle."
Would Pakistan adopt and accept a martyr chanting 'Bharat Mata ki Jai'? They accept him as their own because of his credentials as a socialist revolutionary - which he actually was!
An atheist and a 'red'
The French translation of his seminal essay, 'Why I am an Atheist' is being released this month in France by a leftist organisation. The Daily Worker, a New York-based communist journal carried two reports on 25 March and 27 March, 1931 on the hanging of he three martyrs.
All newspaper reports during their trial in 1929-31 referred to them as 'reds' or socialist revolutionaries due to the content of their statements in British courts or their conduct in courts: They came to the courts with red scarfs on 24 January, 1930 to mark Lenin Day and asked the Magistrate to send their greetings to the Soviet Union, expressing solidarity with the international working class movement.
Read more: CPI(M) demands that Chandigarh airport be renamed after Bhagat Singh and not RSS idealogue
They had close relations with communists in the Meerut Conspiracy case, who were undergoing trial simultaneously. Prisoners in the Meerut case sent them wires in solidarity with their hunger strikes.
At one point Bhagat Singh, Chandershekhar Azad and their colleagues did chant 'Vande Matram' and 'Mahatma Gandhi ki Jai'. But after they attached the word 'socialist' to their organisation in September 1928, they focused on only two slogans - be it in courts, at the Delhi Central Assembly while throwing two harmless bombs on 8 April, 1929 or at the gallows - "inqilab zindabad" and "samrajyavad ka naash ho". They discarded all other slogans.
Finally, Bhagat Singh and his comrades shouted only 'inqilab zindabad' and 'samrajyavad ka naash ho', discarding all other slogans
Bhagat Singh's uncle Ajit Singh fought for the rights of indebted peasants in 1907. They were in debt then as they are now. He was in exile, working for even Netaji Subhas Chandra Bose's radio in exile and died in the wee hours of 15 August, 1947 after listening to Pandit Jawaharlal Nehru's 'Tryst with Destiny' speech.
Another uncle Swarn Singh died of tuberculosis contracted in jail at the age of 23. Bhagat Singh's father Kishan Singh suffered jail many times as a dedicated Congress worker. His grandfather followed two conflicting religious faiths simultaneously - the Sikh faith as well as the Arya Samaj faith.
A legacy that can't be falsified
There are 111 writings from his pen, including letters, telegrams, court statements, essays and political writings. These are now freely available in Hindi, Punjabi, Marathi, Urdu in complete and partially in Bengali, English, Telugu, Tamil and many more languages.
The Government of India's Publication Division published his most updated documents in Hindi and Urdu. (Shaheed Bhagat Singh: Dastavezon ke Aaine Men,Urdu, published in 2014). Bhagat Singh was best understood and presented by Periyar EV Ramasamy, who got his book Why I am an Atheist translated and published in Tamil as early as in 1934.
Read- Be like Bhagat Singh: IS handler used Indian history to brainwash Indian recruits
BR Ambedkar and Periyar both wrote editorials in their papers. Nehru kept publishing Bhagat Singh's statements in Congress journal even at the risk of earning Mahatma Gandhi's wrath. Bose held a huge rally against the execution on 20 March, 1931 in Delhi despite Lord Irwin trying to stop it through Gandhi.
These facts are well documented and available at the Nehru Memorial Museum and Library. Bhagat Singh moved from being an Arya Samajist rationalist to an atheist by 1926 and from a Gandhian nationalist to a revolutionary nationalist in 1923 and from a revolutionary nationalist to a socialist revolutionary nationalist in 1928 with the hope of a future World Federation.
So, who did he belong to
His 2 February, 1931 'Letter to Young political Workers' is a clear document of path for Indian freedom, based on socialist principles.
No one who studies historic documents can distort Bhagat Singh's personality and his ideological perceptions, which were and are of a 'socialist revolutionary nationalist', of Marxist philosophy. All other interpretations of him are deliberate distortion.
Would Pakistan adopt and accept a martyr like Bhagat Singh had he chanted 'Bharat Mata ki Jai'?
That is what he was and he belonged the most to the working people of India - workers, peasants, Dalits, other oppressed sections, and least of all to blood-sucking capitalists/corporates and their political patrons.
The author, a retired professor at the Jawaharlal Nehru University, edited Bhagat Singh's writings and written extensively on those in Hindi, Punjabi and English.
Edited by Joyjeet Das
More in Catch:
Champions of free speech need to speak up, or it'll be too late: SAR Geelani
J&K govt coming soon, after Mehbooba's 'positive' meeting with PM
Food for thought: Robots are taking over restaurants
Death to K'taka Lokayukta. Siddaramaiah carves a safe space through the ACB