BCCI a 'punching bag'? Anurag Thakur's business is divorced from his politics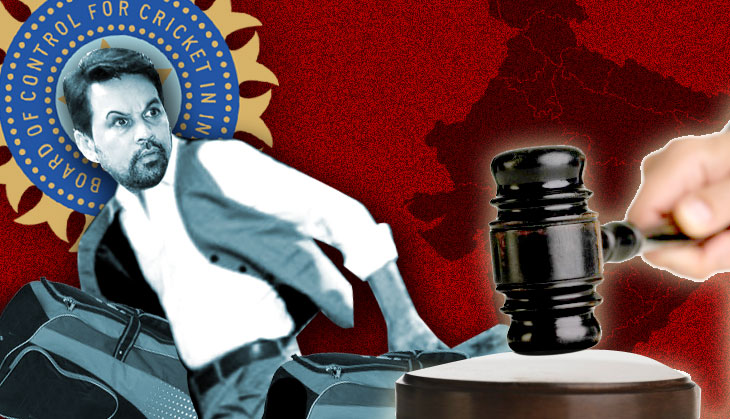 The statement
Anurag Thakur feels the BCCI has become a punching bag
He said he\'ll take the IPL out of India, since litigation was causing \'huge losses\'
The reality check
Thakur is not just the BCCI secretary, he is also a BJP MP
He seems to be forgetting that as a public representative, he can\'t put private profit above public interest
Let me begin with the disclaimer: I am not a cricket expert. I have only played gully cricket and was a poor batsman, average fielder and less-than average bowler.
I do not remember how many centuries Sachin has scored, or what was his batting average. My knowledge of cricket terminology is so low that I used to believe for a while that long-on is a sandwich that Subway serves in some locations abroad, which is not available in India.
However, I am a political reporter, and am, therefore, interested in stuff that our politicians are into, including cricket. I also have a large number of cricket fans among my friends and family, so I know how much emotion people invest in this sport.
By that virtue, cricket is a subject of public interest. It bothers me when managers of the sport do not concur with that.
Facing heat for the first time
In its entire 88-year history, the Board of Control for Cricket in India (BCCI) has been a fiefdom. Cricket analysts love to call Board officials the 'zamindars' of cricket.
They have lorded over the game, its players and the big money it brings in. However, as is the very nature of zamindars, they have also presided over a long era of corruption and sleaze.
Efforts to introduce a modicum of accountability in the BCCI's functioning have been on for a long time, but in vain.
Now, for the first time, the Board is facing some actual heat, thanks to the Supreme Court-appointed Lodha Committee's probe into its affairs and recommendations for reform. The SC appears hell bent on enforcing these recommendations with a stick in hand.
In a clear indication of the pinch that the mandarins are now feeling, BCCI secretary and BJP MP Anurag Thakur has lamented that the Board has become a punching bag.
He sounded upset over all the actions the apex court is forcing BCCI to take, as well as the recent scrutiny that the IPL, the Board's money-spinning machine, has faced.
So much so that he threatened to take the IPL out of India, because, in his words: "The rise in public interest litigations in courts against IPL has led to huge losses."
MP's disdain for public interest
So blinded is Thakur by the pursuit of profit that he can't even see the irony in his statement. As an MP, he is a public representative, who is required to put public interest before private profit.
What he is doing, instead, is branding public interest as an 'inconvenience' to profit-making. It's a matter of supreme conflict of interest, and reveals what he and the BCCI actually stand for.
The irony doubles up when one realises that the political party Thakur is a leading member of claims to put the nation above all else, even with its divisive interpretation of nationhood.
He is welcome to take his shop out of 'Bharat', but in the name of the many cricket lovers I know, I want to ask him - what becomes of his slogan 'Bharat Mata ki Jai'?
Keep the IPL here and let SC fix it
The IPL, in my limited understanding, has been the biggest assault on the spirit of sports in India, turning a game into an entertainment show, complete with cheerleaders and human auctions, not to mention the accompanying legacy of betting and match-fixing. If it goes out of India, as it did in 2009 and 2014, I say good riddance.
Unfortunately, while you can take the IPL out of India, you can't take the sleaze out of IPL. It has been structured to promote the proliferation of dirty money, not giving two hoots about the extra dose of corruption that it will induce wherever it goes. 
It would be better to either scrap it, or reform it here itself, under the watchful gaze of the Supreme Court.
The court is earning the respect of millions of cricket lovers, as well as public-spirited individuals across the country, for the seriousness with which it is pulling the BCCI's ears for the first time ever.
The Board will have to stop believing that it is a law unto itself, and must undergo reform to introduce more honesty and transparency in its functioning.
As for Anurag Thakur, I thank him with all my heart for finally admitting that his business is entirely divorced from his politics.
The views expressed here are personal and do not necessarily reflect those of the organisation.