Battleground 2019: Nitish makes his national ambition official, but he has a long way to go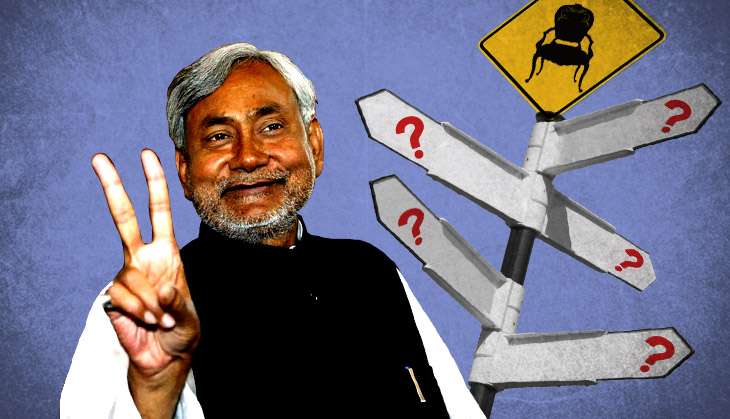 After insisting for months that he was not in the prime ministerial race in spite of clear indications to the contrary, Nitish Kumar has finally made his national ambitions evident.
At Janata Dal (United)'s national council meeting in Bihar's Rajgir, the party announced that Kumar will explore "forging of alternative paradigm of politics" to provide a "strong national alternative of non-BJP parties to defeat communal forces".
The statement stopped short of declaring the Bihar Chief Minister as the party's prime ministerial candidate, but party leaders did not leave any stone unturned to indicate as much. The official statement only shied away from the official projection as they ripped BJP apart and extolled Kumar's leadership.
General Secretary KC Tyagi said, "Not just Bihar, but the entire country needs Kumar now, which is why we have assembled here."
के सी त्यागी: "नीतीश जी को अब बिहार की सर्फ़ ज़रूरत नहीं, पूरे भारत को ज़रूरत है। इसलिए हम सब यहाँ जुटे है।" #JDU pic.twitter.com/MZ4tJNd2eQ

— Janata Dal (United) (@JanatadalU) October 17, 2016
The party statement called BJP a "prisoner of reactionary, outmoded ways of thinking" and that it had "unleashed...a wave of intolerance...on the nation".
It added that the "plural, multi-cultural, Ganga-Jamuna tehzeeb of our civilisation is under serious threat due to the BJP".
Prime Minister Narendra Modi was also singled out as JD(U) said that it had broken the alliance with BJP anticipating "this rise of intolerance and violence" under Modi and that Nitish Kumar's 'political foresight' has been proved.
NDA's promises forgotten
The JD(U) statement also compared NDA under Modi with the NDA under former PM Atal Bihari Vajpayee, saying the JD(U) had joined the NDA on three promises -
1. The Ayodhya issue will be solved with consensus or after a judicial decision.
2. The Uniform Civil Code will not be arbitrarily imposed.
3. There will be no abrogation of Article 370.
However, the statement continued, BJP has revived the UCC and Ayodhya issues to polarise the electorate ahead of the upcoming UP elections and it is also creating doubts about the continued validity of Article 370 in Jammu & Kashmir.
Former party president Sharad Yadav too slammed the BJP, saying that to divide the people in the name of religion and caste was the BJP's only policy and that issues like ghar wapasi, love jihad, gau rakshaks, Article 370 and Uniform Civil Code will not let countrymen live in peace.
राष्ट्रिय परिषद: घर वापसी, लव जेहाद, गौ रक्षक, 370, कॉमन सिविल कोड - मुल्क को चैन से रहने नहीं देगा @SharadYadavMP @janatadalu #Rajgir

— युवा जद (यू) (@Yuva_JDU) October 17, 2016
As for Nitish Kumar, he even got an endorsement from outside the party, as former Jharkhand Chief Minister and JVM(P) chief Babulal Marandi too attended the event as chief guest.
Marandi echoed Tyagi's views and said, "People believe in Nitish Kumar's name and the country needs him now."
बाबूलाल मरांडी: "@NitishKumar का जब भी नाम आता है, लोग विश्वास करते हैं, इनकी जरुरत अब बिहार को नहीं अब पुरे देश को है" @babulalmarandi #JDU

— Janata Dal (United) (@JanatadalU) October 17, 2016
The challenges
While it is a bold move by JD(U) to project Kumar as the next prime ministerial contender, the proposal rests more on ambition than solid ground. If Nitish wants to emerge as the leader of a nation-wide anti-NDA platform, he will have to be accepted as a leader by several other parties, which are already led by strong individuals.
The challenge will begin with the Congress since JD(U) has not said that the front it is eying will be non-Congress. This is rather ironic, to begin with, since anti-Congress politics was the very life-blood of the Janata Parivar out of which, the JD(U) was born.
Even after ignoring the irony because JD(U) and Congress are already in an alliance, it is doubtful whether Congress will be interested in projecting Kumar and not party Vice President Rahul Gandhi as the challenger to Modi in 2019.
At the national level, will the Left play along willingly, opposing Kumar in Bihar and supporting him in Delhi?
Then come the regional challengers who are far too many - Arvind Kejriwal's AAP, Naveen Patnaik's Biju Janata Dal, Mamata Banerjee's Trinamool Congress and Karunanidhi's DMK, featuring among the notable ones.
Indeed, there are serious doubts whether JD(U)'s own alliance partner, Lalu Prasad's RJD, will support Nitish as PM or not.
Close on the heels of JD(U)'s statement, senior RJD leader Raghuvansh Prasad Singh indicated that all was not well within the Grand Alliance camp. He declared that if an anti-BJP front was to be formed, then all parties will have to collectively elect an aspirant for the throne.
Singh added that if all parties started announcing their respective PM-candidate, then a united struggle against BJP will not be possible. Lalu, however, had endorsed Kumar's bid for PM way back in April this year.
UP polls will change the game
Two leaders in one key state are also big threats to Kumar's ambition. With the largest number of seats in Lok Sabha (80), Uttar Pradesh holds the key to power.
The state will go to polls within next few months and the outcome will make the race for 2019 more complicated.
If BJP and allies win, it will be hard for any party to take away any of the 73 seats they hold. If Mulayam Singh Yadav's Samajwadi Party comes back to power, Nitish will find it really challenging to get his former ally to support his leadership.
Among the challengers in UP, if former CM Mayawati's BSP wins, no indication has been seen so far that would suggest that she too will accept Nitish as the PM-contender.
To sum up, Nitish Kumar has a long way to go before his dream of leading a non-BJP front even begins to take shape. His challenges are many but the drum-beating is a signal that he has begun his campaign.
From now on what will be interesting to watch is if he follows this up by reaching out to the other key players across the country and if he does - how do they respond.
Edited by Jhinuk Sen
Also read: Mahagathbandhan 2.0: Are Nitish Kumar & Prashant Kishor working to form a party before 2019 polls?
Also read:JD(U) makes its ambitions clear: its mission is "Nitish Kumar 2019"