Azam Khan puts foot in mouth again: berates Muslims in viral video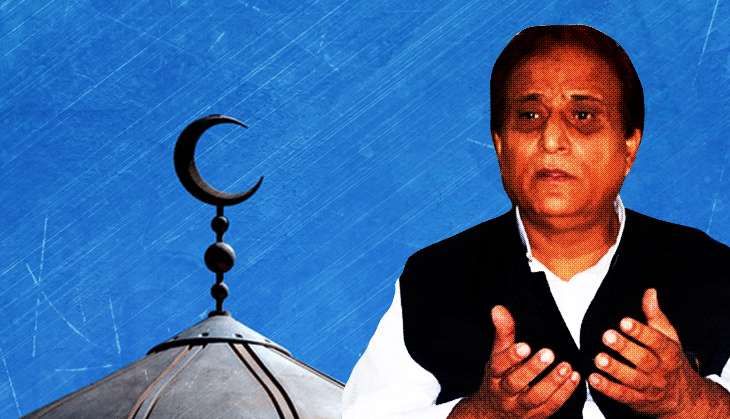 For Azam Khan, Uttar Pradesh's minister for urban development, controversies seem like second nature. This time around, he is seen berating Muslims in a video which has gone viral.
The senior minister in Akhilesh Yadav's government flew off the handle over the sparse presence of the faithful offering namaaz, and a bigger turnout for the roza iftaar. The Muslim face of the Samajwadi Party can be seen ranting at them for being "shameless".
The iftaar. where Azam gave vent to his ire, was held in Badaun's Islamia Inter College on Friday, 1 July.
"He did attend some iftaar parties in Bijnor and Saharanpur, but I have no information of what he said at any of these places," said his information officer in Lucknow.
Also read: Just what is it with Azam Khan and Taj Mahal? Now he wants to replace it with a Shiv temple!
But a source in Badaun confirmed the incident.
In the video, Azam can be heard saying, "So few namaazis!" He then points towards others gathered for the iftaar and remarks, "Obviously, not one of them is fasting... they have come to eat, so many shameless people have come to eat. That is why you are being insulted the world over... Go drown yourself!"
The gathering listened to the minister's rebuke in silence.
It's ironic that earlier, a picture of Azam was floating about showing him doing some personal work while others around him offered namaaz.
Not the first time in the dock
The senior minister has been in the news mostly for the wrong reasons. Prior to this, he was in the news when his buffaloes were stolen. The entire team of Rampur police, along with sniffer dogs, was deployed to look for them.
Also read: Azam Khan is SP's Muslim face. But are his days in the party over?
His statement, after the terror attack in Paris in 2015, invited widespread criticism. At a later time, he said that global superpowers must realise that the Paris terror attack was a reaction to their actions in Iraq and Syria.
Several members of his staff in the secretariat had once gone on strike demanding they be shifted, allegedly because Azam was foul-mouthed.
His remark that the Kargil peak was recaptured by Muslim soldiers again sparked controversy and an FIR was lodged against him. Azam refused to apologise for the remark.
Even fellow politicians aren't spared
On 3 April 2014, he called Narendra Modi the elder brother of a puppy - "Modi kutte ke bachche kaa badaa bhai hai."
On homosexuality, the loudmouth SP leader took on the Rashtriya Swayamsevak Sangh by saying: "That's who they are. This is the reason RSS people don't marry."
The firebrand leader did not spare even party supremo Mulayam Singh Yadav. In one of his outbursts against the SP national president, Azam said: "Mulayam Singh Yadav bas Rampur shehar tak apnee mardaangee dikhaa sakey. Lekin Swar me kuchh nahee karaa sakey. Hijre saabit hue. (Mulayam's show of masculinity does not go beyond Rampur. But he couldn't get anything done in Swar. He proved to be a eunuch."
Also read: Why Azam Khan thinks Modi is among world's top 10 criminals?
His vitriolic attack was in response to Mulayam's remark at a rally in Swar, 30 km from Rampur, where the former chief minister had said that Azam was weakening the party. This was the phase when Amar Singh had endeared himself to Mulayam and Azam was sidelined.
In another of his insensitive remarks, he held mobile phones responsible for rapes, while in another, he advised rape victims to silently bear the pain and ignominy. "If you publicise your crime so much, how will you show your face to the world?" he was reported to have said.
Taking a jibe at Smriti Irani, Azam was quoted as saying that there is a secret tunnel between her and the PM's bungalows.
Also read: Not just #ParisAttacks, here are four statements that prove Azam Khan suffers from victimhood syndrome