Assembly polls 2018: Mayawati slams Congress; BSP to go solo in Rajasthan and Madhya Pradesh polls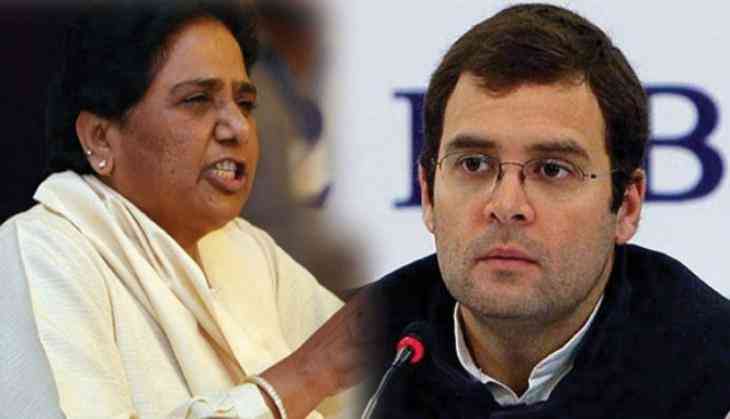 The Bahujan Samaj Party chief, Mayawati has announced that 'under no circumstances' her party will ally with Congress for the upcoming elections in Rajasthan and Madhya Pradesh. Mayawati, a powerhouse for Dalits said BSP will go solo in both state assembly polls.
Mayawati alleged, the grand old party, is still clinging on to its arrogance and does not want to "mend its ways". "The Congress party's 'arrogance' is now speaking and they feel that they can take on the BJP on their own. The truth is that the people are unwilling to forgive the Congress for their corrupt government," she said.
Slamming Congress once again, at a press conference on Wednesday, the Bahujan Samaj Party chief said, "In Rajasthan and MP too, we will either ally with regional parties or fight alone, not with Congress".
Mayawati attacked Congress over its leaders like Digvijay Singh not interested in alliance BSP. "Congress leaders like Digvijaya Singh do not wish for a Congress- BSP alliance. They are afraid of agencies like ED, CBI," said Mayawati.
They (Congress) are getting arrogant & are under misconception that they can defeat BJP on their own but the ground reality is that people haven't forgiven Congress party for their mistakes&corruption...They don't seem to be ready to rectify themselves: BSP chief Mayawati to ANI pic.twitter.com/sjdOMaKN4c

— ANI UP (@ANINewsUP) October 3, 2018
"Digvijaya Singh who is also a BJP agent is giving statements that Mayawati ji has a lot of pressure from Centre so she doesn't want this alliance. This is baseless," she added.
BSP chief also said that Rahul Gandhi and Sonia Gandhi's intentions are honest for the alliance. "I feel that Sonia Gandhi & Rahul Gandhi's intentions for Congress-BSP alliance are honest. However some Congress leaders are sabotaging this," BSP Chief Mayawati said.
The Assembly polls in the three states, Chhatisgarh, Madhya Pradesh and Rajasthan is scheduled to take place by the end of the this year.
Also read: Big Blow to Rahul Gandhi! Divya Ramya 'not happy' with Congress; skips work