Assembly Election: Congress leader and Speaker of Mizoram Assembly, Hiphei, joins BJP ahead of state polls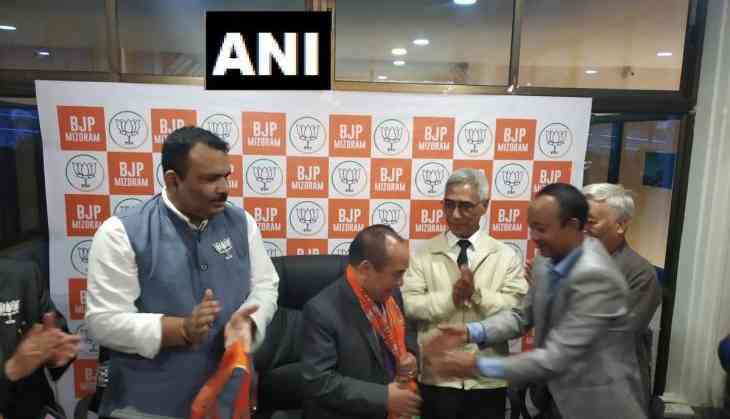 Congress leader and the speaker of the Mizoram Assembly, Hiphei, has today joined the BJP ahead of the assembly election, scheduled for November 28.
Earlier, the Congress leader had resigned from the party and the post of the Speaker of the Assembly in the morning and it was being said, that he might join the BJP ahead of the state polls.
Hiphei submitted the resignation to the Deputy Speaker R Lalrinawma and it was later on accepted. On Sunday, a BJP leader had already claimed that Hiphei would resign from the grand old party and he would join the BJP in a day or two.
The PTI quoted the BJP leader, saying "He (Hiphei) would first tender his resignation as the speaker and then from the primary membership of the Congress. He will then join our party."
Mizoram is the lone state of the north-east where the Congress party is in power and the BJP's North-East Democratic Alliance has been able to garner yet another leader of the Opposition.
The Mizoram election would be a direct contest between the Congress and the BJP and former Congress leader and in-charge of BJP's election strategy of the north-east, Himanta Biswa Sarma has been actively spearheading the NEDA's alliance in the seven sisters of the east.
The BJP had earlier roughed up the Left's bastion in Tripura, defeating the ruling Communist Party of India (Marxist) where Manik Sarkar had rued for a period of 26 years, and the BJP had announced its presence in the north-east with a bang.
Also read: Assembly Elections: Hiphei steps down as the Speaker of Mizoram Legislative Assembly; likely to join
Aizawl: Congress leader Hiphei who had resigned as Speaker of Mizoram Legislative Assembly, joins BJP pic.twitter.com/rd8T4PSJv8

— ANI (@ANI) November 5, 2018