Arvind Kejriwal takes the broom to AAP's Punjab mess, attacks opponents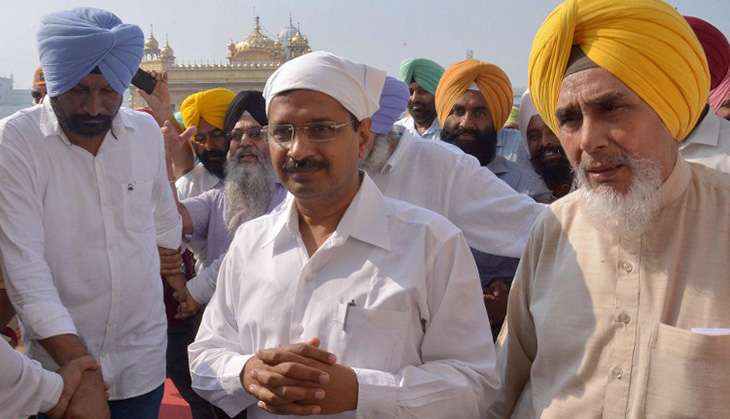 The burden of mopping up the mess created by the Aam Aadmi Party's (AAP) Punjab unit over the last couple of months has finally fallen on Arvind Kejriwal. The party's national convener and Delhi Chief Minister got down to work in all earnest during his just-concluded four-day visit to the state.
After a hectic three-day tour, including parleys with party leaders and workers, Kejriwal, on the final day of his trip, was successful in sending across the message that AAP cannot be undermined despite its internal problems.
The show of strength at the Bagha Purana rally on Sunday, where he released the party's farmers' manifesto was a clear signal to opponents that AAP's popularity among the masses is intact, and the beleaguered electorate still has faith in the third force that emerged in the 2014 Lok Sabha polls.
Pep talk
Kejriwal reportedly gave his party workers a pep talk, making it clear that AAP is a party with a difference, which would not tolerate greed for tickets and VIP facilities. Instead, he said, the cadres will have to work up the ladder.
Observers pointed out that this was his first visit to Punjab where he went ballistic against his opponents right from the word go, seemingly following the dictum that offence is the best defence.
On the very day of his visit, Kejriwal made it clear that he would camp in Punjab till an AAP government was formed, so that Shiromani Akali Dal (SAD) leader and current CM Parkash Singh Badal and company could be sent to jail. In fact, Kejriwal is expected to be back for another 10 days later this month.
"I know that AAP would be under fierce attacks, like the attack on me in Ludhiana a few months back and the recent attack by Akali goons on Bhagwant Mann's rally at Malaut," he said. But he maintained that AAP would not cow down under any pressure, because the people of Punjab were with the party.
He also alleged that Deputy Chief Minister Sukhbir Singh Badal had got 63 'fake' CDs prepared, which he would release on his private TV channels in an attempt to defame AAP.
In his address at the Bagha Purana rally, he pledged to confiscate the ill-gotten money and properties amassed by the Badals and the other cabinet ministers during the last 10 years of the SAD-BJP's 'misrule' in Punjab. He added that the money confiscated from the Badals and other Akali ministers would be spent on opening new hospitals and schools.
Playing to the galleries, he said that if the fleet of buses owned by Badals were found to be attained through ill-gotten money, these buses would also be distributed among the unemployed youth so that they could earn a livelihood.
Daring the Badals to arrest him, Kejriwal also took on state Congress president Captain Amarinder Singh for his proximity to the Badals, asking "Captain ko mirchi kyon lagi" when he said that he would stay put till the Badals were arrested.
AAP's agenda for doctors and teachers
Earlier, while interacting with various sections of the electorate, Kejriwal spelt out AAP's agenda. He assured medicos and educationists that AAP would end contractual employment to end their exploitation. "While teachers are nation builders, doctors help the society to make robust and healthy citizens, hence we should not let them exploited by the current system," he said in a joint dialogue at Patiala.
"Our poll manifesto will not be a 'chunavi jumla' (electoral promise) like other parties," Kejriwal vowed.
He played up the success of the Mohalla Clinics in Delhi, saying: "The concept of Mohalla Clinic was widely appreciated worldwide, and even in a country like America, a debate is being initiated through newspapers like the Washington Post and the Chicago Times to assess how the Mohalla Clinic could be replicated there."
He promised to look into the concerns of doctors on the hike in the MBBS fee from Rs 13,000 to Rs 1 lakh, and deemed universities becoming dens of corruption as huge donations are being taken for admission.
He thanked doctors for rehabilitating the drug-affected youth of Punjab.
Where were the 'outsiders'?
To dispel the notion of outsiders being in charge of AAP affairs in Punjab, he ensured that the Bagha Purana rally, which was being looked as 'make or break' for AAP, turned out to be a Punjabi-dominated show.
Speakers included MPs Bhagwant Mann and Sadhu Singh, besides former journalist and AAP's farmer manifesto writer Kanwar Sandhu, state convener Gurpreet Ghuggi, and even former Congressmen who have joined the party, including Aman Arora and Sukhpal Singh Khaira.
The Delhi contingent of AAP that has been working in Punjab kept a low profile. While Punjab in-charge Sanjay Singh did not speak despite being on the stage, Ashish Khetan did not come. The mobilisation for the rally was entrusted to Harjot Bains instead of Durgesh Pathak.
Badal's warning to voters
On expected lines, Kejriwal's visit drew criticism from his opponents.
Sukhbir Badal castigated him, saying he suffers from a confrontational nature and has nothing at all to do with the welfare and progress of Punjab. He accused Kejriwal of having a hidden agenda of capturing power, and using the state to keep the pot of squabbles with the Union government boiling, in order to prop himself up on the national political scene.
He said people should not repeat the mistake of voting for AAP, as they did in Lok Sabha polls, as on assuming power, AAP would take Punjab from development to anarchy.
Sukhbir also played the religious card, calling AAP members 'a bunch of atheists' and accusing them of being completely ignorant about the culture of Punjab as well as the sentiments and aspirations of its people.
Amarinder's assault
Amarinder was even more scathing, questioning Kejriwal's moral authority to speak against corruption after himself having protected, patronised, shielded and defended his own principal secretary, Rajinder Kumar, who is facing serious corruption charges.
"Kejriwal is now claiming that he will put the Badals behind bars. I have done it already in 2002," Amarinder said, while reiterating his opposition to Kejriwal staking his claim for the Punjab Chief Ministership. He added: "No matter how he interprets it, I will always oppose a non-Punjabi becoming Punjab's Chief Minister."
Amarinder said Kejriwal was trying to address the anti-Badal sentiment without spelling out how he would punish the Badals and put them behind bars. "I know how to do it, as I have done and I will do it again," he said, adding that there is a proper legal system to bring the corrupt to book. "But why is Kejriwal not applying the same yardstick in Delhi also?."
Amarinder also took on Kejriwal for the latter's accusations regarding the 'fake' CDs Sukhbir has allegedly got prepared.
"Is it a preemptive admission on your part that you know more scandals are about to tumble out of your cupboard, and you have decided to put the blame on someone else?" he alleged. "No doubt the Akalis and Sukhbir are capable of doing any dirty thing, but even he cannot make fake CDs unless you and your own people are not involved. You just can't hide behind the bad reputation of Sukhbir. One evil can't hide behind the other."
Observers pointed out that Kejriwal would soon have to decentralise the running of Punjab affairs and involve more local leadership. They said he couldn't allow the muck generated by AAP's squabbles over the last two months to dampen the spirit of party supporters and the electorate.
Edited by Shreyas Sharma
More in Catch
AAP plays Santa Claus for Punjab farmers, Congress says it's stealing our ideas
Hard times: AAP is heading for a split in Punjab and it won't be pretty
Kejriwal makes 'holy city' promise for Amritsar if AAP is voted to power in Punjab