Arvind Kejriwal dares Narendra Modi: withdraw currency ban in 3 days or face revolt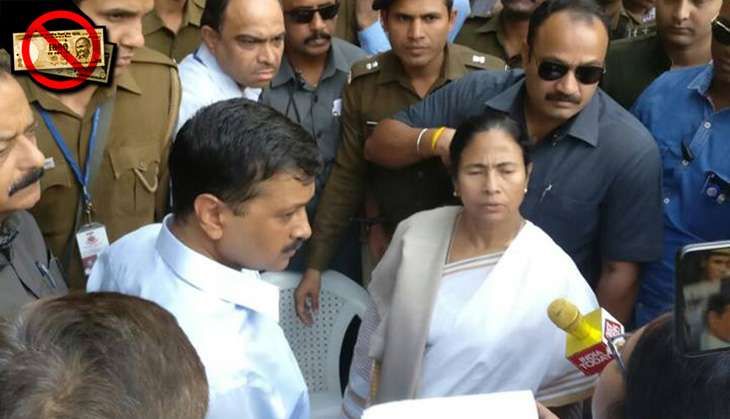 Delhi Chief Minister Arvind Kejriwal threatened nationwide protests if the Narendra Modi government doesn't withdraw its demonetisation policy within three days.
Addressing a rally along with West Bengal Chief Minister Mamata Banerjee in Delhi's Azadpur Mandi, Kejriwal said the government's move will end up promoting corruption rather than preventing it.
Here are some excerpts from his speech
"How does the government expect to end black money and corruption by introducing Rs 2000 notes. There have been reports from Gujarat and Madhya Pradesh, of officers being caught with bribes in Rs 2000 notes."
"Adani and Ambani aren't standing in queues outside the ATM. They are getting cash at home through home delivery."
"Banks gave loans worth Rs 8 lakh crore to billionaire industrialists. They gobbled up the money. Banks are empty. Modi has written off loans worth Rs 1.14 lakh crore."
"Vijay Mallya manufactures alcohol. He's an old man but roams around with girls. He had defaulted on loans worth Rs 8000 crore. Modiji helped him get on a flight and escape to London. He's having a good time there, even as all of us stand outside banks and ATMs to withdraw Rs 2000."
"You saved your money in banks. Now SBI has written off loans worth Rs 6000 crore."
"The public will deposit Rs 10 lakh crore in banks, Modiji will write off loans worth Rs 8 lakh crore for his industrialist friends. What do the people get? Nothing. We have been betrayed."
"Janardhan Reddy spent Rs 500 crore on his daughter's wedding. Across the country, fathers are having heart attacks as they are unable to raise money for their daughter's wedding."
"The government says 'bring your daughter's wedding card, we'll give Rs 2.5 lakh'. Arun Jaitley got his daughter married recently. Did he spend just Rs 2.5 lakh. Your leaders spend Rs 500 crore and for the common man, just Rs 2.5 lakh?"
"40 people have died (because of the government's demonetisation move). Who is responsible for their deaths? (crowd shouts 'Narendra Modi')....These people haven't died, they have been martyred. We won't let their martyrdom go in vain."
"Azadpur Mandi used to be full of activity, of fruits and vegetables. Today, everything has come to a standstill."
"People will not tolerate this. Don't test our patience... Withdraw this decision within three days, or face a revolt across the country."
Kejriwal reiterates that Modi took bribes from Birla and Sahara
Kejriwal reiterated his allegations that Modi, as Gujarat chief minister, took kickbacks from the Aditya Birla Group and Sahara.
"I got these documents from a person who sits at the top of the finance ministry.
On 22 November, 2014 there were income tax raids on Sahara and some documents were recovered. In one of the documents, signed by witnesses and the IT commissioner.
30 October 2013: Rs 2.5 crore. Cash given at Ahmedabad to Modiji through Jaiswalji.
12 November, 2013: Rs 5.10 crore Cash given at Ahmedabad to Modiji through Jaiswalji.
27 November 2013: Rs 2.5 crore. Cash given at Ahmedabad to Modiji through Jaiswalji.
29 November, 2013: Rs 5 crore. Cash given at Ahmedabad to Modiji through Sachinji.
6 December, 2013: Rs 5 crore. Cash given at Ahmedabad to Modiji through Sachinji.
There are seven entries, totalling Rs 40.1 crore."
Mamata attacks Modi
Speaking just before Kejriwal, Mamata Banerjee was at her combative best. Her broken Hindi didn't come in the way of the scathing attacks she launched on PM Modi. She said, "People are crying at their homes because of this decision. Is this what Achhe Din looks like?" she asked.
Taking a dig at the PM, she said: "Modiji speaks of plastic money...it seems he has spent too much time abroad that he has started speaking their language. He has forgotten about his own country and people."
"What does he (Modi) think, that Indians must remain hungry, while he runs away abroad?" she asked.
Mamata Banerjee demanded that the government roll back its decision or be prepared to face protests, a threat Kejriwal also made in his speech.
Differing from the other Opposition parties, Banerjee sad a Joint Parliamentary Committee into the demonetisation will achieve nothing.