Are BJP workers embarrassed about PM Modi? This Whatsapp clip says they are
Catch Team
| Updated on: 27 September 2016, 12:48 IST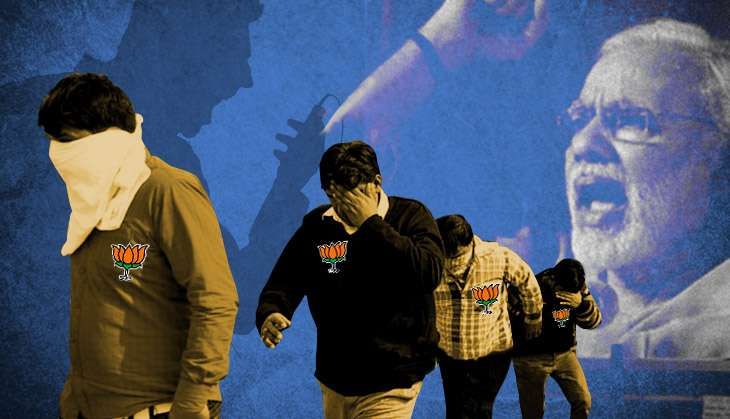 An audio clip is going viral on the online messaging platform Whatsapp and it is leaving the BJP quite red in the face. The clip is of a purported conversation between a BJP worker and a call-centre agent calling from the party office in Lucknow.
The agent asks the party worker if he would like to work for the forthcoming Assembly polls in Uttar Pradesh. The party worker begins in a friendly tone, but soon totally loses it. He goes on to give the agent an earful, asking whatever happened to the BJP's earlier electoral promises.
Catch, however, cannot authenticate this clip independently. BJP's spokesperson in Uttar Pradesh Vijay Bahadur Pathak told Catch that the party was not running any such tele-calling campaign.
Noted activist Shabnam Hashmi, who was among those who shared the clip on Whatsapp, said she too could not authenticate it but it had indeed gone viral. She also added that it is not necessary that both the people in the conversation could be from BJP. The disappointed political worker could also belong to some other party, who might have given a missed-call on one of BJP's publicised contact numbers, only to embarrass the party.
Whatever the truth, the conversation is hilarious and also indicative, in a small measure, of the public opinion on BJP's electoral promises and its record in fulfilling them. So, read on to have a hearty laugh:
Call centre agent - Hello.
Recipient of the call - Hello.
Agent (A) - Am I speaking to Deepak Sharma?
Recipient (R) - Yes. Who is it?
A - Sir this is about BJP's call for the volunteer programme, for which you had expressed interest. Sir, would you like to join BJP's campaign for Uttar Pradesh elections?
R - The BJP?
A - Yes, sir. The BJP.
R
- Sir, I don't have any problem in joining the BJP, but Modiji did not fulfil any of the promises he had made. He said he would bring 10 heads for one and that he would teach Pakistan a lesson. He used to reproach Manmohan Singh. Now that he is in the same position, why he is not acting?
A - Sir, it is not easy to attack a country.
R - (Agitated) Then on what basis did Sushma Swaraj, Rajnath Singh and Narendra Modi expect from Manmohan Singh when they were sitting in the Opposition? On what basis did they expect Dr Manmohan Singh to immediately attack Pakistan? I haven't seen such a bad prime minister in my career, who only travels abroad and changes his clothes on public money. Take a word of advice from me. Don't fret over this exercise. No one will work for the BJP in Uttar Pradesh. The party will win only 10 seats in the elections.
A - Sir, your comment is valid. I accept that you have been hurt as 18 of our soldiers have been killed.
R - Hmmm...
A - But no prime minister or chief minister can act against a country so quickly.
R - Then why did you keep such expectations from Manmohan Singh? Why did Amit Shah use to say in every rally that Pakistan wouldn't even dare to attack India if Narendra Modi would be the prime minister? Why did he use to say this? Or he should come to the fore now and say that he lied in those rallies. That it was also a jumla.
A - Sir...
R - (Interrupting) Sir, sir, sir. We used to work for Narendra Modi day and night. Today, the situation is we can not show our face anywhere because of Narendra Modi.
A - Sir, I admit that what you are saying is valid.
R - By the way, where are you calling from?
A - Sir, I am calling from the BJP office.
R - From Lucknow?
A - Yes, sir.
R - The BJP has given the slogan in Uttar Pradesh this time, "Na gunda raaj, na bhrashtachar; Abki baar Bhajapa sarkaar" (No crime, no corruption; BJP government this time). Kesav Dev Maurya is the biggest gunda of them all. He has so many cases against him. Sangeet Som is another criminal. Azamgarh's Ramakant is another. All criminals and corrupt people are readying to contest polls. How will we work with that slogan? Please tell me.
A - Sir, your anger is valid. I admit. But we are merely doing our work here sir. There is not much that we can do sir.
R - Please tell me. You will take my services but who do I air my grievances to? Tell me something honestly, people who are involved in corruption cases worth billions will be contesting the polls on BJP's ticket this time. Will we be able to realise the dream that the new slogan shows with such people?
A - Sir, thanks a lot.
R - Just a minute. Narendra Modi was elected the prime minister. Now he should not get into elections in states. He should concentrate on managing the country's affairs. He should attack Pakistan. Manage the country's foreign policy. Take the country forward. A prime minister doesn't succeed by leading polls in states. He will succeed through his policies. Please convey this message to him.
A - Ok, sir ok.
R - Otherwise, BJP will suffer the same fate in UP as it did in Bihar. Nothing to worry. Ok?
A - Ok sir, ok sir. Thank you sir.
(Disconnects)
Here's the soundclip for you -