Amit Shah tells Bengal BJP to pull up its socks. Unit says it's easier said than done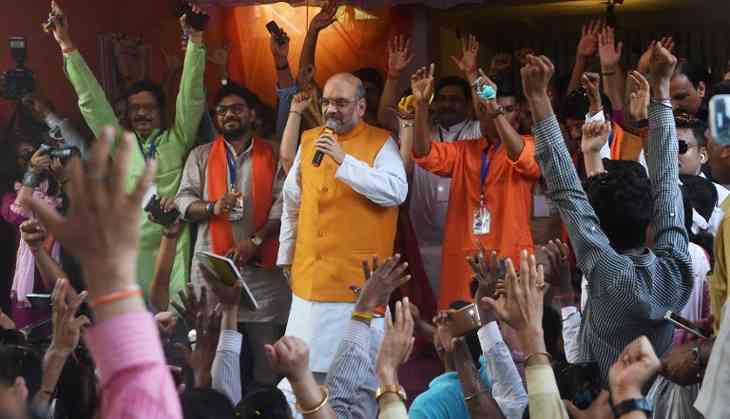 BJP president Amit Shah's visit to West Bengal came to an end on Wednesday. In several meetings, Shah urged BJP workers to take on the ruling All India Trinamool Congress and "expose it on several issues like corruption, law and order and appeasement of minorities". He also gave stern instructions to the state unit to get their act together.
However, party workers feel this is easier said than done. A number of party functionaries are said to have admitted to Shah that expanding the organisation in West Bengal will be a difficult task.
"We conveyed it to the BJP president that it won't be easy to expand the party and take on the AITC. But he told us that if we can build the party in other states, we can do it in West Bengal as well," a party source told Catch.
Laying down the plan of action for the party, Shiv Prakash, a party worker said, "We have identified areas and booths where the party is yet to strengthen its base. The booths include parts of Kasba, Bhowanipore, Deshapriyo Park in South Kolkata and several booths in North Bengal districts like Jalpaiguri and Siliguri".
A senior party leader further disclosed, "We have been asked to collect data on how Central government funds have been misused in West Bengal so that the party can attack the AITC. Party leaders have been asked to organise meetings at the district level to highlight the AITC government's failures".
The leader further added that Shah has warned them against using derogatory language against opponents, particularly Chief Minister Mamata Banerjee.
On Wednesday Shah had lunch at a party worker's residence at Cossipore and then headed for the airport from there.
Although he had several other meetings scheduled on Wednesday, they had to be cancelled as he had to rush to Delhi for an urgent meeting.
Sources in state BJP said that Shah has also asked them to make a detailed plan on how to penetrate every booth in the state. The report is to be submitted to the BJP central leadership within a few days.
The BJP president has instructed the state unit to pull out all stops to win a majority of the Panchayats that go to polls next year.
On Tuesday, BJP president Amit Shah spoke at the Indian Council for Cultural Relations (ICCR) where he alleged that funds for Central schemes are being siphoned off by syndicates.
Shah said "We have increased our the Central share for West Bengal to Rs 34,792 crore but the money has been siphoned off and diverted to syndicates. How can West Bengal progress if this government remains".
Shah also accused the Mamata government of indulging in appeasement of Muslims and urged Bengalis to change their habit of electing the same party for decades.