Amit Shah, Smriti Irani & Adityanath take on Rahul in Amethi, flays the Gandhis for neglecting 'Vikas'
Anurag Dey
| Updated on: 10 October 2017, 18:23 IST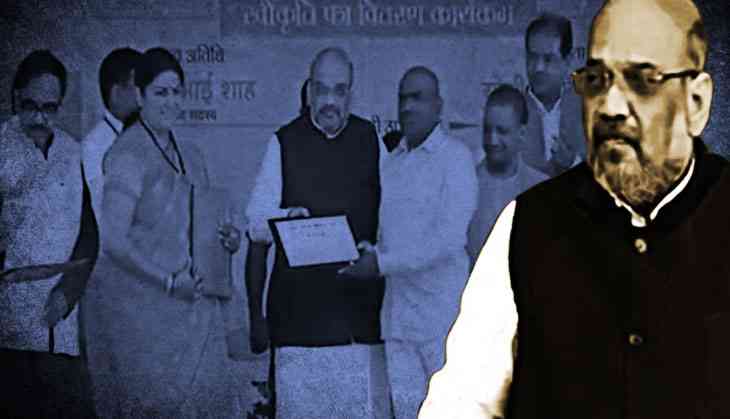 Taking on the Congress Vice President Rahul Gandhi on his own turf of Amethi, BJP Chief Amit Shah and company launched a blistering attack on the Gandhi scion for neglecting the development of his constituency and questioning the Modi government instead.
While Rahul campaigns in Gujarat, Shah, Union Minister Smriti Irani, and UP Chief Minister Adityanath went hammer and tongs against the Congress and the Gandhi-Nehru family.
"Why was the VIP zone of the Nehru-Gandhi family deprived of development?" Shah asked Amethi.
"You have been voting for these greats (Nehru family) but until Modi government came to power at the Centre and Adityanath government in the state, what has been done for the development of Amethi? Have they done anything for development?" Shah rallied on.
"I want to ask the Congress Shehzada (Rahul Gandhi), Amethi voted for your three generations, what have you given them? You, Rahul Gandhi, question what Modi government has done in three years, the people of Amethi are now seeking answers for three generations. What have you done?" asked Shah.
Unveiling a host of government projects, Shah asserted that UP was becoming a developed state under the Modi government at the Centre and the Yogi government in the state.
"The pace at which Yogi is working I firmly believe that UP is on its way to be a developed state. Yogi in UP and Modi in Delhi, this pair is one that will work for the development of UP," claimed Shah and exuded confidence that the people of Amethi would vote for the BJP in the 2019 Lok Sabha polls.
"For 70 years, from the Panchayat to Parliament, the Gandhi family was in power, but Amethi never saw development," Shah said.
"Rahul Gandhi is in Gujarat and questioning about development there. I am in Amethi and want to ask him that for so many years you have been the MP from here, but why is there no collector's office, why no TB hospital here, why no FM radio station here, why no housing for the poor?" asked Shah referring to the various projects which he unveiled on the occasion.
Ridiculing Rahul for questioning the Modi government, Shah said –
"Under Modi, work is being done to ensure every poor person has a bank account, every household has an LPG connection, electricity and toilet. After 70 years if Modi has to do all this work, then I want to ask Rahul Baba, your great grandfather (Jawaharlal Nehru), your grandmother (Indira Gandhi), your father (Rajiv Gandhi), your mother (Sonia Gandhi) all these people were in power so, why does Modi have to do all this development work?"
"He is now in Gujarat trying to ridicule our development work. But I want to remind him that the people of Gujarat very well know what development is. Baba look, have a look at Amethi, and how you have ruined it," Shah added.
Countering Rahul's charges against Modi, Shah said the BJP-led Centre has initiated over 106 schemes for the poor, Dalits, tribals, the backward classes, etc.
"Since Rahul Baba keeps on asking, I will read the entire list," said Shah and went to read a few schemes including the Jan Dhan Yojna, Make in India and ten others.
"I have just read out 12 schemes, the entire list is still there. Perhaps Rahul Baba doesn't know how to count, that's why he keeps on questioning about development," Shah said.
In his speech, Shah also went on to mock former Prime Minister Manmohan Singh.
"Rahul Baba, the first thing that we did was to give you a prime minister who can speak. You had given a prime minister, whom people were desperate to hear. He would stand in front of your house for months and if he did not get the signal, he would never speak," he said.
He also pointed out that the Indian Army's surgical strikes last year were one of the Modi government's biggest achievements and that Rahul should remove his faulty 'Italian glasses' and see.
"For so many years, Pakistan-sponsored terrorists used to attack our borders, kill and humiliate our soldiers. There was never a befitting reply given. But when the Uri attack happened, it was the Modi government and not the Congress government (in power). Within days our soldiers entered Pakistan and avenged the attack, Shah said.
Continuing her relentless attack against Rahul, to whom she had lost the Lok Sabha polls in Amethi, Union Textiles Minister Smriti Irani said she wanted to address those who have looked at "Amethi as just a vote bank"
She also raked up the alleged land grab in the area by the Rajiv Gandhi Charitable Trust.
"The land was given for construction of the Samrat cycle factory. While the cycle long got punctured, they still continue to occupy the land illegally despite an eviction notice. There are farmers and labourers who still say that Rahul Gandhi has not returned land which belongs to them," she said.
Speaking in the same vein, Adityanath said the Gandhi family is used to only think about Italy and not Amethi.
Flaying the Congress for neglecting development, Adityanath heaped praise on Modi. He also referred to Nobel Economics Winner Richard Thaler who had welcomed Modi's demonetisation move.
"Nobel Prize has been awarded to the economist who had welcomed demonetisation," said Adityanath but like most BJP leaders he to chose to ignore the fact that Thaler's Twitter handle, while expressing support for demonetisation, had exclaimed "Damn" on knowing that the government had instead introduced Rs 2,000 currency notes.
really? Damn.

— Richard H Thaler (@R_Thaler) November 8, 2016
The intense campaign by the BJP comes in the wake of Rahul alleging that "step-motherly treatment" was being meted out by the Modi and Yogi governments to Amethi as it had voted for Congress.
The BJP also got a shot in the arm with Jung Bahadur Singh quitting the Congress and joining BJP. Singh was a former Samajwadi Party MLA before he joined Congress. He cited the "party's wrong policies" for changing sides.
Edited by Jhinuk Sen