Amit Shah ridicules Opposition unity, likens them to 'dogs and bitches'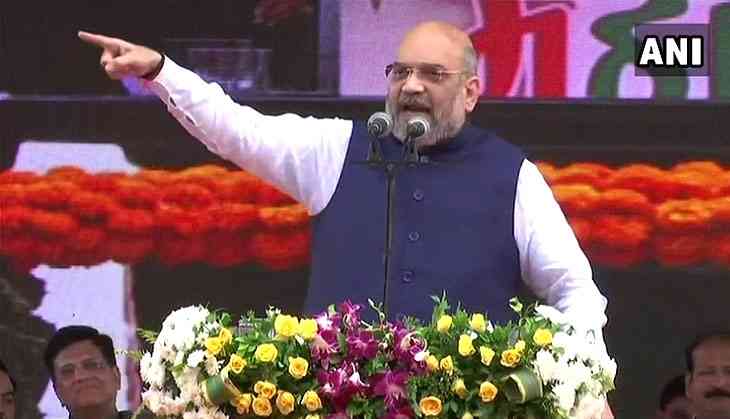 Bharatiya Janata Party Ntional President Amit Shah Friday ridiculed the Opposition's bid to forge a united front, likening them to dogs and cats. Addressing a rally in Mumbai to mark the party's Foundation Day, Shah also targeted Congress President Rahul Gandhi for questioning the performance of Narendera Modi government at the Centre.
"The countdown for 2019 (Lok Sabha polls) has begun and the Opposition parties are calling for unity among themselves. I have a heard a saying that when everything is washed away in a flood, only a Vat Vriksha (Banyan tree) stands tall. And all the animals, be it the cats, snakes, mongoose, dog, cheetah and the lion, all take refuge on that tree to save themselves from getting washed away.
"Afraid of the Modi flood, snakes, bitches, dogs, mongooses, all are trying to contest the polls collectively," Shah said in Hindi.
देश में जो मोदी जी की बाढ़ आयी है उसके डर से सांप, बिल्ली, नेवला सब मिल कर चुनाव लड़ रहे हैं : श्री अमित शाह #BJPMahaMelava

— BJP (@BJP4India) April 6, 2018
Targeting Gandhi and his party, Shah said it was four generations of the Congress that need to give explanations to the country.
"Nowadays Rahul Baba (Gandhi) has been spending time with (NCP chief Sharad) Pawar. He must have given some injection that is why now Rahul Baba is daring to ask about four-and-half years of Modi government.
"But the it's the country which is seeking answers from you, four generations of Congress which ruled the country what have you done," said Shah referring to Gandhi's meet with Pawar after BJP's loss in UP bypoll of Phulpur and Gorakhpur seats.
"When we lost the two Lok Sabha seats, Rahul Baba distributed sweets. But what about the Congress, their candidates even forfeited their deposits. He is perhaps the only leader to distribute sweets when his party candidates forfeit deposits," said Shah.
Besides enumerating various welfare schemes, Shah raked up the Army's surgical strikes across the LoC, to signify the Modi government's achievements.
"During Congress rule, Pakistani terrorist would often kill our people and even beheaded our soldiers, but the government could do nothing. So when the Uri terror attack (2016) happened, Modi avenged it withing matter of days by sending soldiers across Pakistan for surgical strikes," said Shah.
Reaching out to dalits, Shah asserted the BJP government will never abolish reservation system.
"They are now trying spread lies that the BJP diluted the SC/ST Act and claim we want to do away with the reservation system. BJP will never abolish reservation rather if the Congress tries to do that we will prevent them with all our might," he said.
He also targeted the Congress over the disruption in Parliament that led to washout of a majority of the budget session. "Congress (leader) Ghulam Nabi Azad says that the government is afraid of facing questions in Parliament. We are not afraid, its them who did not allow parliament to function.
"We are ready for debate, why just Parliament, we are ready for debate on any platform. We are not afraid of debate because we have nothing to hide," said Shah challenging Azad.
Continuing his attack Shah reminded Gandhi about BJP wresting power from it 11 states since 2014.
"We lost two seats, but want to tell Rahul that under Modi we snatched 11 governments from the Congress. From Maharashtra to Haryana from Jharkhand to Manipur, Assam and Uttarakhand, BJP is everywhere.
"Today 20 states and nearly 70% of the country's population is ruled by BJP. But it is still not our golden period. BJP's golden period will come when we will have governments in West Bengal and Odisha and retain power in 2019 with absolute majority," said Shah exhorting partymen to prepare for the next Lok Sabha polls.
"Later at I gave the example of snake and mongoose to highlight the fact that like them these parties are ideologically opposed to each other. But the fear of Modi has brought all of them together," Shah said at a press conference.
"If that has made people take offence then I will use the names, like SP-BSP, TMC-Congress and TDP-Congress. They are all ideologically opposed to each other but are now getting together because of Modi," he added.