Amit Shah 2.0: Modi is BJP chief's strength as well as his main challenge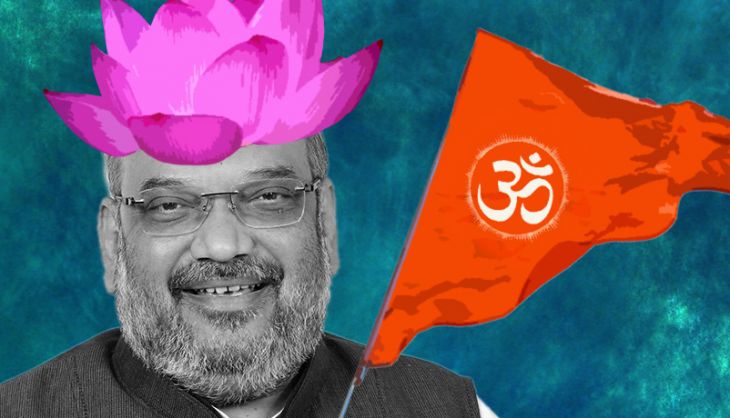 The appointment
Amit Shah has been given a second term as BJP president
PM Narendra Modi had to strongly push Shah\'s case before the RSS
The challenges
Shah\'s main challenge is to take everyone along as well as prove his own mettle
Shah will have to face crucial Assembly elections in states like UP and Gujarat
More in the story
Report card of Shah\'s first term
Behind the scenes: How Modi-RSS gave Shah a second term
How Modi had to hardsell Shah
It wasn't easy for Prime Minister Narendra Modi to secure a second term for Amit Shah as BJP president. He had to enumerate Shah's achievements in great detail before the Rashtriya Swayamsevak Sangh (RSS) top brass. And not just Shah's achievements as BJP president and general secretary, Modi had to go 2 decades back in time to build his case.
Modi hardsells Shah
Modi told Sangh leaders how Shah had salvaged the Gujarat State Finance Corporation from acute losses within a span of 16 months. He had taken over as its president in 1995.
Modi also recounted Shah's performance as President of Ahmadabad District Co-operative Bank. The bank was running into losses worth crores when Shah took over its reins. However, it's balance sheet showed a profit of Rs 20 crores in a period of just 18 months, under Shah's leadership.
Also read - 8 reasons why Amit Shah will stay as BJP chief, despite Bihar defeat
Amit Shah had also turned the Gujarat Sate Transport Corporation into a profit making body during his tenure as the state's transport minister.
Of course, Modi also highlighted Shah's most important political achievements: the BJP victory in 71 out of 80 seats in Uttar Pradesh in the 2014 Lok Sabha elections and his successful membership drive for the party.
Modi reportedly told the RSS leaders in no uncertain terms that Shah would be indispensable in the BJP's quest to return to power in 2019 with a two-thirds majority. Apparently, RSS chief Mohan Bhagwat smiled in response, a smile that sealed the verdict in Shah's favour.
Shah has now secured a second term as BJP president. But his battles have only begun.
Challenges
1. Taking everyone along
This new innings is likely to put Amit Shah's organisational skills to test. He has to lift the sagging morale of party workers after the humiliating defeats in Delhi and Bihar. At the same time, he would also need to tackle the sulking coterie of senior party leaders. It remains to be seen how he will strike a balance between old warhorses and young turks. Shah will have to keep RSS leaders in the loop while advancing the party's agenda at the same time.
Political analysts anticipate a more saffronised BJP in Shah's second term. The RSS might begin exercising more influence in the BJP's affairs and many Sangh loyalists may be appointed in key decision making positions.
Shah is likely to give precedence to young leaders in his team. He will try to expand the party's reach into new, uncharted territories. He may also try to rehabilitate a few disgruntled leaders.
2. Coming out of Modi's shadow
The backbone of Shah's politics has been his proximity to Modi.
According to a senior party leader, Shah's biggest asset is that he enjoys Modi's complete faith. He knows what Modi wants and formulates his strategy accordingly. A national level office-bearer of the RSS concedes that nobody in the BJP understands Modi's temperament better than Shah.
This helped him sail through the last 18 months, ever since he took over from Rajnath Singh in July 2014.
Modi had to hardsell Shah to the RSS top brass, even recounting his achievements from 20 years ago
"While this may work in his favor, Shah also needs a better understanding of the RSS' viewpoint and the sentiments of the common man," says the RSS leader.
Many party leaders feel that Modi's blessings alone might not be enough for Shah in his second term.
Shah has no option but to come out of his mentor's shadow. This is absolutely necessary for BJP as well as RSS.
3. Assembly elections
Shah's most immediate challenge would be the Assembly elections in West Bengal, Kerala, Tamil Nadu, Assam and Puducherry, which are round the corner.
Next year will see high-pitched political battles in Uttar Pradesh, Punjab, Uttarakhand, Himachal Pradesh, Goa, Punjab and Manipur. Gujarat in particular will be a matter of prestige for Shah as well as PM Modi, as both of them hail from the state.
4. Uttar Pradesh: the battle that will decide Shah's fate
Shah's main challenge, however, will be Uttar Pradesh where he will hope to repeat the magic he unleashed during the Lok Sabha elections. UP, more than any other state, can make or break Shah's fortunes.
This is the reason he has already started activating the party machinery in the state. He has deputed his trusted lieutenants in the state: Om Mathur, the in-charge for UP, BJP national joint general secretary (organisation) Shiv Prakash and UP general secretary (organisation) Sunil Bansal.
Also read - Amit Shah set to remain BJP chief. No one wants to challenge him
How BJP and RSS gave Shah his second term
The BJP-RSS co-ordination committee meeting was convened in the first week of September. The Prime Minister came to attend the last day of the meeting. Sources claim that Modi and RSS chief Mohan Bhagwat met behind closed doors on the sidelines of the meeting. Modi reportedly made it clear during the consultations that he favors Shah's continuation as party president. Apparently, the PM minced no words in stating that no one other than Shah would be acceptable to him.
According to a senior RSS functionary, the Sangh did not consider any other leader for the job after such a clear message from the PM.
Many BJP leaders feel Modi's blessings alone might not be enough for Shah in his second term
Shah's name was approved without much ado at a meeting of its senior office-bearers in Jalgaon in Maharashtra on 7-8 January.
However, a senior RSS leader accepts that the Sangh is worried that the BJP is becoming increasingly personality centric. Apparently, the Sangh hopes that Shah would keep these concerns in mind while constituting his team.
Shah's report card as president
Shah launched an ambitious campaign (Mahasadasyata Abhiyan) to take the party's membership from 3 crore to 10 crore. The party claimed to have become world's largest political party with over 11 crore members after this drive.
This was followed by party's connectivity campaign (Mahasampark Abhiyan) to tell its members about the party's programs and the Modi government's policies.
Shah undertook a mission to train party workers on a large scale. Over 15 lakh active workers across 600 districts were supposedly given training under this program. Shah entrusted the task to some of his favored leaders like Muralidhar Rao, V Satish, Mahesh Sharma, Rampyare Pandey, L Ganeshan, Bala Shankar and Suresh Pujari.
Shah also launched a drive to modernise party offices across the country. A committee was constituted for this purpose.
BJP registered victories in Assembly elections in Maharashtra, Haryana, Jharkhand and Jammu and Kashmir under Shah's leadership. However, it suffered defeats in Delhi and Bihar.
Translated by Deepak Sharma. Edited by Aditya Menon.
More in Catch - New year, new cabinet: Modi govt and BJP set for major overhaul