Amid Opposition bonhomie, why is AAP a pariah?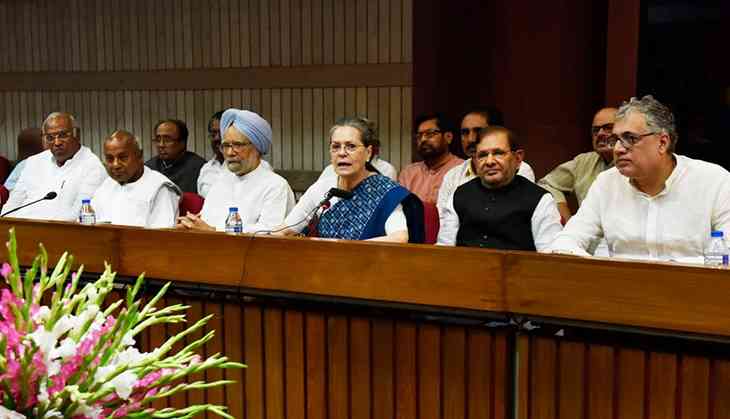 (Mohd Zakir/Hindustan Times/Getty Images)
After announcing Gopalkrishna Gandhi as its Vice-Presidential candidate, a united Opposition is busy showcasing its newfound bonhomie in public.
The rag-tag rainbow coalition to oppose the rise of the Bharatiya Janata Party and Narendra Modi has swelled to 18 parties now, with Ajit Singh's Rashtriya Lok Dal being the latest entrant – despite having no Parliamentarians of its own.
However, there's one party that's conspicuous by its absence – the Aam Aadmi Party, which has four Lok Sabha MPs (of which two are currently suspended), is in power in the Delhi Assembly and is the main Opposition party in Punjab. AAP is expected to make its Rajya Sabha debut with three seats in January 2018, when Upper House seats from Delhi and Punjab fall vacant.
But why is it that AAP, one of the most vocal critics of the Modi government, is a pariah to this Opposition unity?
The answer is that the Congress has consistently blocked AAP's entry into this camp, even though other parties have wanted it to come on board.
Concerns over alienation
"I seriously feel concerned about how AAP is being alienated. One should not forget it is the ruling party in Delhi and the main Opposition party in Punjab. There is a sense that the views of the Congress's local leadership in these states is prevailing over the central leadership," said JD(U) leader KC Tyagi.
According to Tyagi, since Congress is in direct fight with AAP in Punjab and Delhi, the local leadership is in no mood to let AAP be part of this united front. "If they are serious about Opposition unity, they can't have different rules for different parties. This is against the spirit of Opposition unity. Even before the Presidential candidate was announced, AAP should have been consulted as well," Tyagi added.
When questioned why it was not part of any of these meetings, AAP spokesperson Ashish Khetan bluntly said: "We never got the invite. So the question of attending these meetings does not arise."
Many parties in favour of AAP being part of the united Opposition also claimed how inviting other parties was the prerogative of the Congress, since it was convening these meetings.
Moreover, many other parties are not willing to raise the issue, largely because the Congress is the largest party in the united Opposition.
NCP's Tariq Anwar, who was part of the 11 July meeting to select the V-P candidate at Parliament House, agreed with Tyagi and blamed the Congress's local leadership for blocking AAP's participation in these meetings. Hoping that AAP would be allowed to be part of this united front, Anwar said: "The Congress is a big party and one will have to consider that. Otherwise, I don't think any other party has any reservations about AAP being part of this. We hope that whatever differences they have can be sorted out before 2019, when the real battle begins."
A senior politician, who has been part of most of these Opposition meetings, on the condition of anonymity, said the grand old party had not yet forgotten how AAP and its leaders gained national prominence by targeting its leadership.
"Much before Modi launched his campaign, the Anna Hazare Movement had been successful in portraying the Congress and its leadership as corrupt. A section of the Congress leadership blames them for the party's disastrous performance in 2014. Till today, the Congress is seen as the party of the corrupt, which is largely AAP's doing," the leader said.
Trinamool's solidarity
The Trinamool Congress, which has played an assertive role in creating this Opposition unity, claimed it has been raising the issue of political vendetta being unleashed on AAP by the Central government.
"During the 11 July meeting, we mentioned how the AAP government in Delhi was also a victim of the Centre's political vendetta, which has also been unleashed on several other states ruled by Opposition parties. We also discussed that how Central investigating agencies are hounding (Delhi CM and AAP convenor) Arvind Kejriwal, making it increasingly difficult for him to run the state," said Trinamool MP Derek O'Brien.
Kejriwal shares a special rapport with Trinamool supremo Mamata Banerjee, and both have held joint rallies in New Delhi post-demonetisation. Even AAP leaders have stood in solidarity with Mamata over several issues, including how Central agencies are being used to intimidate and harass political opponents.
It is in this context that O'Brien said AAP is with the Opposition in spirit. When questioned why AAP is not part of these meetings, he said: "The Congress called the meeting and is responsible for sending invites."
Blessing in disguise
CPI(M) general secretary Sitaram Yechury, meanwhile, jumped to the Congress's defence, and said AAP was to be equally blamed for its absence. "They are of the view that how can they share the same platform with the parties that they once bitterly opposed? It is also for this reason that they have not been part of these meetings," he said.
A section of AAP leadership concurs with Yechury, and claims it suits the party to be a fence-sitter rather than actively be part of this front. "I think its a blessing in disguise for AAP, since this Opposition unity is still evolving. Moreover, how can we be part of the front that includes Congress and NCP, considering we once bitterly opposed them?" said an AAP leader, who did not want to be identified.
However, he didn't rule out the possibility of the party changing its stand as the situation evolves. "In principle, we are with the Opposition, and that is why we have declared our support for the Opposition's candidates for the post of President and V-P," said the AAP leader.
On the issue of the Congress being averse to having AAP as part of the united Opposition, the leader said: "If that's the case then it reflects hypocrisy, since Meira Kumar called Kejriwal and sought AAP's support for the Presidential election," he added.
Take a clear stand
No Congress leader was available for comment on this matter. Even a message sent to the Congress's chief spokesperson, RS Surjewala, did not evoke a reaponse.
In direct contrast to the Congress's stand, CPI leader D Raja said the Opposition should have no problem in approaching AAP, but pointed out how the party has not been taking a clear stand on multiple issues.
According to Raja, there is no clarity over who it is supporting in the Presidential and Vice-Presidential elections. He also concurred that the Congress, being the largest Opposition party, doesn't share cordial relations with AAP.
Raja said: "So much is happening across the country and AAP has not been taking any clear position of late. If AAP wants to be taken seriously, it should clearly state its position, and then we will see how to take it forward."