Almost a year after becoming CM, Adityanath's feud with Dy CM KP Maurya gets worse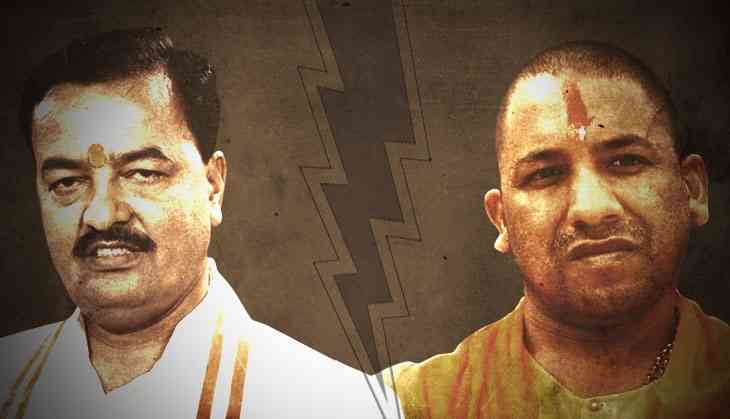 By making Uttar Pradesh Chief Minister Yogi Adityanath the Bharatiya Janata Party's (BJP) star campaigner, first in Gujarat and Himachal Pradesh, and now in Karnataka, the Rashtriya Swayamsevak Sangh (RSS) has made clear its intentions of using Hindutva as its poll plank.

However, despite this primacy, Adityanath still carries a nagging fear of being upstaged by deputy chief minister Keshav Prasad Maurya, who was the front-runner in the race for the UP CM post before it finally fell to Adityanath.

The tussle between the two was fast turning into a fight between the other backward classes, to which Maurya belongs, and the Rajputs, Yogi's caste. One reason for this was Maurya's warning that "outsiders", read Hindu Yuva Vahini (HYV), were being given more importance than party workers. This was when Maurya was holding dual charge of the posts of UP party president as well as deputy chief minister. After an RSS-brokered truce, the Hindu Yuva Vahini retreated to Gorakhpur, but the divide between Yogi and Maurya only widened.
A feud at the top
Following the HYV episode, Adityanath, who saw Maurya as a threat, apparently began to harbour a grudge against his deputy, slighting him at every opportunity.

Adityanath made his first move when he promised pothole-free roads by June 15. Sources said that Maurya, who holds the PWD portfolio, was not even consulted. As the unrealistic promise could not be kept, it was Maurya who received flak for the failure.

It was announced that the chief minister would sit in his new office located in the Lok Bhawan, vacating his original office on the fifth floor of Secretariat Annexe. However, when Maurya decided to move to 'pancham tal' (Yogi's vacated office), the chief minister is understood to have objected to it. Maurya was instead allotted another room.

When the Yogi government completed its 100 days in office, a booklet was published to highlight its achievements. While there were photos of other ministers, Maurya's picture was conspicuous by its absence. It was later explained away as a clerical lapse.

More recently, Yogi chose to take Dinesh Sharma, the other deputy chief minister who is believed to be close to BJP national president Amit Shah, to the swearing-in ceremony of Gujarat Chief Minister Vijay Rupani. Although one reason for this choice could be that Sharma was earlier the observer for Gujarat, this did not go down well.

Soon after, Yogi snubbed Maurya. This time, he and Sharma flew in a government aircraft to attend the swearing-in ceremony of Jai Ram Thakur in Shimla. An upset Maurya took a chartered flight to Shimla.

Adityanath later took to Twitter to attack Maurya. On December 30, Yogi tweeted his unhappiness over the PWD's management of road infrastructure, saying, "ab bhee bahut see shikayaten aa rahee hain (Still a lot of complaints are pouring in)."
The beginning of Maurya's end?
The CM venting his displeasure over PWD's working in public was viewed as a direct attack on the functioning of the PWD. And, if the experiences of Dr Radha Mohan Das Agarwal and SP Shukla, who is a minister of state at the Centre, were anything to go by, Adityanath gives his rivals no quarter.

BJP spokesman Navin Srivastava denied any rift between the CM and is deputy Maurya. Maurya has a lot of respect for Yogiji and any talk of rift between the two is an act of mischief by the opposition parties, he said. However, such attacks have led to a weakening of Maurya's hold on his department as bureaucrats and engineers know that their minister's authority was being undermined by the CM.

Barring his hard-line Hindutva, Adityanath himself has nothing much to show for his time in power. He is aware that for the RSS he was going to be the calling card for 2019 parliamentary elections by virtue of being the most strident face of Hindutva. Even if Prime Minister Narendra Modi may not like him, there isn't much he can do about it.

That leaves Maurya vulnerable and the backward castes unhappy. Will the PWD minister get sidelined and eventually dropped? Or, will the RSS play peace-maker between the two leaders? Time will tell.