All sound and fury: here's what Seemanchal is saying about Owaisi
Parth MN
| Updated on: 13 February 2017, 7:23 IST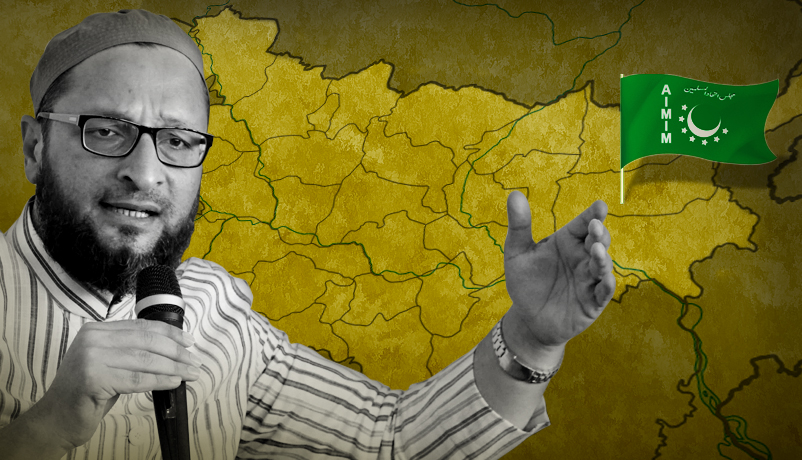 Big splash
Asaduddin Owaisi has fielded 6 candidates in Seemanchal
The region has a Muslim population ranging from 30% to 70%
The AIMIM chief is attracting huge crowd at his rallies
Little impact
AIMIM may only impact 2 of the 6 seats its contesting
Owaisi has little support outside Kishanganj town
Many Muslims say voting for him will help the BJP
A large crowd of people has gathered in a rugged ground in the remote Damalwadi village in Bihar's Kishanganj. More are arriving by the minute, young men in neatly folded shirts, pajamas and the occasional skullcap riding bicycles and motorbikes, and elders in kurtas and lungis ambling along.
The gathering is listening to an AIMIM leader, when, suddenly, there is a commotion at the back. A white Scorpio appears and arrests the people's gaze. The speaker stops his address. A crowd lunges towards the car, following it as it lumbers around the ground. It stops near the stage.
And out comes Asaduddin Owaisi.
Cameras flash, flags are waved and chants rent the air. The crowd goes berserk.
Mohammad Nusad has come 12 km to hear Owaisi. "He speaks our language," he says by way of explanation.
Read: Mr Owaisi, Muslims don't need you to be a Muslim BJP
But Nasad won't vote for him. "It would benefit the BJP," Nusad explains. "Sentiments aside, it is prudent to vote for the Grand Alliance. The situation could be different five years down the line."
This, perhaps, sums up Owaisi's likely contribution to this Bihar election.
The AIMIM chief has fielded six candidates across Seemanchal, Bihar's most backward region with a Muslim population ranging between 30% and 70%. He has come here as an alternative to the "so-called secular parties who have done nothing for the minorities".
Limited appeal
But Owaisi may have miscalculated. This area has long been known for its communal harmony. Indeed, even in Kishanganj, which is almost 70% Muslim, Owaisi's appeal rings only a few bells. His sentimental appeal does not surmount Nitish's performance over the past decade.
"Owaisi speaks merely of one religion," complains Noor Mohammad Ameen, an autorickshaw driver. "Nitish thinks of everyone. Bihar cannot get a better chief minister."
"What does a citizen want," Ameen's wife chips in, "other than security and education?" "And under Nitish, Bihar has become safe. I do not have to worry about my daughter. And kids have been given cycles. They look forward to school. What more can a mother ask for?"
Owaisi wants Muslims to be scared. AIMIM and BJP are two sides of the same coin: Md Majuddin
If at all, the AIMIM's impact could be felt in two seats. In Kochadaman, Owaisi's charisma seems to have been enhanced by his candidate Akhtarul Imaan's image. Formerly with the RJD and the JD(U), Imraan is an educated man with robust grassroots connect. A seasoned campaigner, he is cut out for such battles.
In the Kishanganj town constituency, the AIMIM may end up handing the victory to the BJP by splitting the Muslim vote with the Grand Alliance. In the last election, the BJP had lost by a small margin, and a three-way fight this time would certainly tilt the equation in the BJP' favour.
A section of Muslims in Kishanganj seems have become acutely aware of its religious identity after incidents like the Dadri lynching and communal statements made by the BJP leaders. They are likely to vote AIMIM. Owaisi is aware of this.
As he starts his speech, a baby begins to cry. Owaisi does not let the opportunity slip. "Kishanganj is crying like this," he says, and narrates the lynching of Mohammad Akhlaq in Dadri and other communal incidents. He then tears into Amit Shah for his "crackers will be burst in Pakistan if the BJP loses in Bihar" comment.
The speech seems to make an instant impression. "When a situation demands a raging bull, a holy cow is useless," says Mohammad Shah Alam, who is in the audience. "Only Owaisi can take on the radical groups targeting minorities."
No alternative
Away from the rally though, people are more circumspect. "Owaisi wants Muslims to be scared," says Mohammad Majuddin, sitting in his madrasa in the town. "AIMIM and BJP are two sides of the same coin. Both play divisive politics."
As you go away from Kishanganj, Owaisi's appeal wanes.
In Purnea district, Owaisi is eying Baisi and Amour constituencies. Both these areas have frequently borne the brunt of tropical storms. But the state's management of the disasters and relief programmes have made people here loyal voters of Nitish. Roads are decent and electricity is now more consistent, residents say.
Although many people are miffed with Nitish for tying up with Lalu, they won't ditch him. "The Lalu era still haunts us. Nitish should not have gone with him," says Madan Bhagat, principal of a high school in Baisi.
"But we like Nitish more than we hate Lalu. And it is important to vote for the Grand Alliance as we need peace and progress. With the BJP, we might get the latter but the peace will definitely be ruptured."
Ask him who the major political players in Baisi are, and Bhagat names everyone, except the AIMIM chief. What about Owaisi? "Since when did he become a player here?" Bhagat retorts.
'When you need a raging bull, a holy cow is useless. Only Owaisi can take on those targeting Muslims'
In Kishanganj, if Muslims are reluctant to support Owaisi, it's for fear of splitting the vote. In Purnea, it is because they don't trust him. "The Bihari voter is aware and astute. Owaisi is a snake unleashed by the BJP to undermine the Grand Alliance," says Prashant Rai, a shopkeeper in Amour.
A tea stall near Rai's shop resembles a party meeting, with young and old debating the impending polling. "The NDA is nowhere in the race in the Muslim dominated areas here. Had Modi controlled his ministers, I am sure he would have conquered Bihar," Rai adds.
Grand bargain
The BJP did exceedingly well in Seemanchal in the 2010 assembly election, bagging 13 of the 15 seats it had contested. Then, however, the party was allied with Nitish.
The Muslim vote, by and large, seems to be going to the Grand Alliance. And if the alliance does pip Owaisi and the NDA here, Lalu's contribution would have been significant.
In the 2014 Lok Sabha election, despite the Modi wave, 64% Muslims voted for Lalu's RJD and its allies. Indeed, most Muslims still admire him for "always standing" by their side. "Unlike Nitish, Lalu never compromised with the BJP. But what is past is past. The two are together now and we must back them," says Aftab Rahmani, who works at a foundation in Kishanganj.
A considerable chunk of the non-Muslim vote too, seems inclined to back the Grand Alliance, largely due to Nitish's track record. "Nitish's heart is in the right place. The least we can do is vote for the good man," says Guddu Jha, 23, of Kishanganj. "Owaisi is vicious."
Still, even if Owaisi influences the results in only two constituencies, he would have made a mark. It would lay the ground for future. He has already sown the seed. "We have always had non-Muslim leaders advocating Muslim rights," says Mohammad Azad after listing to Owaisi's speech. "He is the first Muslim to be leading the Muslim community."
Whether they will translate into votes remains to be seen, but Owaisi's rallies have been a success in that they have given him visibility, and audience, outside Telangana.
Indeed, people have come from West Bengal for some of Owaisi's rallies near the state's border, just to get a glimpse of him. Just a day before Owaisi's rally on 30 October, Rahul Gandhi too had addressed a public meeting in Kishanganj but its intensity was not even half as much.
Owaisi may not make a splash with numbers this election, but to dismiss him as a passing ship would take some audacity. Still, that's in the future. In this election, he won't make much of a difference.