All quiet on the western front: Kejriwal's silence not working for AAP in Punjab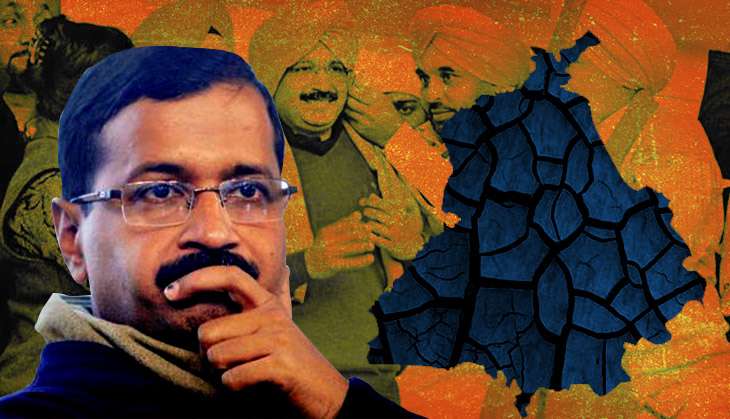 The continuing silence of its national convener Arvind Kejriwal is making things worse for the Aam Aadmi Party (AAP) in Punjab where daggers are drawn between its cadres as its state leadership washes dirty linen in public. The silence of the topmost leadership is also providing enough fodder to its rivals - the Congress and the Shiromani Akali Dal (SAD).
The latest trouble to hit the party was the removal of Succha Singh Chhotepur from the post of state convener last week. Since then, there has been a ripple effect which the party is finding difficult to contain.
Also read - Sucha Singh Chhotepur sacked as AAP Punjab chief, Amarinder reaches out
Quiet as the grave
Observers feel that it should have been Kejriwal who should have announced Chhotepur's removal from his post considering that he was the senior-most leader in the poll bound state.
Similarly, Kejriwal's silence has irked many. They want him to make his stand clear on the allegations pertaining to his asking Chhotepur what would have happened if he had lied about having seen the cover of the party's youth manifesto that had the party symbol of a broom with the Golden Temple in the background.
Chhotepur has now also come out with another damning revelation: he spoke of Sangrur MP Bhagwant Mann's desperation to prevent the entry of cricketer turned BJP's former Rajya Sabha member Navjot Singh Siddhu to the party.
Veteran political observer Jagtar Singh has aptly described the scenario saying, "None from the top leadership, Kejriwal downwards, have made any comment on this development in Punjab and it has been left to Punjabis to fight with each other. Punjabis are good mercenaries from the background of being warriors."
This is being reflected on ground. Chhotepur's supporters reportedly staged a massive protest in Kalanaur area of Gurdaspur - Chhotepur's home turf - and burned an effigy of Kejriwal. AAP volunteers then organised a counter protest at the border town of Dera Baba Nanak. Reports also say that the police intervened to avert clashes between groups of AAP workers at Dera Baba Nanak and at Dina Nagar.
'Remote control'
The party continues to draw flak for ignoring Punjab's leadership and dictating terms through a team of outsiders led by state in-charge Sanjay Singh and organisational head Durgesh Pathak.
To make matters worse, senior leader and spokesperson Sukhpal Khaira has also said that what happened with Chhotepur was unfortunate. He reportedly made this comment with reference to the sting operation against Chhotepur that ultimately led to his sacking being the job of an insider. Khaira also said that the central leadership should have faith in Punjab leaders and that they should be involved more in the decision-making process.
The issue of remote control functioning in the state has been brought up repeatedly over the past few months. AAP opponents are playing the parochial sentiment combined with the undertones of Sikh identity to the hilt and the party needs to rein in this phenomenon before it spells disaster for it.
All guns blazing
The SAD has launched the most scathing attack on Kejriwal and AAP's central leadership. The party has asked Kejriwal to come clean on allegations made by his own party men about how he had plotted and fanned a civil war among Punjabis and Sikhs as part of the age old policy of "divide and rule".
"Leave Punjab to Punjabis. The proud people of this state will never allow UP gangsters or their Haryana chieftain to rule. Kejriwal must stop these conspiracies of setting brother against brother just for establishing personal hegemony in the party," said SAD general secretary Harcharan Singh Bains.
He said, "It is obvious that Kejriwal has used Bhagwant Mann to test the waters and see if Punjabis are willing to be ruled over by a non-Punjabi. We are shocked that Bhagwant Mann is willing to be used as 'His Master's Voice' against the people of his own state. Or maybe he is completely ignorant about the Punjabi temper and doesn't realise that the proud people of this land of Gurus can never accept an outsider - especially a Haryanavi - to preside over their destiny."
SAD leaders have also described AAP leaders like Himmat Singh Shergil and Bhagwant Mann as the 'petty local henchmen of the UP gangsters'.
Playing the ECI card
Going a step further, the SAD has asked the Election Commission of India (ECI) to investigate the rampant violation of electoral laws by AAP. Party MPs including Sukhdev Singh Dhindsa, Balwinder Singh Bhundur, Harsimrat Kaur Badal, Prem Singh Chandumajra , Naresh Gujral, Ranjit Singh Brahmpura and Sher Singh Ghubaiya have urged the ECI to verify the disclosures made by Chhottepur and initiate proceedings to disqualify AAP from national politics.
"The alleged party for change has turned out to be a money collection machine which is milking gullible Punjabis by promising tickets to them. This has vitiated electoral politics in Punjab," the MPs said.
Joining the AAP bashing party
The Congress leadership has also been going ballistic against AAP. State Congress chief Captain Amarinder Singh has asked Kejriwal to come clean on the serious allegations leveled against him by Chhotepur that he scornfully denigrated Sikh religion and even asked him as how did it matter if he was excommunicated by the Akal Takht.
Amarinder reminded Kejriwal that contrary to the high moral ground he has been taking today, he was forced to repay Rs 9.2 lakh by his income tax department that he had cheated it of.
"Didn't you repay this money under pressure after eight years, during the peak of the Anna Hazare movement just to show yourself to be clean as you claimed to be leading an anti-corruption movement?" he asked Kejriwal.
Amarinder has questioned Kejriwal's double standards by pointing out, while he did not even react to the revelations made by the AAP's national council member Pavitar Singh that Sanjay Singh and Durgesh Pathak demanded Rs 50 lakh from him to allot Phillaur assembly ticket to his wife, he took no time to malign Chhotepur just because he had accepted donation from a party volunteer.
Reacting to Bhagwant Mann's statement that the Punjab Congress is also controlled from Delhi, Amarinder has said that the Congress being a national party has a national set up headed by Sonia Gandhi. "But she does not interfere, leave aside control, into the state affairs and it is the PCC president who is in overall control of the state affairs. Let me remind you, unlike Kejriwal, Sonia never aspired to be the Punjab Chief Minister."
Till now, it has only been AAP's local leadership that has been denying the allegations levelled by Chhotepur. Shergil has come forward to ask Chhotepur, why as a true Sikh, he was silent on remarks by Kejriwal for so many days.
"Timing of such serious allegations against Kejriwal by Chhotepur shows that when he was caught red-handed while accepting the 'bribe' of Rs 2 lakh on camera and he was exposed, he made baseless and false allegations against Kejriwal to divert attention from his sins," he said.
Edited by Aleesha Matharu
More in Catch - Chhotepur on his way out: AAP set to show the door to its Sikh face in Punjab
Dealing with discontent: AAP cauldron remains on the boil in Punjab