Akhilesh snubs Allahabad HC by bringing Prajapati back in office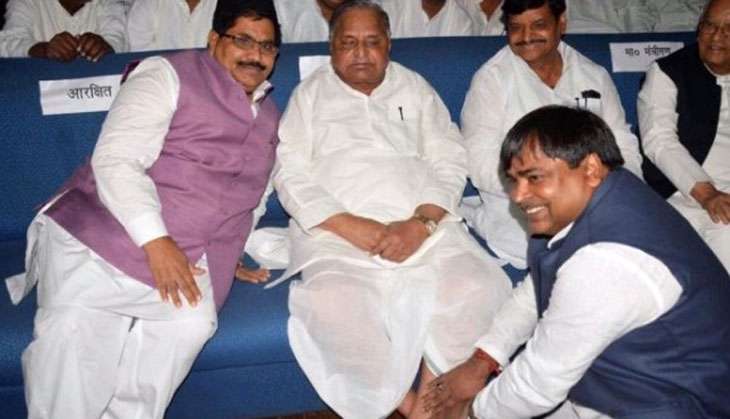 In almost a deliberate move to snub the Allahabad High Court Chief Minister Akhilesh Yadav re-inducted Gayatri Prasad Prajapati into the cabinet on Monday, 14 days after he sacked him.
On 28 July, a division Bench of Chief Justice DB Bhosale and Justice Yashwant Verma had asked the investigating agency to probe if the mining leases of a number of lessees had been unlawfully extended after their expiry in 2012.
While ordering the CBI probe, the court had rejected the affidavit filed by all the district magistrates of the state, that there was no illegal mining taking place in their respective districts, as false.
The court described the affidavit of principal secretary, mining, that a committee had been set up to look into the allegations of illegal activities as an 'eyewash'.
When he sacked Prajapati, Akhilesh had made it look like he was purging his ministry of corrupt elements, while taking on his uncle Shivpal. That he had a bitten off more than he could chew is now evident.
Also read: Sacked ministers & illegal mines: is Akhilesh making a last-ditch effort to change things?
Mulayam subdued his rebellion with a firm hand and showed the chief minister who was boss. It was Mulayam who informed the workers of Prajapati's return, leaving the chief minister with no quarter to hide his embarrassment.
Before sacking Prajapati, Akhilesh had probably forgotten that it was on account of this Amethi MLA that Mulayam had allegedly threatened IPS officer Amitabh Thakur who was pursuing the corruption case against his blue-eyed mining minister.
Thankful much
At Monday's swearing-in ceremony Prajapati touched Akhilesh's feet thrice but lay prostrate at the feet of Mulayam and Shivpal.
For Prajapati doing what he did was no big deal. After all, it was he who was having the last laugh in the Yadav family's game of thrones.
Willingly or unwillingly Akhilesh Yadav ended up underlining the popular view that his government was of the corrupt and for the corrupt.
The Bharatiya Janata Party (BJP) described Prajapati's re-induction as "openly giving legitimacy to corruption".
Re-appointing a person facing CBI inquiry on the orders of the high court as a minister will strengthen corruption in the government, the BJP state president Keshav Prasad Maurya said in a press note.
Track record
During its tenure the Samajwadi Party government has taken on the high court for all the wrong reasons.
The fear of a CBI inquiry against Prajapati did not stop the government from re-inducting him, it also unabashedly tried to stall a high court-orderedCBI inquiry against Noida chief engineer Yadav Singh.
Only when it sensed the mood of the apex court that the government decide to back down. Yadav Singh is currently under investigation.
Similarly, in the case of UP Public Service Commission chairman Anil Yadav, facing grave charges of irregularities in recruitment to various government jobs, the government persisted with him until the high court finally sacked him.
Like father like son
Akhilesh's brazenness in backing corrupt ministers and bureaucrats is not surprising. He has probably inherited it from his father who, as chief minister, had appointed two of the most corrupt bureaucrats - Akhand Pratap Singh and Neera Yadav - as chief secretaries despite the Supreme Court telling his government to not do so.
The senior Yadav had gone out of his way to shield Amar Mani Tripathi from trouble after the murder of a poetess.
Amitabh Thakur, an IG rank officer, had filed a police complaint in 2015 claiming that Mulayam had threatened him over the phone for pursuing a case against Prajapati in a Lokayukta's court where his RTI activist wife Nutan had filed a complaint of corruption against Prajapati.
Prajapati began his political career as a BPL card holder but now has wealth worth over Rs 942 crore.
The move to sack Prajapati was seen as Akhilesh Yadav's effort to improve his image but, for obvious reasons, it was more of a window-dressing. The mannequin Akhilesh removed earlier is back in the window.
Edited by Jhinuk Sen
Also read: How Gayatri Prajapati is minting crores from illegal mine permits
Also read:UP Cabinet expansion: Gayatri Prasad Prajapati takes oath as Cabinet Minister