Akhilesh and Ram Gopal are back. But will Netaji's damage control work?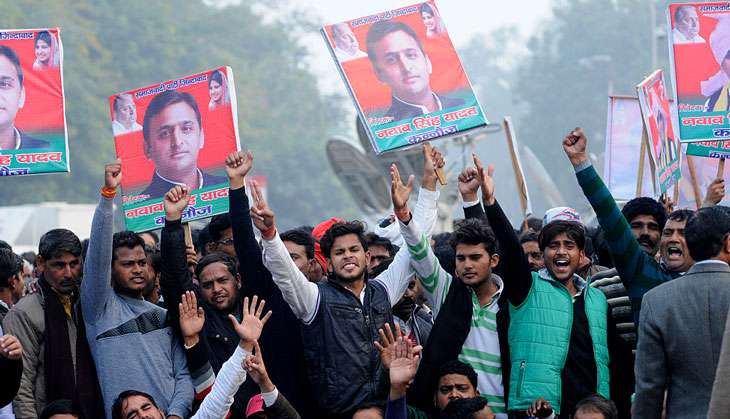 Less than 24 hours after expelling him from the Samajwadi Party for six years, Mulayam Singh Yadav revoked his decision against Chief Minister Akhilesh Yadav.
It was a 'much ado about nothing' scenario as the party's national president also revoked his decision against of Ram Gopal Yadav, who too was expelled for indiscipline.
At a hurriedly called press conference, party's state president Shivpal Yadav said on the instructions of Netaji (Mulayam) the expulsion of both Akhilesh and Ram Gopal had been revoked.
With a touch of déjà vu, he added that the feud in the family was over and all was now well.
"We all will sit together and decide on the names of contestants afresh," said a subdued Shivpal.
Also read: SP MP claims Akhilesh won't resign, 90% of MPs and MLAs are with him
Ticketing troubles
Besides Amar Singh, the conflict between Shivpal and his nephew Akhilesh was mainly over who should be given tickets for the coming assembly elections. The chief minister had defied his party's bosses (read father and uncle) Mulayam and Shivpal and released a list of 167 candidates of his choice. This was viewed as an act of indiscipline and a show cause notice was issued to him.
This was the second time that Ram Gopal has been expelled and then taken back.
Akhilesh had gone to meet Mulayam armed with the signatures of 202 MLAs and 34 MLCs. He was accompanied by the party's founder-member Azam Khan, who made Akhilesh touch Mulayam's feet.
The chief minister was quoted as saying that he had separated from the party but not his father.
Mulayam is learnt to have told Akhilesh that had he been against him he wouldn't have made him the chief minister.
Akhilesh asked to be reinstated as the state party president in place of Shivpal and withdrawal of Ram Gopal Yadav's expulsion order. He also demanded that 'outsider' Amar Singh should be removed from the party.
Whether Mulayam had accepted his demand on state party president's post is not clear yet. It was also not known if Mulayam has any plans to sack Amar Singh.
Family drama
In a replay of events in the Samajwadi Party two months ago, Mulayam Singh Yadav brokered peace between his brother, who reached his house later, and son by making them hug each other.
A similar patch-up bid earlier had not worked and both Akhilesh and Shivpal had expelled each others' loyalists, one from the party and the other from the ministry.
In August this year Mulayam Singh Yadav had warned his son that if Shivpal, who was then the Minister for PWD and Irrigation, leaves the Samajwadi Party will break.
Five months later, Chief Minister Akhilesh Yadav proved him wrong when he showed up at his residence with the support of 202 legislators. The trick seemed to have brought Shivpal into submission.
For someone who, until a year ago, was being dubbed as a 'thumb-sucking half chief minister of Uttar Pradesh, it was the coming of age of Akhilesh. That he had the guidance of his wily father and Ram Gopal cannot be ruled out.
At an emergency meeting of the Samajwadi Party's parliamentary board convened by Mulayam and Shivpal Yadav the turnout was dismally low - only 14 legislators and 60 candidates who had been given ticket by the party's state president turned up.
Those present at the CPB meeting included notorious criminal Atiq Ahmed, Ashok Bajpai, Narad Rai and Ambika Chaudhary and others.
The notable absentee from the CPB meeting was Mulayam himself and Azam Khan, a founding member of the party. All 395 candidates who were given ticket were called to attend Shivpal's meeting.
Show of strength
The parliamentary board's meeting was being held at the party office which is located at a stone's throw from the CM's residence at 5, Kalidas Marg.
With all the legislators being asked to sign a register, Akhilesh tripped Shivpal who has for long been perceived as the head of the party's dirty tricks department.
The comparison between the two meetings was inevitable as they began around the same time - 11 am.
With an overwhelming majority of party legislators marking their presence at the CM's residence in the morning of 2016 calendar's last day - the day clearly belonged to Akhilesh Yadav.
Also read: Pari-war all set to split SP after Mulayam expels Akhilesh and Ram Gopal
Edited by Jhinuk Sen