Akharas of anarchy: armed Hindutva group rises in UP. Cops say "not a problem"
SN Malik
| Updated on: 14 February 2017, 5:31 IST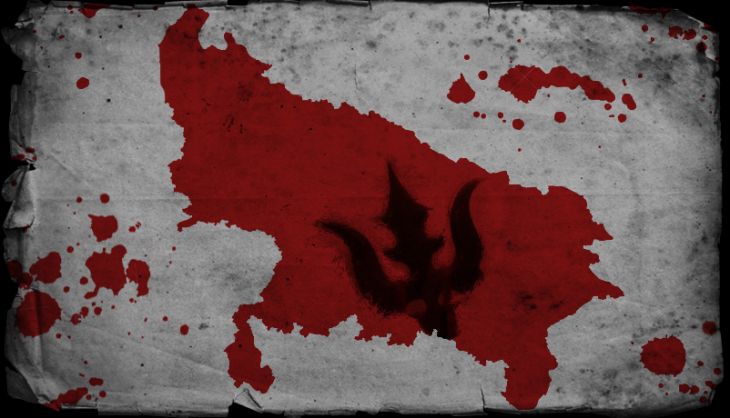 The organisation
Hindu Swabhiman has been training local youth, even kids, in arms
Even fire arms training isn\'t uncommon in the garb of traditional sports like wrestling
The justification
Hindu Swabhiman office bearers say Hindus must be ready to fight Muslims and jehad
Security agencies turn a blind eye. They say the outfit doesn\'t pose a threat
More in the story
How widespread is Hindu Swabhiman?
What is the politics behind it?
The Yadav-dominated village of Bamheta in Ghaziabad is famous for its wrestlers. Recently, however, it hit the headlines for other reasons.
A large number of grapplers are thronging the village akharas - local wrestling training centres - to hone their skills. They don't eye sporting medals. Rather, they are on a supposed mission to wage a 'battle for existence'. They have taken a vow to protect their country and defend 'Hindu pride'.
The leader of the campaign is Anil Yadav, the national general secretary of an outfit called Hindu Swabhiman.
His house lies in one corner of the village. We are greeted at the main entrance by Yadav's 78-year-old father Veer Pal, who wants to ascertain the identity of every visitor. Anil, he insists, is a noble man who cannot tolerate injustice: "My son believes in delivering justice on the spot."
Also read: No remorse: villagers in Bishara say 'beef-eating' Akhlaq deserved to die
A former wrestler and a martial art expert, the well-built Anil spent the better part of his youth in akharas. Not any more though.
"Hindu society only talks and does nothing. We want them to be strong," says Anil, who believes Muslims and Islamic jihad are the biggest threats of our times.
A presumption of Hindu victimisation is ingrained deep in Anil's thought process. The community is suffering atrocities in every part of the country, be it Muzaffarnagar or Malda, he believes.
"Hindus were blamed for Akhlaq's death in Bishara, but he died of a heart attack. Instead of investigating the matter properly, the government appeased Muslims by compensating Akhlaq's family with house and money," Anil argues.
"Hindus have lost faith in all governments. Self-defence is the only option," he says.
Also read: Does Sharma want Akhlaq's daughter to thank the mob for not raping her?
(The Akhlaq he is referring to is the man who died in a gruesome lynching case last year. A Hindu mob had pulled him out if his house and bashed him to death with bricks on the suspicion that his fridge had beef in it.)
Anil and his organisation have recently become a topic of discussion. According to media reports, Bamheta is now a centre for training children in using arms. The Indian Express recently carried a front page story on this worrying phenomenon.
Hindus have lost faith in all governments. Self-defence is the only option'
News channels have also played videos and newspapers have carried photographs to support their stories. Hindu Swabhiman has been quoted saying it is preparing Hindus against the threat of the Islamic State (ISIS).
A simmering cauldron
Western UP has seen a sudden surge in activities of Hindu Swabhiman, headed by Meerut-based lawyer Chetna Sharma, who is also a member of Durga Vahini, a women's force affiliated with the Rashtriya Swayamsevak Sangh.
Parminder Arya, an ex-serviceman, is the executive president of Hindu Swabhiman. He is active in Rori, a village 35 kilometres from Bamheta and about a hour-and-a-half's drive from Delhi. News of weapon's training to children first emerged from this village.
Also read: #DadriLynching: India needs you to speak up, Mr PM
"Our mission is simple: We want three years of compulsory military service for all citizens like Israel," says Narasimhanand Saraswati, the priest of a temple in Dasna in the same district.
"All Indians will be capable of defending themselves, if this happens. We are planning to launch a campaign to press for this."
Muslims are barred from the temple, which is also the headquarters of the Hindu Swabhiman. Clearly, Narasimhanand is not restricted to spiritualism.
"Muslims don't come to the temple for worshiping. Their only motive is to harass our women. It is sad that Hindus never speak for their society, while Muslims are always vocal," he says.
Also read: Four aspects of the Dadri 'beef' murder that are absurd beyond human understanding
"The Islamic State is fighting in Syria, but its sympathisers are arrested in Roorkee and Meerut. For how long will we tolerate these people?"
Expanding tentacles
Hindu Swabhiman is slowly expanding its influence outside western UP. According to Anil, the organization has "core members" in Haridwar, Jaipur, Bikaner, Indore and several cities of eastern UP. And it is working to extend its reach in other areas.
Disturbingly, none of this seems to be worrying security or intelligence agencies.
Western UP has recently seen a spate of communal incidents. An extra-legal, self-armed force like the Hindu Swabhiman could become a dangerous additive to an already dangerous situation.
However, the local administration as well as the Samajwadi Party-led state government have not done much to counter the hate-mongering. Weapons training continues unabated in the garb of wrestling.
An Intelligence Bureau (IB) team visited Bamheta and Rori on 21 January. It questioned several office-bearers of Hindu Swabhiman, including Anil Yadav and Parminder Arya. The team returned empty-handed after investigating the outfit's weaponry.
IB found nothing objectionable in Hindu Swabhiman's activities
Nothing objectionable was found during the visit and the outfit's activities don't pose a threat, an IB source said. Ghaziabad Police and the local intelligence unit (LIU) agreed to this.
According to Ghaziabad SP (City) Ajay Sharma, nothing unlawful was found in police investigation. Hindu Swabhiman activists promote only traditional sports. They don't possess illegal weapons, he said. SSP Dharmendra Yadav supported him, and claimed everything was "normal".
Also read: What's the beef? Human life treated like a piece of meat, over a piece of meat
"It is difficult to implicate Hindu Swabhiman. You can't book anybody under the Arms Act for wielding lathis and bows. The swords used to train youngsters are blunted. We can act only if firearms are recovered. How can the police arrest people for carrying airguns?" said a police officer on conditions of anonymity.
The final aim
Anil defends it all - the akhara training, archery, fencing and martial arts - as part of rural culture. "We engage in such activities to keep our body and mind in good shape. The Hindu youth can win no battle until they become healthy. Our inclination towards peace is a cause of concern to us," he insists.
The assertion of Hindu Swabhiman leaders makes it clear that Muslims are their main target. They don't differentiate among IS fighters in Syria and Indian Muslims protesting in Malda.
Assertion of Hindu Swabhiman leaders makes it clear that Muslims are their main target
And then Anil gives it away when he concedes that they cant counter terrorists with lathis and swords, but can "teach a lesson to Muslims in the surrounding areas."
Hindu Swabhiman seems particularly worried about the purported rise in Muslim population. Anil is convinced that India is at the verge of a "population explosion".
Also read: Two weddings and a funereal atmosphere: life after Akhlaq in Bishara
"Our activists had written letters in their blood to 18 district magistrates, including that of Varanasi, the Parliamentary constituency of Prime Minister Narendra Modi. Their demand was a strong law for population control," Anil says. His organisation wants any person bearing a third child to be tried for treason.
Tacit understanding between SP and BJP works for both as polarisation of votes become easier
The politics of it
The political character of Hindu Swabhiman begs attention. Bamheta is almost entirely inhabited by the Yadav community, who traditionally supported Mulayam Singh Yadav. But the Modi wave changed it all in 2014. Almost all the youth of the village sided with the BJP, which bagged most of the seats in western UP.
This is why Mulayam has resorted to soft Hindutva since the elections. The tacit understanding between his Samajwadi Party and the BJP is nothing new. This works for both parties as polarisation of votes become easier.
The attitude of the central intelligence agencies and the state police machinery points towards such collusion. It is hard to comprehend how security agencies can condone a brazenly communal organization like Hindu Swabhiman, which seems to be nothing but a pawn in the grand game of the 2017 Assembly elections.
Hindu Swabhiman seems to nothing but a pawn in the grand game of 2017 Assembly elections
Translated by Deepak Sharma
Edited by Joyjeet Das
More in Catch:
Meet the 23 cops who embody Gujarat's carrot-and-stick policy
The bizarre FIR against Teesta Setalvad as Zakia Jafri case approaches