Ahmed Patel controversy: Congress accuses BJP of using dirty tricks to win elections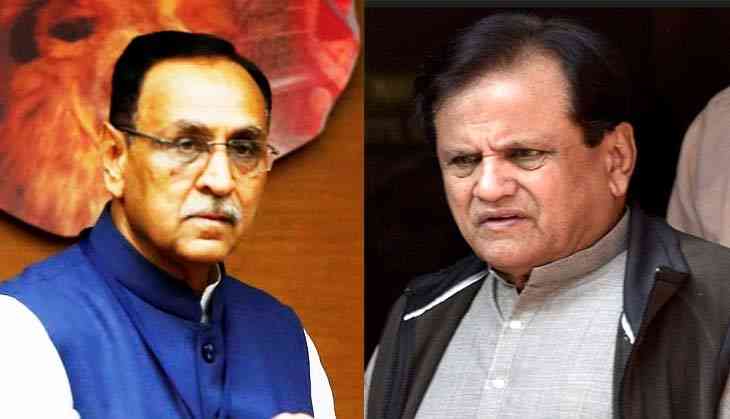 A day after Gujarat Chief Minister Vijay Rupani made sensational allegations against senior Congress leader Ahmed Patel, the grand old party accused the CM of using dirty tricks to misguide voters who have made up their minds to oust BJP from the state.
Earlier on Friday, Rupani had sought Congress president Sonia Gandhi's political secretary's resignation from Rajya Sabha because of an alleged association with Sardar Patel Hospital in Ankleshwar where Mohammed Qasim Stimberwala, one of two alleged Islamic State operatives, worked as lab technician.
On Wednesday, the Gujarat Anti-Terrorism Squad had arrested two individuals from Surat on suspicion of them being ISIS operatives who were planning a terrorist attack in Ahmedabad.
Responding to the allegations, Congress' chief spokesperson RS Surjewala said, "Disturbed by the recent developments in the state where the people have rejected BJP which is all set to lose the upcoming elections, the central and state leadership of the party is resorting to cheap and conniving tactics," he said.
Further, Surjewala accused BJP for masquerading lies as truth to ensure their success in upcoming polls and highlighted how the saffron party first bribed Congress legislators before Rajya Sabha polls and then Patidar leaders. "The allegations against Ahmed Patel reflect how BJP Chief Minister is trying to hide his incompatibility by stooping to such levels," he said.
Congress asked BJP to not teach the former any lessons on national security and terrorism considering the saffron party has no inkling of giving sacrifices for the country. Surjewala pointed, "On the contrary, the entire history of Congress and its leadership is a living example of fight against terrorism and even sacrificing lives to protect nation's integrity."
He cited examples of Mahatma Gandhi, Indira Gandhi, Rajiv Gandhi, among several others who he said laid their lives for the nation.
Seeking explanation from both Prime Minister Narendra Modi and BJP president Amit Shah, Surjewala asked them how did Dawood Ibrahim's wife come to Mumbai in 2016 and then left without any of the central or state governments remaining unaware. "Is it not true that the leader of the 11 persons caught in Madhya Pradesh on charges of spying for ISI was an employee of BJP's IT cell?" asked Surjewala.
Even Patel took to Twitter and in a series of termed these allegations as baseless and said that matters of national security must not be politicised. "We request that matters of national security not be politicised keeping elections in mind. Let's not divide peace-loving Gujaratis while fighting terrorism," tweeted Patel.
My party and I appreciate the ATS's effort to nab the two terrorists. I demand strict and speedy action against them. (1/3)

— Ahmed Patel (@ahmedpatel) October 27, 2017
The allegations put forward by BJP are completely baseless. (2/3)

— Ahmed Patel (@ahmedpatel) October 27, 2017
We request that matters of national security not be politicised keeping elections in mind (3/3)

— Ahmed Patel (@ahmedpatel) October 27, 2017
Let's not divide peace loving Gujaratis while fighting terrorism

— Ahmed Patel (@ahmedpatel) October 27, 2017
Keeping friends close
In other developments, Congress vice president Rahul Gandhi on Saturday met rebel JD(U) MLA Chotubhai Vasava who confirmed that he will contest the elections in alliance with the grand old party in Gujarat. Among those present was Gujarat general secretary in-charge Ashok Gehlot.
Earlier, during the Rajya Sabha polls, Vasava had defied JD(U) president Nitish Kumar and voted in favour of Patel who went on to win the elections with one vote. Vasava holds considerable sway over tribal voters in Bahruch district which has six assembly seats and also Narmada district. Sources have informed that Vasava will have a say in who gets to contest elections from these seats.
Congress leaders welcomed an alliance with Vasava as they believe he would be a huge asset in these two districts. Congress is on the verge of sealing a similar deal with Patidar leader Hardik Patel.
Meanwhile, Patel, on Saturday issued a warning to the Congress that the party should clear its stand on reservations for Patels by 3 November or else the Patidars would start disrupting Congress' rallies.
3/11/2017तक कोंग्रेस पाटीदार को संवैधानिक आरक्षण कैसे देंगी,उस मुद्दे पर अपना स्टेण्ड क्लीयर कर दे नहीं तो अमित शाह जैसा मामला सूरत में होगा

— Hardik Patel (@HardikPatel_) October 28, 2017
Hardik had earlier met with Congress state in-charge Ashok Gehlot to discuss an alliance amid rumours of him meeting with Gandhi as well. However, Hardik denied meeting Gandhi and said that he asked Gehlot too about Congress' stand on reservation for Patels under the OBC category. Hardik has maintained that they don't want reservation under the Extremely Backward Class (EBC) category.
Meanwhile, former state Congress president Arjun Modhwadia said that if voted to power, the party would give reservation to economically backward sections. He further added that Congress leaders would hold discussions with Hardik in the next three-four days.
In other developments, even Nationalist Congress Party (NCP) is keen on having an alliance with Congress and a senior leader informed Catch that NCP leader Praful Patel had approached Congress leadership for the same. He, however, maintained that no decision has been taken as yet considering NCP voted against Congress during the Rajya Sabha polls.
However, the alliance is likely to happen considering there is a view in Congress that NCP contesting elections will benefit BJP which should be avoided.