After Ram Navami, BJP to go big with Rath Yatra celebrations in Bengal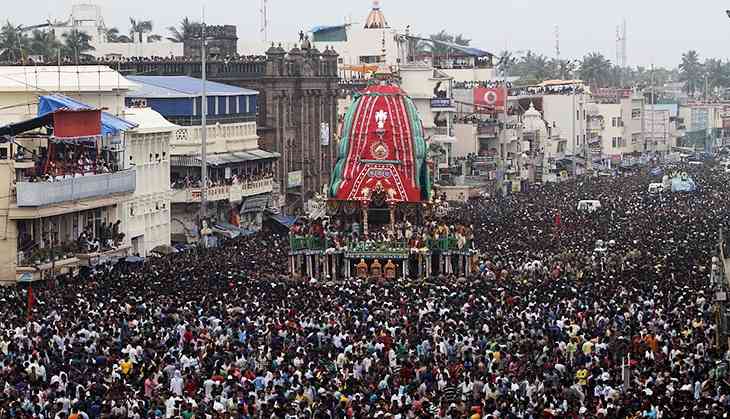 (Biswaranjan Rout/NurPhoto/Getty Images)
After Ram Navami, the next festival that's set to get the full Hindutva treatment in West Bengal is the Jagannath Rath Yatra on 25 June.
The state BJP has decided to celebrate the festival with much pomp and grandeur, and senior leaders say some of them will pull chariots through the streets and lanes of Kolkata. Cultural programmes are also set to be held in different districts to celebrate the festival.
Rahul Sinha, national secretary of the BJP, confirmed to Catch: "We will organise Rath Yatra in Bengal. Till now, the programme list has not been finalised, but we'll let you know once it is."
A senior BJP leader said: "Apart from participating in various Rath Yatra programmes organised by various organisations like ISKCON in Kolkata, we will offer aarti to Lord Jagannath, his elder brother Lord Balaram and their sister Subhadra."
In addition, various RSS-affiliated organisations will organise street plays.
BJP's reasoning
The reason, BJP leaders say, is the party's wish to bring the festivities to the people of Bengal. "Rath Yatra is celebrated in a big way in neighbouring Odisha, but most people from Bengal can't take part in the festivities. We've decided to bring it closer to them," a leader said.
However, the BJP's claim is flawed – the Rath Yatra is widely celebrated in the streets and bylanes of Bengal.
"On that day, kids take out miniature raths, celebrating the festival. Also, larger raths are taken out in processions at many localities in Kolkata and elsewhere. Many Bengalis also travel to Puri to take part in the main Jagannath Temple Rath Yatra festivities. So the BJP's claim is flawed," a political analyst from Kolkata told Catch.
"The BJP is not alone in using Rath Yatra as a symbol. Ever since Mamata Banerjee came to power in 2011, she has participated in all the Rath Yatra programmes organised by ISKCON in Kolkata, and also offered her prayers to the Rath Yatra trinity," the analyst added.
What's behind the attempt?
According to the All India Trinamool Congress (AITC), this is another attempt by the BJP to showcase its power in Bengal, and the state government would beef up security during the Rath Yatra festival to avoid any unnecessary controversy.
Partha Chatterjee, state parliamentary affairs minister, said: "Any political party can participate in and organise various religious festivals, but if it tries to showcase their power by carrying sharp-edged weapons, and tries to polarise people on religious grounds, then the law will take its own course."
Political analysts, however, feel it's a definite attempt by the BJP to use Hindu festivals to galvanise Bengal's Hindus.
Imankalyan Lahiri, professor at Jadavpur University, said: "There is no harm in political parties organising religious processions. But problem arises if one party tries to showcase its power by taking the help of religion, which is dangerous for democracy."