After 2G verdict, Rahul tears into BJP's 'lies' at first CWC meeting as Cong president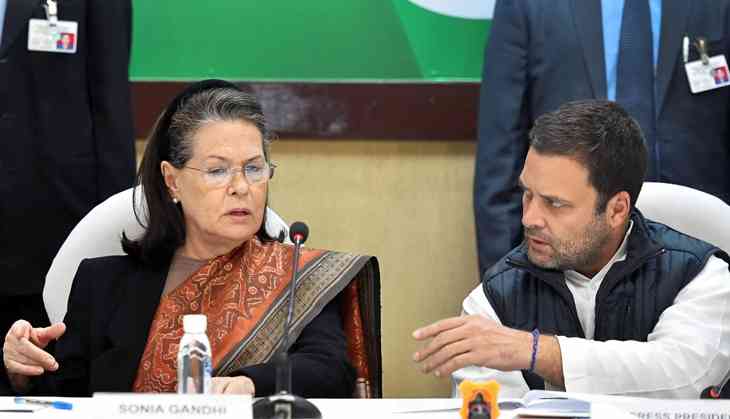 A day after the special CBI court in New Delhi acquitted all 18 accused in the 2G scam, newly-elected Congress president Rahul Gandhi, while chairing his first Congress Working Meeting (CWC), claimed how the biggest instrument used against the UPA government by the BJP has turned out to be fake.
Raising the 2G verdict in his opening remarks at the CWC meeting, he said, "At the national level we have seen how, possibly the biggest instrument used against our government – the 2G issue – has turned out to be fake. So the idea, their (BJP) model, is to come up with a lie, spread that lie, and just keep repeating that lie until people believe the lie. And the good news that I can see is that people are now beginning to question it."
Training his guns at Prime Minister Narendra Modi, Rahul continued from where he left off in Gujarat and accused the PM of spreading lies. When questioned whether 2G verdict has been a vindication for the Congress, Rahul said, "Do I think 2G has been a vindication? The whole architecture of BJP is about lies, the whole is about lies. If you see the Modi model in Gujarat, it was a lie. When we went to Gujarat and spoke to people of Gujarat, they said there is no model. What is going on is the stealing of resources of the people of Gujarat. That's their design."
Claiming that because of the lies of the incumbent government, Rahul said that a positive sentiment is building in favour of the Congress and that the party needs to take advantage of it.
False promises
The Congress president said how people across the country are beginning to question the PM on economy and his insults on former Prime Minister Manmohan Singh. "So that feeling is coming up and there is a positive sentiment towards the Congress party. So I think there is a lot of opportunity for us that we need to step into and take advantage of," he said.
Giving examples of the several false promises made by Modi, Rahul spoke about the promise of Rs 15 lakh in every bank account, 2G scam, Modi model and doubling of income of farmers, "Gabbar Singh Tax" and noteban. "It is all a lie. That's the design. And one by one the lies are coming out," he said.
Thereafter, the Congress president yet again raised the issue of dramatic increase in the revenue of a company owned by Amit Shah's son Jay Shah. "Amit Shah, who is the president of BJP, has a son who turned Rs 50,000 into Rs 80 crore in three months. That's the truth and our Prime Minister has nothing to say about this," Rahul added.
He also spoke at length about the Rafale deal which he said was changed to benefit a certain businessman who is under a debt of Rs 45,000 crore. "This businessman has debt of Rs 45,000 crore and the Prime Minister goes to Paris and takes unilateral decision while the defence minister is in Goa. That's the truth. The whole foundation of BJP is based on lies. This lie is in front of everyone," he added.
He further accused Modi of not answering his three questions about the deal. In November, the Congress president had posed three questions to Defence Minister Nirmala Sitharaman wherein he asked, "Final price of each Rafale jet? Did PM take CCS permission before announcing purchase in Paris? Why PM bypassed experienced HAL & gave the deal to AA rated businessman with no defence experience?"
Dear RM, what's shameful is your boss silencing you. Please tell us :
1. Final price of each Rafale jet?
2. Did PM take CCS permission before announcing purchase in Paris?
3. Why PM bypassed experienced HAL & gave the deal to AA rated businessman with no defence experience?

— Office of RG (@OfficeOfRG) November 18, 2017
Meanwhile, in his opening remarks at CWC, Rahul did speak on the party's recent performance in Gujarat and thanked everyone for putting up a spirited performance in Gujarat. "I would like to thank everyone in the Congress Party for the work that they did there and the spirit with which they fought these elections. It was disappointing that we lost but it was pleasing to see the Congress Party fight hatred and anger with respect, love and courage," he said.
He went on to claim that the Gujarat elections were an "eye-opener" for him as he got the first-hand experience of the way BJP designs campaigns and uses "hatred and untruth" to fight elections.
"One of the successes that the Congress party can take credit for in Gujarat is the dismantling of the Modi model of development. I was surprised when I went to Gujarat. I went there thinking that I will make apparent, the flaws in the Modi model. I don't call it the Gujarat model because it is not the Gujarat model, it is actually the Modi model. And, I was surprised to see that it is universally understood by the people of Gujarat that this a flawed, fake model," said Rahul.
Accusing Modi of handing over Gujarat to a few vested interests, the Congress president said how the prime minister has taken tremendous benefits from Gujarat but hasn't given to the state in return. He also raised objections about how BJP tried to polarise the election which became very visible towards the end of the campaign.
"At every step, they were trying to polarise. Our party played a very positive role in keeping everybody together. And then we also saw how in their desperation, the Prime Minister himself accused Dr Manmohan Singh Ji of complete blatant falsehood and a lie. And he has had nothing to say about that since then."
Meanwhile, during the course of the meeting, CWC also passed a resolution expressing gratitude to the outgoing party president Sonia Gandhi for her guidance and leadership.
"Smt. Sonia Gandhi's contribution for ensuring the rightful place of India as a political & economic power in the comity of nations shall always be remembered. Her desire to ensure social justice through 'inclusive growth' set a new path of 'public welfare' that will be emulated for years to come. Congress party is deeply privileged by her exceptional integrity, deep rooted devotion and absolute dedication for the cause of 'common Indian'. We once again thank her for her pledge of duty," reads the resolution.