Adityanath shares stage with Amanmani. Will the BJP take the murder accused into its fold?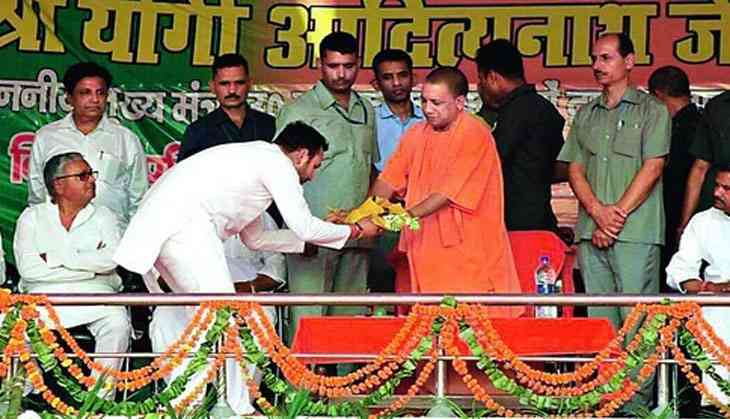 Nautanwa MLA (independent) Amanmani Tripathi touching Adityanath's feet. (PTI)
In an absolute contrast to what Yogi Adityanath had been propagating five years ago, the UP chief minister was seen sharing the stage with a murder accused.
He recently attended an event with Amanmani Tripathi, a murder accused who won the Nautanwa Assembly seat in the recent elections as an independent candidate.
Amanmani's presence on the stage with 'Maharaj ji', as Adityanath is often called, set off speculations that he may join the Bharatiya Janata Party soon.
In 2012, the Yogi took a high moral ground when he opposed the BJP's move to induct former Bahujan Samaj Party minister Babu Singh Kushwaha, an accused in the Rs 15,000-crore National Rural Health Mission scam. The party was considering fielding him from an eastern Uttar Pradesh seat in the Assembly elections.
"We raised the issue of corruption inside and outside Parliament. Advaniji's yatra against corruption was to help the BJP. Entry of corrupt leaders from the SP and the BSP will dent our fight," Yogi had said, defending his stand against Kushwaha.
Only when Adityanath threatened that he won't campaign for the BJP candidates when that the party dropped Kushwaha like a hot potato. But the game seems to be different now.
Who is Amanmani?
Accused of killing his wife Sara, Amanmani was arrested by the Criminal Bureau of Investigation (CBI) in November last year. His parents Amarmani Tripathi, a four-time legislator, and mother Madhumani are serving life sentences for murdering Lucknow-based poetess Madhumita Shukla.
Fearing that the government may now influence the case in Amanmani's favour, Sara's mother Seema Singh and Madhumita's sister Nidhi have threatened to fast unto death if he was allowed to join the BJP.
Nidhi had single-handedly fought the then government to get Amarmani and his wife jailed.
She had also told journalists in Lucknow that the government was being kind to Amanmani and his convicted father.
Joining her in condemning the BJP was Seema Singh, Amanmani's mother-in-law, who said Amanmani and his murderer father were nurtured by Mulayam Singh Yadav and the SP government.
She also alleged that the murder convicts and accused were provided with all the privileges in jail and now Amanmani was cosying up to the BJP to enjoy the perks of power.
Seema Singh and Nidhi have threatened to start a fast-unto-death at Jantar Mantar if Amanmani was inducted into the BJP.
What happened to Sara?
Amanmani had claimed that Sara (27) had died in a car accident when the couple were on their way to Delhi for a holiday in July 2015. His mother-in-law, however, suspected foul play and lodged an FIR against Amanmani and his family members for allegedly murdering Sara and demanded a CBI probe into the case.
The CBI, on investigation, found evidence of "premeditated murder" and physical torture against the accused.
At one point in 2016, Amarmani Tripathi's became a unique family in UP politics as it was the first time that father, mother and son were in jail in two different cases of murder. While Amarmani and his wife were serving a life term, Amanmani's trial is yet to begin.
Will he, won't he?
Vijay Bahadur Pathak, general secretary of state BJP, dismissed the idea of Amanmani joining the party.
"He greeted the chief minister as a newly elected legislator that is about all. My party has 325 MLAs and is comfortably placed in the House to look for support of any tainted legislator," Pathak clarified.
Mulayam and Shivpal, who have a strong preference for criminals, had tried to doggedly shield Amarmani and persisted with him in the ministry despite the grave charge of murder.
Shivpal was instrumental in the decision to field Amanmani, also an accused in a kidnapping case, from Nautanwa. Akhilesh Yadav who prevailed in the tussle for power in the family eventually denied a ticket to Amanmani.
Edited by Jhinuk Sen