Activists demand release of political prisoners, repeal of UAPA and AFSPA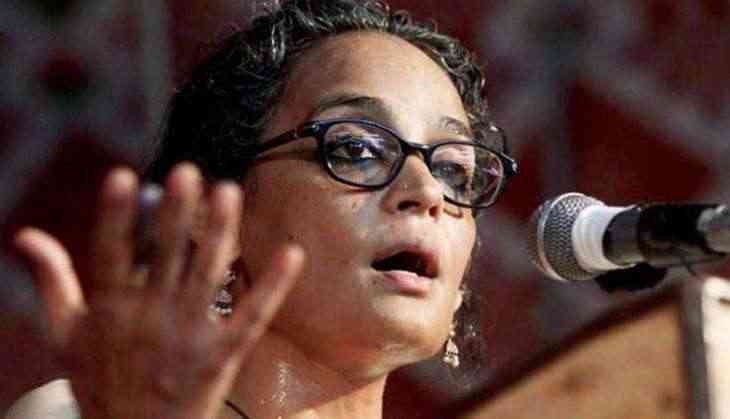 Accusing the Narendra Modi government of waging a war against the people of the country especially Dalits and minorities, activists from across the nation on Friday demanded immediate release of all political prisoners and repealing of draconian laws like the UAPA and the AFSPA.
Addressing an event titled "Kis Kis Ko Qaid Karoge" in the national capital, activists demanded the immediate and unconditional release of wheelchair bound Delhi University professor GN Saibaba, activist Rona Wilson and lawyer Surendra Gadling among five arrested under UAPA in connection with the Bhima Koregaon violence and Bhim Army founder Chandrashekhar Azad among others.
At the event organised by a host of organisations, activists likes celebrated novelist Arundhati Roy and former Bombay High Court judge GB Kolse Patil called Prime Minister Modi and BJP chief Amit Shah as "perpetrators" of the 2002 Gujarat pogrom and demanded their arrest.
Expressing alarm over the abuse of UAPA and AFSPA to stifle dissent, Roy dubbed the Bharatiya Janata Party (BJP) as "Bharatiya Jalao Party" and said the saffron brigade's defeat was imperative to save the country.
"As 2019 approaches, the coming months will be more dangerous than you expect. They are the Bharatiya Jalao Party and are ready with matchsticks to stoke communal fire anywhere and everywhere. In the name of caste, in the name of religion, they have been pitting us against each other for their own political motives.
"What is happening in Assam today will soon happen in other states and across the country. Then who will decide who are Indians and who should reside in the country?" said Roy referring to Assam's National Register of Citizens (NRC) which has omitted over 40 lakh people sparking allegations of witch-hunt against ethnic minorities.
Referring to various political prisoners including GN Saibaba, Roy said the RSS-BJP regime was using "arrest" as a weapon to stifle dissent.
"We all know how the judge who was dealing with Amit Shah's case died mysteriously, but this government instead of probing his death, is busy arresting people who dare to stand against it. Deep down they are afraid of an imminent defeat (in 2019 elections) and they can go to any extent to try and stave off that defeat," said Roy evoking the mysterious death of CBI judge BH Loya.
Calling all to unitedly fight the saffron brigade, Roy said: "Our fight will not end with their defeat in elections, the fight will end only when the "killers of thousands" are arrested and sent to jail".
Speaking in the same vein, Justice Patil said under the Modi regime there is undeclared emergency.
"There is undeclared emergency in the country. Whoever dares to stand up against this regime is thrown into jail. Those who opposed the freedom movement (RSS) are now running the show. Unless and until we unite, we cannot fight these forces," said Patil.
Calling for the release of political prisoners, Patil said that Shah and Modi should be in jail for their involvement in the Gujarat riots.
"There are evidences proving both Shah and Modi were responsible for the Gujarat riots. Instead of they being in jail, they are running the country. So it for us to decide whether we want to go down without a fight or stand up and overthrow this oppressive regime," added Patil.
Amid the incessant slogans for the release of Saibaba and others, the activists drew the people's attention towards the serial abuse of laws like the Unlawful Activities (Prevention) Act (UAPA) and Armed Forces (Special Powers) Acts (AFSPA).
Enumerating various incidents of UAPA's abuse and misuse, Kolkata based rights activists Sujata Bhadro demanded the draconian law be immediately repealed.
He said the fight for human rights will not be completed unless all political prisoners were released and laws like the UAPA were repealed.
Activist Kavita Srivastava of the People's Union for Civil Liberties (PUCL) said the Modi regime has unleashed a war on the people of India where every dissenting voice is being thrown into jail.
"The list of arrestees is getting longer each day. It's a procession which will continue and intensify in the coming months. Their (BJP) aim to shut us up either through arrest, through UAPA and through implication in false cases. They can go to any extent. The only way to save this country and safeguard our human rights to ensure their defeat in 2019," said Srivastava.