Achhe Din for cows. Haryana finds a new beast of burden: the taxpayer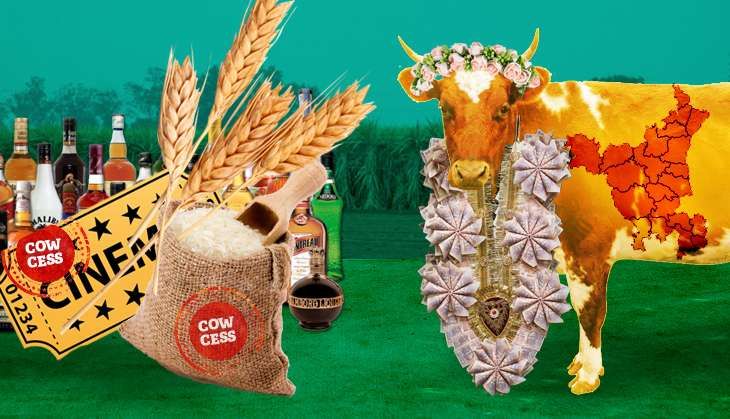 Protection of cows
Haryana govt has formed a 300 member task force to protect cows
It\'s mulling introducing a cow cess on cinema tickets, marriage hall booking and foodgrains
It has started helpline to prevent smuggling and slaughter of cows
More in the story
How taxpayers will have to bear the burden
Why it\'s great to be a cow in Haryana
Cow - the divine bovine surely seems to be the top priority for the Manohar Lal Khattar administration in Haryana. Having enacted Haryana Gauvansh Sanrakshan and Gausamvardhan Act and recently posting a DIG level officer to lead a 300 member task force to check cow smuggling and slaughter, the government is now set to decide upon proposals on a cow cess, that has been suggested by the Gau Sewa Ayog or Cow Service Commission.
The proposals are in sync with the neighbouring Punjab government that is in the process of levying a cow cess through the urban local bodies
The proposals
The Ayog wants the Khattar government to impose five per cent cess on cinema tickets over and above the the 20 per cent entertainment tax being already levied. It also wants the government to also charge a sum of Rs 2,100 at the time of booking banquet halls for marriages. The Ayog further wants 50% of donations coming to various temples to be diverted for the well being of he bovines.
Also read: Akali way of appeasing ally BJP: cow cess on liquor, marriage halls
In addition to all this, is the proposal to levy a cess of Rs 1 on every bag of wheat, paddy and other crops bought from the mandis. The last initiative could alone reportedly fetch Rs 100 crore for the government annually.
The Ayog had reportedly withdrawn its earlier proposal to levy a Rs 2 cess on every bottle of liquor sold in the state since it did not like the idea of feeding cows with money channeled through the liquor trade.
The Ayog chairman Bhani Ram Mangla told Catch, "The money is required for the upkeep of the bovine animals that are abandoned, sick and injured. We have had talks with the chief minister and he is very positive about the initiative".
Mangla further pointed that there are around 1.17 lakh stray cattle roaming on the roads of the state that need to be taken care of. "The state needs a well-stocked veterinary hospital with doctors and medicines in every gaushala. We have planned bio-gas plants that will supply gas and also produce electricity. The Gaushalas will also have solar energy plants. We want to make pesticides from Gau Mutra (cow urine) as well. There is a long list of things we want to do once we have a constant supply of funds."
Mangla has reportedly written to the Tirupathi temple management in Andhra Pradesh asking it to adopt some of the 425 gaushalas in Haryana that are housing around 3.12 lakh bovine animals.
Preventing smuggling
Mangla is pretty enthused about the Haryana government appointing Bharti Arora, a DIG-rank officer to check cow smuggling and slaughter. The Ayog itself has also reportedly activated its district teams to assist the police in nabbing smugglers. Arora would be based in Bhondsi in Gurgaon district.

He said that special teams have been constituted to put a check on cow smuggling and cow slaughter in which 62 gazetted officers and 240 other rank police personnel have been included. In case anyone receives information about cow smuggling and cow slaughter, he can pass on the same on mobile number 8284030455. On getting the information, the police team would reach the spot within half an hour and arrest the accused.

A couple of days ago, in a special drive launched by the government, more than 200 stray cows were rounded up in Faridabad and sent to the Gaushalas. Mangla said that in case their owners stake claim on these cows, they will be charged Rs 5,100 as fine and Rs 150 per day for fodder.

Also read: Cow urine actually rocks! And we'll tell you why

Haryana government is also in the process of setting up five 'gau abhyaranyas' (cow sanctuaries) across the state. It has already received proposals for setting such sanctuaries over an area of 200 acres in Panipat and 50 to 100 acres in Hisar, Sirsa and Bhiwani. There are plans to set up such sanctuaries in every district in a phased manner.

Mangla soon plans to hold a workshop in all districts to apprise the officers of police and district administration with minute details of Haryana Gauvansh Sanrakshan and Gausamvardhan Act, 2015. He said that cow smuggling in Yamunanagar, Panipat, Karnal, Kurukshetra, Gurgaon and Rewari districts is posing a challenge.

Mangla wants the gaushalas to be self reliant and it is being contemplated that Gau-charan (common grazing grounds) lands be given to Gaushalas so that the Gaushalas could take fodder from there.

He accepts that there are a few anti-social elements active in the state that are harassing people in the name of Gau Raksha Dal, which is not appropriate. He said that that some Non Government Organisations (NGOs) doing so would be probed.

Haryana government is also towing with the idea of constituting Gau Rakshak Task Force on the pattern of Home Guards so that the Haryana Gauvansh Sanrakshan and Gausamvardhan Act, 2015 could be strictly enforced.

In Haryana as many as 307 cases have been registered between 1 January and

30 April, 2016

under Prevention of Cruelty to Animal Act 1960. Also, 85 cases have been registered under Punjab Prohibition of Cow Slaughter Act 1955. During this period, 191 cows have been rescued and 446 persons have been arrested under these Acts. The Haryana Gauvansh Sanrakshan and Gausamvardhan Act has a provision of imprisonment of up to 10 years in case of cow slaughter.

On 1 July, Haryana became the first state in the country to make available pure milk of Desi cow when Khattar launched pasteurised A2 milk of Desi cow for sale in Panchkula. The plant for A2 milk of Desi cow has been set up at Kurukshetra where 5000 liters of milk would be processed and packed to be sold through Vita booths. Initially the government intends to set up sale points in Panchkula, Kurukshetra and Delhi.

Khattar said that milk of Desi cows would be purchased from the cooperative milk societies in the villages at an attractive price and would be taken to the plant at Kurukshetra where it would be processed and packed. This he said would not only increase the income of milk producers, but the consumers would also be able to get pure milk of cow. Besides, it would promote the rearing of cows in the state.

A Memorandum of Understanding (MoU) has been signed between Indian Oil Corporation Limited (IOCL) and Haryana Dairy Development Cooperative Federation Limited under which the Vita milk booths would be set up at about 1500 petrol pumps of IOCL for the sale of milk and milk products.

Also read: [EXCLUSIVE] Latehar hangings: Chilling confessions of gau rakshaks