Dynasty politics and us? No way: AAP insists amid rumours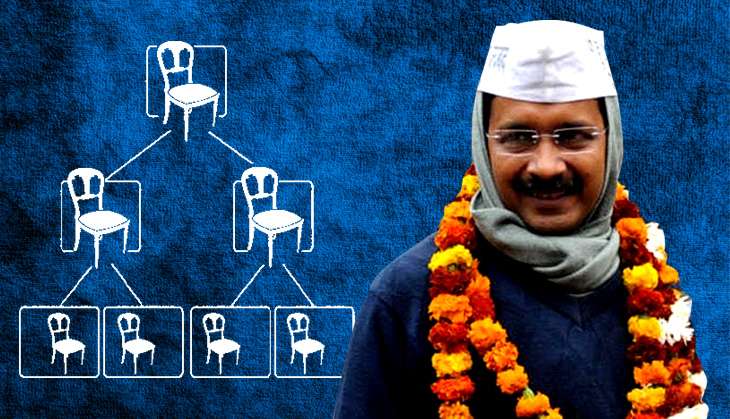 All talk?
As a part of its promises AAP had said it would never indulge in dynasty politics
But two recent rumours have shaken up the AAP promise
What are the rumours?
Kejriwal\'s wife may join the party as the new face for the Punjab campaign
Health Minister Satyendra Jain\'s daughter is a part of the Mohalla Clinic programme also due to \'dynasty politics\'
The Aam Aadmi Party (AAP) stood for difference. A change many sought and hoped for while they voted AAP in large numbers.
The party promised to not toe the line of dynastic politics the Congress is known for, or exploit and capitalise on communal tension for electoral gain, that which the BJP is criticised for.
But two reports on Tuesday have raised questions on whether AAP will change their stance on the former - their promise to not resort to dynastic politics.
The rumour mills started churning after a national daily reported that Sunita Kejriwal, wife of Delhi Chief Minister Arvind Kejriwal opted for voluntary retirement from the Indian Revenue Service under the Finance's Ministry's Department of Revenue.
Many are now suspecting that Sunita might be spearheading AAP's political campaign in Punjab, with the party in dire need of strong leadership in the state.
Change in stance?
AAP members have always voiced their discontent and criticism against dynastic politics.
Senior AAP member Kumar Vishwas had also stated his mission to "finish dynasty politics" and Chief Minister Arvind Kejriwal himself had tweeted his views against lineage in politics -
.. She joined IIT Del a few days bk. She came for a student prog 2day.Kindly leave the kid in peace pl.AAP is dead against dynastic politics

— Arvind Kejriwal (@ArvindKejriwal) September 27, 2014
But AAP members called the rumours of Sunita Kejriwal taking up a role in AAP - bogus and ridiculous.
"As per our constitution, we do not allow for any two members of a family to join the party. So any rumour about the chief minister's or any other member's kin joining the party is bogus," says Nagendar Sharma, spokesperson for AAP.
"No kin of any senior member will ever stand for elections representing the party," said a senior member of the party.
Kejriwal, way back in 2014, had also denied reports of his daughter Harshita entering politics by joining the Chhatra Yuva Sangharsh Samiti (CYSS).
Kejriwal had then tweeted -
Some media running completly false stories that my daughter is joining politics. She has no such intentions....

— Arvind Kejriwal (@ArvindKejriwal) September 27, 2014
Rumour has it
The second report that created sufficient stir was appointing Health Minister Satyendra Jain's daughter Soumya Jain as head of a team in charge of Delhi government's Mohalla Clinic Project.
Soumya will be working on an honorary basis and she will not receive any remuneration.
While Soumya's appointment has caused discontent, party members defended Soumya's appointment and said that criticism against Satyendra Jain is unjustified.
"She is a volunteer without any pay. We have other volunteers who work with the government on various matters as well. Her interest in the Mohalla Clinic programme is personal. The controversy surrounding it is not justified in any sense," said Nagendar Sharma.
On the criticism as to how Soumya, an architect herself, can contribute to the betterment of Mohalla Clinics in the national capital, a health department official said - "Her job is that of an architect. She will look into the structure and design of the Mohalla Clinics. She had been consulted on previous occasions as well."
Satyendra Jain himself has clarified that her daughter is a qualified architect and her experience will help in fulfilling the goals of the project and establishing the required number of clinics.
There are close to a 100 Mohalla clinics in the state at present with the goal to reach a 1,000 with rented homes as well as private clinics working as Mohalla Clinics at different times of the day.
But on an aside, with AAP members making it clear that there is no intention of having Sunita as the party's new face in Punjab, the question is - who will it be?
Edited by Jhinuk Sen
Also read: From misbehaving with women to rioting, here's why AAP leaders keep going to jail
Also read: Why AAP approached SC to define Centre-Delhi relations
Also read: #MohallaClinics: AAP has diagnosed Delhi's health problem. Can it cure it?
Also read: AAP occupies exact space it promised to cleanse: Hegde on #EkSaalKejriwal