AAP in a pickle in Punjab: suspended Patiala MP floats political front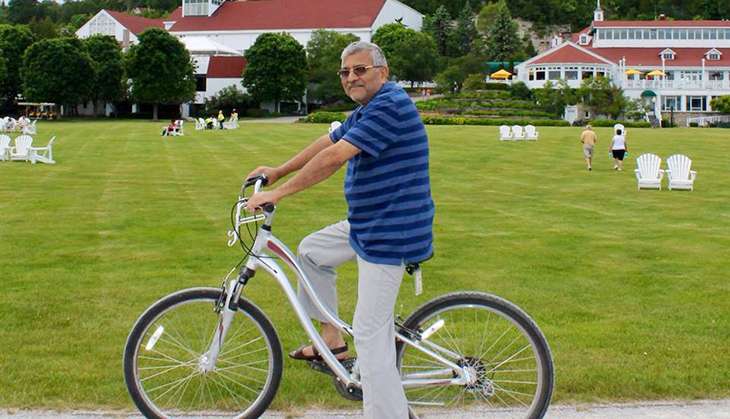 The Aam Aadmi Party's (AAP's) woes don't seem to be ending in poll bound Punjab. Already beleaguered by voices of discontent from its cadres over its two lists of candidates, the party will now have to contend with a new political front - floated by none other than its own suspended MP from Patiala, Dr Dharamvira Gandhi.
Announcing the front a year after he was suspended, Gandhi says that it is still an unnamed broad structure that would eventually take the shape of a political party. The name will be decided upon over the next fortnight. He says that it would be a platform catering to the regional aspirations of Punjabis, but it's clear to see that the front is the result forces that were once close to AAP coming together.
Also read - Punjab polls: AAP banks on party hands, star power in first list of 19 candidates
Let the rhetoric begin
Hitting out at the Shiromani Akali Dal (SAD) for diverting from the path of addressing regional aspirations since 1977, Gandhi said, "Such a regional alternative can represent the interests and wishes of the people of Punjab because various national political parties have failed to protect or represent them over the last 70 years. Instead, they've been instrumental in dividing the people of Punjab down to the village level, loot resources of Punjab and lead Punjab into submission. That's the track record of the BJP and Congress. The newly-formed AAP generated a hope that it will ameliorate the condition of Punjab people and give a vent to their pent up feelings, but that too seems a mirage now."
In the presence of a large number of slogan shouting supporters, Gandhi claimed to have the support of four political entities including the Democratic Swaraj Party, Swabhiman Party, Jai Jawan Jai Kisan Party, and Apna Punjab Party, along with Aam Aadmi Voluntary Front and a large number of intellectuals, social activists and others. He said that anyone who has the welfare of Punjab at the core of his/her heart would be welcome to join the political front.
A popular leader
It's a well-known fact that Gandhi enjoys large popularity in the villages of Punjab thanks to his contribution in the social sphere over the last four decades.
That is the very reason why he refuses to quit as an AAP MP. His contention is, "I was elected by the people who gave me 3,70,000 votes. There was a contribution of the party in my victory also, but in the assembly by-polls held for Patiala seat weeks after the Lok Sabha polls, the AAP candidate lost his deposit and got just 6,000 votes. I have completed two-and-a-half years of my term and will complete the rest."
He also played up his performance in the Lok Sabha, where he has raised several issues related to Punjab and the Sikhs.
The mirage that is the Aam Aadmi Party
He also contends that if AAP's national convener and Delhi chief minister Arvind Kejriwal can be a part of the Maha Gathbandhan in Bihar, he can also be a part of a political front in Punjab. "I am joining a front, not a party," he said.
Gandhi was once again scathing in his attack on AAP while announcing the front. "It is the subedari system that has been imposed by the central leadership on Punjab. The subedars have varied from Manish Sisodia to Jarnail Singh to Sanjay Singh and Durgesh Pathak. It cannot be forgotten that the people of Punjab had showed their intelligence at the time of the parliamentary polls when they voted for AAP in large numbers in the face of a Narendra Modi wave sweeping the nation. The same AAP workers and cadres who made the party stand in Punjab in the face of repression from the stat government are now being ignored and humiliated," he said.
Gandhi went on to say, "I have been telling them to either revoke my suspension or throw me out of the party. Either their grounds of suspending me are not strong enough or they are scared of the repercussions of throwing me out."
He chose to vent his ire on Kejriwal saying that AAP has become a dictatorial entity and followed it up by saying, "If I had my way I would throw him out of the party. But I do not have that power. He has it and can throw me out." He said that his chances of reconciliation with AAP are dim.
Gandhi pointed to the discontent among the AAP cadres over the distribution of tickets saying that honesty, sincerity and hard work have been overlooked by the party while choosing candidates. "Three months ago during my trip to Canada, I had said that AAP was in a position to form the next government but it will have to change its face and character if it wants the same results over the next six month," Gandhi underlined.
The loose front is supposed to become a political party soon. Gandhi said that it would contest the forthcoming polls on seats where it sees chances of victory. "Election victory is not our total politics. Our total politics is Punjab, Punjab and Punjab," he said.
Observers feel that whatever electoral base it would have would be the one that would have otherwise been the support base of AAP as all the elements that are now a part of this front were in the periphery or circumference of AAP.
There is already a view being expressed that AAP's over confidence may not be its undoing in Punjab where it is has emerged as a potential winner of the forthcoming assembly polls. Even if this front does not secure electoral victories for its candidates, it will surely dent the voter base of AAP as people associated with it enjoy considerable individual clouts. Gandhi claims to have secured the support of Swaraj Abhiyan leader Yogendra Yadav.
The political dynamics are expected to undergo a major change over the next few weeks and the battle for Punjab is about to become much more complex that a triangular contest.
More in Catch - Amarinder dishes out macho antics as ticket seekers queue up for Congress
Congress, Akalis fight it out over the legacy of Longowal in Punjab