A faulty plan exposed: Demonetisation move sees 5 rounds of changes in a week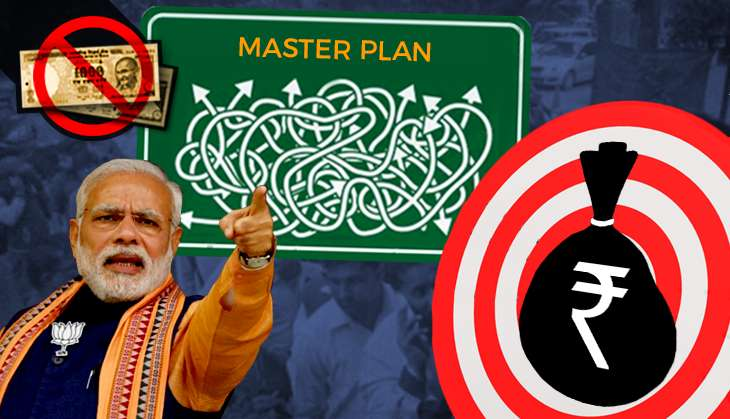 With the announcement of six new decisions pertaining to the demonetisation move, the Union government has completed five rounds of changes in a week to the original plan introduced on 8 November by Prime Minister Narendra Modi.
The government claims that all these changes have been brought in to make life easier for the common man, who is dealing with the tumultuous aftermath of the radical move.
However, the fact that these changes came after feedback shows that basic ramifications of the move had not been envisaged, exposing a faulty plan.
Also read - Arvind Kejriwal dares Narendra Modi: withdraw currency ban in 3 days or face revolt
The prime minister has said he had been planning the move for 10 months, essentially indicating that all resultant difficulties had been accounted for. But the story unfolding indicates that the government is not on top of the situation. After the first set of announcements were made on 8 November, five changes were made on 11, 13, 14, 15 and 17 November.
Take a look at the series of government announcements and subsequent changes announced:
8 November: The big bang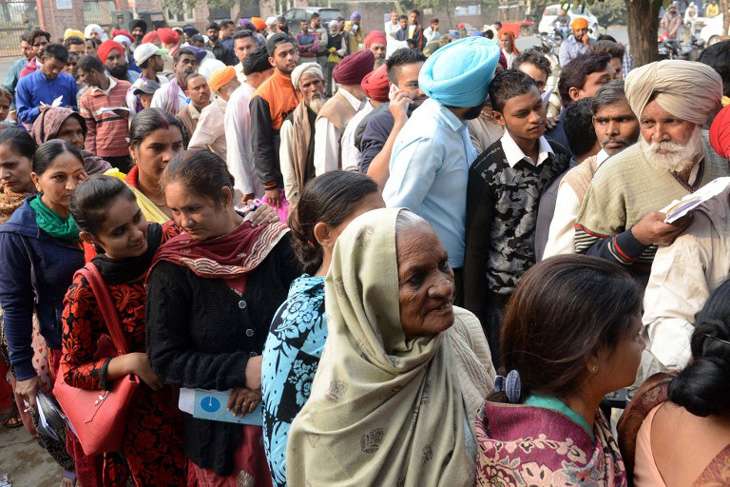 AFP Photo/Narinder Nanu
All existing Rs 500 and Rs 1000 notes declared illegal
New Rs 500 and Rs 1000 notes to be released soon
Rs 2000 note to be introduced
Old notes Rs 500 and Rs 1000 to be deposited by 30 December
Exchange from bank worth only Rs 4,000 permitted for 15 days
Cash withdrawal from one bank account restricted to Rs 10,000 per week for 15 days
Overall cash withdrawal limit restricted to Rs 20,000
ATM withdrawals restricted to Rs 2,000 per day per card
ATM limit to be raised from 19 November onwards to Rs 4000 per day per card
No limit on depositing old notes
Non-KYC compliant accounts can only deposit upto Rs 50,000
Old notes to be accepted in govt hospitals/pharmacies; rail, bus and air ticket counters; at consumer co-operative societies; milk booths; cremation/burial grounds; petrol/diesel/gas stations of PSU OMCs; by passengers at international airports; for exchanging foreign currency at airports
11 November: The first round of changes
The government soon realised that it had not factored in toll plazas in its calculations and heavy traffic was piling up their across the country. Toll plazas were soon made a part of exempt installations. On 10 November, toll was entirely waived off across the country. Several other changes were also made -
All exemptions extended to 14 November, with modifications/extensions
Court fees also included in exemptions
ID proof made compulsory in consumer cooperative stores
No advance payments for utility bills allowed
Payments in toll plazas deleted from exemptions since NHAI declared the same separately
13 November: ATMs not ready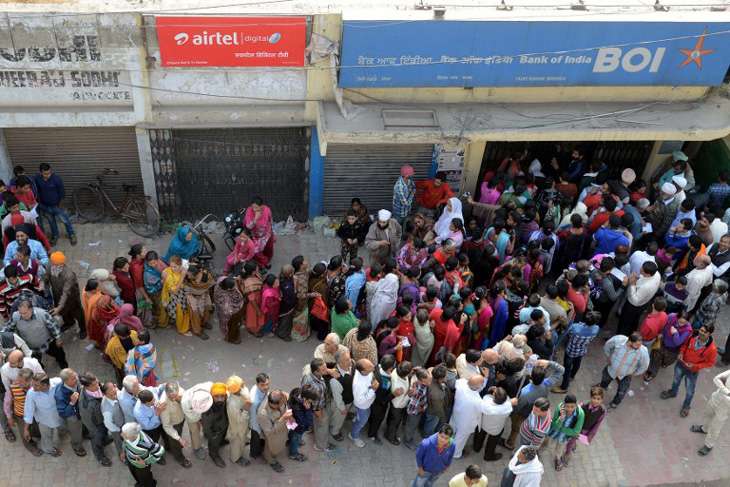 AFP Photo/Narinder Nanu
By this time, reports of widespread inconvenience were being reported because most ATMs were yet to resume functioning even though government had announced on 8 November that they would only be shut till 10 November.
Soon, reports also started appearing that some ATMs that were open were not dispensing cash because the new currency notes were not compatible with old ATMs.
Caught on the backfoot, Finance Minister Arun Jaitley held a press conference where he admitted that ATMs had to be recalibrated in tune with the new currency notes. He explained that this hadn't been done in advance because that would have compromised the secrecy of the entire operation.
Other fresh announcements made included -
Over the counter exchange limit increased from Rs 4,000 to Rs 4,500
Cash withdrawal limit at ATMs increased from Rs 2,000 to Rs 2,500 per day
Withdrawal limit of Rs 10,000 per day from banks removed
Weekly limit of withdrawal from banks increased from Rs 20,000 to Rs 24,000
Last date for submission of annual life certificate for government pensioners, usually submitted in November, extended up to 15 January 2017.
14 November: First 3-4 weeks, now 50 days!
The next set of follow-up measures were a reflection of the realisation that the time that the entire operation would take was not factored in adequately. Jaitley had already said that the recalibration of ATMs would take three-four weeks.
The prime minister then appealed in a speech in Goa to give him 50 days!
Several changes were made on 14 November -
Exemptions for acceptance of old notes for some transactions extended from 14 November to 24 November
Cash holding limit of business correspondents in rural areas raised to Rs 50,000
Banks asked to replenish BCs' cash multiple times a day
Task Force set up to expedite recalibration of ATMs
Hand-held micro ATMs said to be deployed
Every bank branch asked to have three different queues, an attempt at micromanaging that clearly did not work
15 November: And now, get inked!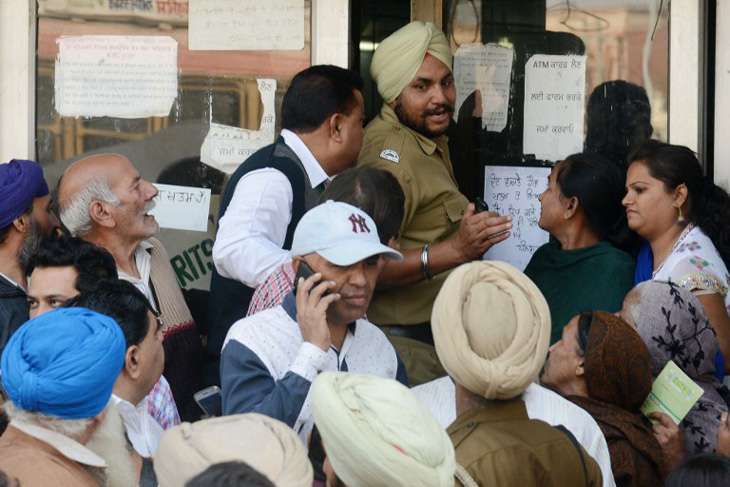 AFP Photo/Narinder Nanu
This was a day of startling announcements.
Long queues persisted at bank branches and the government said it had noted that one of the primary reasons for long queues was that the same persons were visiting bank branches, ATMs etc. repeatedly.
The government also said that "certain unscrupulous elements are using the services of poor and innocent people to convert their black money into white."
So they come up with a solution: using indelible ink.
Another queer announcement was that banks would be asked to contact temples to seek smaller currency notes from donations that they received.
17 November: Exchange limit brought down
Four days after over-the-counter exchange limit was increased from Rs 4,000 to Rs 4,500, the government brought it down to Rs 2,000 on 17 November. The purported reason was that reports were being received that "the same persons were going back to the counter again and again, thereby cornering the facility and depriving many other people from exchanging old notes."
However, many have speculated that this could also be because the government simply does not have enough reserves of new currency to respond to the demand.
Some other decisions that were also taken -
Farmers permitted to draw up to Rs 25,000 per week in cash
Traders registered with APMC markets/mandis permitted to draw up to Rs 50,000 per week
Last date for payment of crop insurance premium extended by 15 days
Wedding-bound families permitted to draw up to Rs 2,50,000 in cash from one bank account. It is not clear how the government will check fraudulent claims in this regard.
Central Government employees up to Group 'C' including equivalent levels in the Defence and Para Military Forces, Railways and Central Public Sector Enterprises allowed to draw salary advance up to Rs. 10,000 in cash.
Not a well-planned move
The multiple rounds of changes in original provisions have proved at least this that this was not a well-planned move. Reports and feedback from the ground are forcing the government to change its policies every second day.
This is exactly why BSP chief Mayawati mocked the government in Rajya Sabha, asking if they had been planning for 10 months, why do they need 50 more days?
Edited by Aleesha Matharu
More in Catch - Modi govt on defensive on demonetisation: Opposition may push for JPC
Anand Sharma turns demonetisation heat on Modi in Rajya Sabha. Mamata walks to President