A car for Mr Khattar: questions over Haryana CM's Rs 1.35 cr Land Cruiser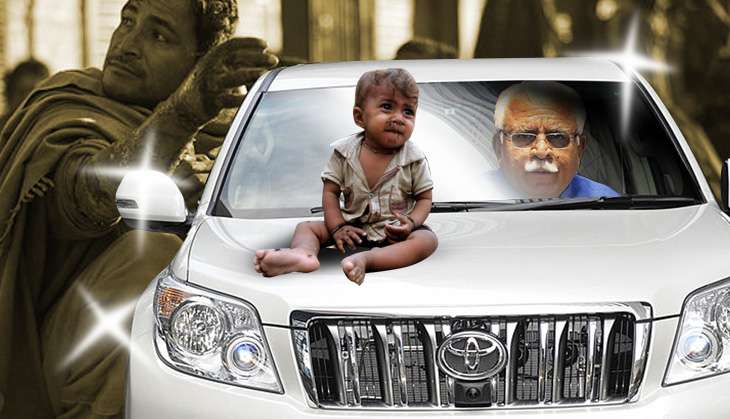 Is Haryana Chief Minister Manohar Lal Khattar trading in his austere image for a lavish lifestyle?
The state administration has reportedly decided to procure a Toyota Land Cruiser worth Rs 1.35 crore for him. This would be the most expensive car that any Haryana CM has had till date.
It has also been reported that making the car bullet proof would cost an additional Rs 30-40 lakh.
While it is being pointed out that the CMs of other states have more expensive cars at their disposal, Khattar's detractors are asking why an RSS pracharak, known for his simple lifestyle, has decided to go down the ostentatious route.
Parallels to Modi
People are drawing parallels between Khattar and Prime Minister Narendra Modi, who has also risen from the ranks of an RSS pracharak and has taken to things like expensive monogrammed pinstripe suits. One of Modi's suits, which he wore at a meeting with US President Barack Obama, had a base price of Rs 11 lakh, and was later purchased by a diamond baron for Rs 4.31 crore.
Both these leaders are known to have led very austere lives in their earlier days. One can come across old timers who recall how they used to travel on two wheelers and practiced a very simple lifestyle.
Khattar is known to have visited different villages in Haryana on his motorcycle to organise shakhas.
Unlike Modi, though, Khattar has tried to present himself as a simple man even after taking office. Soon after taking over as CM, he travelled by Shatabdi Express from Delhi to Chandigarh in November 2014. His journey in a state transport bus from Chandigarh to Karnal last year also made headlines.
People still recall how Khattar stood in a queue with a plate in hand to have food at a lunch hosted at the CM's residence the day he stepped into his new house.
In defence of Khattar
Haryana BJP President Subhash Barala defended the purchase of the car, saying that Khattar is not a lover of luxury cars, and it is the security agencies that decide about which car would be best for the CM's safety and security.
On the sidelines of a recent event, Khattar backed up Barala's claim.
"I had not made any demand that I want this car or that one. It was decided by those officials who look after matters related to the Chief Minister. They might have thought themselves (about the purchase of the car), but I did not even think about this during the past one-and-a-half years," he said, while stating that some of the cars in the government fleet are very old and have run over three lakh kilometres.
"They (officials) said these cars need to be replaced. I will sit in whichever car I get as a replacement," he added.
Until now, Khattar has been travelling in a Mercedes Benz bought in 2007, which was also used by his predecessor Bhupinder Singh Hooda. Haryana's other ministers travel in cars which cost Rs 25-30 lakh.
However, one observer points out another possible reason behind Khattar's Land Cruiser. "His cabinet minister Captain Abhimanyu has been traveling in a high-end SUV. So, it was pretty obvious that the Chief Minister must have a vehicle that was at least a shade better. But spending so much still has no justification," said a senior political commentator.
Political reactions
Various politicians have taken the opportunity to attack the CM and his administration.
Senior leader of the Opposition Indian National Lok Dal (INLD) Ashok Arora told Catch: "I do not see anything wrong in the government purchasing a car worth Rs 1.35 crore for a Chief Minister as per the needs. But what I am concerned about is that the other needless expenditures need to be curtailed. Look at the discretionary grants of the CM and the ministers. While discretionary grant of the CM is Rs 40 crore per annum, it is Rs 5 crore each for the ministers. This is uncalled for."
The Khattar government had enhanced the discretionary grants of the CM and ministers within days of coming to power in the state, amid heavy criticism from the Opposition.
Arora further said: " Similarly, they need to cut down on the large number of security personnel and also the vehicles of the convoy. What justifies the fuel bills for ministers traveling 24,000 km per month?"
However, Congress spokesperson in Rohtak, Krishnamurti Hooda, said Khattar could have set an example as simplicity always helps. "Look at (West Bengal CM) Mamata Banerjee, who travels in a second-hand Maruti 800. She tries to project herself as a simple leader, and people have rewarded her with a second term. On the other hand, here in Haryana, things are different. The government is going in for such needless expenses while deducting pension benefits of the people; there is no help to the farmers and there is no development."
Social activist Phool Singh Gautam, who is associated with the Jan Sangharsh Manch (Haryana), said: "This is the real face of the RSS and the BJP. They preach something and practice something. The money that should be used for public welfare is being squandered on a few who are first among equals."
Edited by Shreyas Sharma
More in Catch
Achhe Din for cows. Haryana finds a new beast of burden: the taxpayer
Lesson for Cong in Haryana RS fiasco: Don't ignore ground realities
Political storm after chapter on Jat heroes removed from Haryana textbook