2015: How Modi lost his sheen this year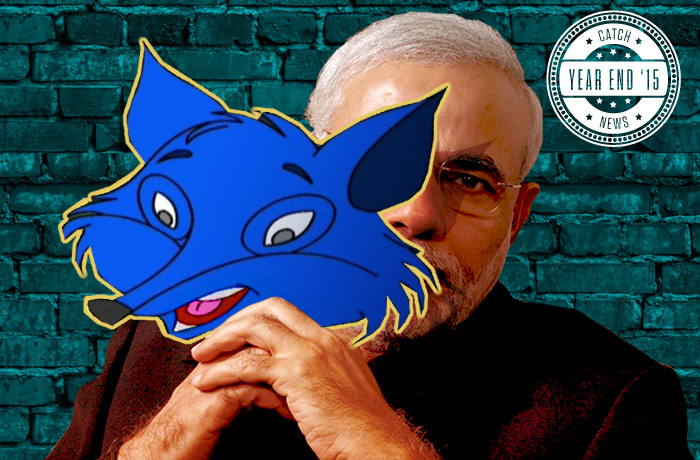 The wave
Narendra Modi rode a huge popularity wave last year
2015 was the first full year for him as Prime Minister
The troughs
The PM suffered 2 electoral setbacks - in Delhi and Bihar
An acrimonious Modi also burnt bridges with Opposition parties
More in the story
The things that went wrong
A particularly nasty tweet about Prime Minister Narendra Modi after the Bihar election compared him to the Dyed Jackal of the Panchatantra stories, a pretender who claimed to be king. The Indian public can be quite unforgiving of leaders who do not live up to expectations.
The Prime Minister's stature has been eroded by his inability to handle politics within and outside Parliament, by not meeting expectations on the economy and an uncharacteristic diffidence in addressing communally divisive politics in the country. If he has done well it is in the sphere of foreign policy where he lent unusual vigour to projecting India abroad. However, in India's immediate neighbourhood, the results have been mixed.
Also read: Measure of the Man: why Modi loves hoopla
Modi's government showed singular inability to build bridges with Opposition parties. After the adoption of the Budget in April, Parliament did not conduct any significant business until the fag end of the year. The Prime Minister and his deputies humiliated the Opposition to such an extent that when he needed their help to shepherd his government's legislative business, he had nobody to talk to. All bridges had been burnt.
Victory march stops
For a man whose arrogance is legendary, suffering a humiliating defeat at the hands of an equally egotistical Arivind Kejriwal in the Delhi Assembly election must have been a bitter pill to swallow. The insult was compounded in Bihar.
After addressing 26 election rallies in the state and using all the election tricks up his sleeve, Modi was defeated yet again - this time at the hands of Nitish Kumar and Lalu Prasad Yadav.
Only after his public image had been cut to size, did he reach out to the Opposition in Parliament. By then the accumulated bitterness was such that his outreach had no impact.
Cutting 'em down to size
Modi was also diminished because of his attempts to consolidate his position within the government and the party at the cost of his colleagues. Home Minister Rajnath Singh was cut down to size by rumours about his son the previous year. This year, it was the turn of External Affairs Minister Sushma Swaraj and Finance Minister Arun Jaitley. Swaraj was allowed to be publicly damaged in the Lalit Modi case and Jaitley in the Delhi District Cricket Association scam.
Modi did not come to their defence immediately as he should have done. Despite being fully aware of how an emergency passport had been issued by his government to Lalit Modi to visit his ailing wife, the Prime Minister was remarkably silent on the issue.
In Jaitely's case, his defence was both a bit late and equivocal when he said that like LK Advani in the Jain Hawala case, Jaitley will eventually come clean. Considering that Advani had to resign and was out of the government till he got a clean chit from the courts, this gave a handle to the Opposition to intensify the demand for Jaitley's resignation. It was a major omission on Modi's part to allow such erosion of the public reputation of two of his senior Cabinet colleagues.
Also read: Modi's 'jumla' nailed: how the BJP tampered with reservations in the past
He did the same to Rajasthan Chief Minister Vasundhara Raje.
In diminishing the stature of potential challengers he has followed the practice of the Congress. Just as the Congress stands completely de-institutionalised today, the Bharatiya Janata Party under Modi and his acolyte Amit Shah, as president, stands perilously close to becoming a one-man party.
With the promotion of his personality cult, as the sole leader of the party, one should not be surprised if there is attrition from the BJP if Modi cannot win elections for the party. There are nine state assembly polls that the party will have to face until 2019.
Lacklustre economics
The widespread perception that he has not delivered on his economic promises is a second factor that has diminished Modi's luster. An impatient electorate only compares the big announcements he made with the absence of visible change on the ground. It is unwilling to listen to arguments that priming the economy takes time.
Overall, without a recovery in export growth, there is uncertainty about the momentum of economic growth in the medium and the long term. The Modi government has not been able to do much either to boost the balance sheets of banks - especially the poor asset quality of public sector banks, which account for three-fourths of domestic credit and have a very high proportion of non-performing assets.
The government has also not been able to improve the ease of doing business significantly. It was on the verge of enacting the Goods and Services Tax (GST) that would have made India a single market when one of its maverick leaders, Dr Subramanian Swamy, threw a spanner in the works by trying to get the leaders of the main Opposition party arrested. The GST Bill became a casualty in the process.
Also read: Modi and Hindutva: how to read the good cop, bad cop routine
Those in the corporate world who thought Modi was going to be India's Ronald Reagan have been badly disappointed. Prices are up, exports and manufacturing is down and there is no progress in the energy and power sectors.
The poor and the marginalized are certainly not happy. The Modi government reduced expenditure on social sector schemes. These include the Integrated Child Development Scheme, the Integrated Child Protection Programme, Sarva Shiksha Abhiyan, Midday Meal Scheme in schools, schools and higher education, Rashtriya Krishi Vikas Yojna and the National Drinking Water Programme, among others. Child education and health suffered the most. All this was done in the name of good governance.
For someone who espoused a belligerent nationalism, Modi has also cut down the capital expenditure of the Army, Navy and Air Force - used for modernization of equipment and weapons - and "re-appropriated" it for revenue expenditure, i.e. to be used for salaries and pensions. The one-rank-one-pension scheme has messed up the government's finances and will do so further as incremental concessions are likely to be made under pressure to the paramilitary services also.
Socially speaking
The third factor that has dented Modi's image is his inability to maintain social cohesion in India, which has always been a multi-ethnic, multi-lingual and multi-religious country. Closet communalists are crawling out of the woodwork to wreak havoc on India's social fabric under the perceived protection of the Modi regime.
Also read: Why Modi's Pakistan dilemma will not end
This has rightly been called the Year of Intolerance when liberal writers, artists, and intellectuals turned their back on Modi for his inability to preserve social cohesion. He did little to control the fire-breathing Hindutva leaders of his party or those who want to give all secular intellectuals a one-way ticket to Pakistan. (Why would Islamicised Pakistan want them?)
As a statesman, Modi has failed to recognize that targeting minority communities has created a sense of cynicism in youngsters from these communities about their prospects in a multi-religious society such as India and that it could push them towards militancy in trying to uphold their rights.
As the Prime Minister, he has refused to see that unless there is social peace and harmony, his development agenda will not get the tailwind it needs. Shamefully, India had to be reminded of its inclusive Constitution by US President Barak Obama, the chief guest at India's Republic Day, in a public lecture before his departure from New Delhi.
Also read: Modi & Sharif revived Indo-Pak dialogue in 167 seconds. Here's how
The basic contradiction that Modi faces is that unless he is able to govern peacefully, his development agenda will continue to be hobbled.
One good thing
If Modi has had successes this year, it was in the arena of foreign policy. His foreign policy is crucially linked to his domestic agenda - programmes such as Digital India, Make in India, Skill India, and Start-Up India require massive infusion of foreign capital, technical know-how and managerial expertise.
He has provided a new fillip to relations with the United States, Japan and China; made a regional push eastwards through engaging East and South-East Asia; and kept up the momentum of India's re-engagement with Africa.
However, the most spectacular policy setbacks have been in Nepal and Pakistan, with the relations with the latter showing some signs of recovery only in the last month of the year. But from being feted in Kathmandu, to having his effigies burnt shows a remarkable failure of his Nepal policy.
Modi's image can yet recover from the beating it has taken in the past year. But the question is: Does he have the ability to acknowledge where he went wrong and take corrective measures?