1964 is in the past. CPI & CPI(M) must come together: D Raja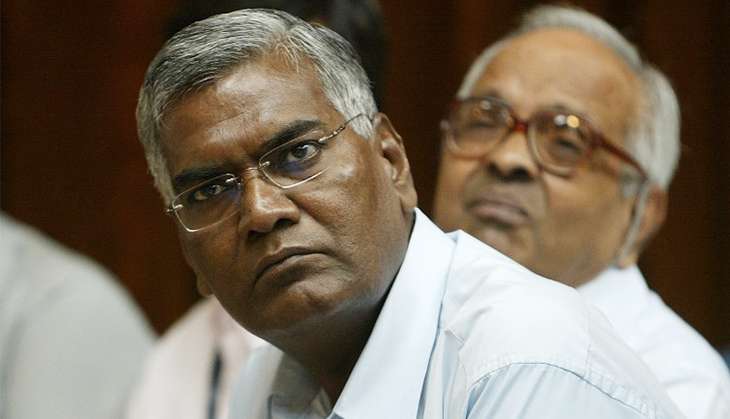 At a time the Left parties are facing a crisis, Communist Party of India's national secretary and Rajya Sabha MP, D Raja, believes the Left needs to undertake "drastic" measures to renew its politics. In a conversation with Monobina Gupta, the CPI leader, while urging the CPI(M) to be more flexible and accommodative towards other Left parties, observed that the differences marking the split in the United Communist Party in 1964, no longer exist.
Talking about how the CPI(M) leadership created confusion about the failed Left-Congress poll tie-up, Raja elaborated on the Left's distinctly separate Bengal and Kerala models of governance.
What's the road ahead for Left parties?
The Indian Right is in power. After winning Assam, BJP now claims that the Indian polity is unipolar. And the BJP is the pan-Indian party. Both Congress and Left parties have declined, and regional parties are consolidating themselves. It's an extremely challenging situation for the Left. We need to do something drastic to renew our politics.
Could you please define "drastic".
The Left must come together. Earlier four Left parties coordinated at the national level. Later the CPI (ML) and the SUCI also became part of the coordination. But then there was disintegration within the RSP, with the Forward Block moving away from the LDF to the UDF in Kerala.
Are you suggesting a CPI(M)-CPI merger?
We should define the relationship between the CPI and the CPI(M). After all, we do share a special relationship. We used to be one party in the past. Then we split into two different entities. But the differences that existed at the time of the split, no longer exist now. Comrade Surjeet (Harkishen Singh Surjeet) used to talk about programmatic differences between us. I used to ask him - please tell me what those differences are. Now Comrade Prakash Karat talks about differences in programmatic issues.
What are these issues?
That's exactly what I wonder. CPI(M) should then spell out these issues for us to discuss them. Both parties keep talking about Left unity but...
Do you think CPI(M) should be more flexible?
They should become more accommodative, more flexible. They must reach out to all other Left parties. If this unity is achieved then we can think of reaching out to regional parties which tend to oscillate between the Left and the Right. We should be in a position to influence them not to lean towards the Right.
What was wrong with the Bengal poll strategy?
We will discuss the issue at state and national executive levels. Whether it was some tacit arrangement -particularly, with the CPI(M) and the Congress - or whether it was an open arrangement between the CPI(M) and the Congress, is not important. The question is there was an arrangement in the name of people wanting us to come together to dislodge the TMC government.
Why did it not work then?
There was a lot of confusion within the CPI(M)'s leadership, and this was articulated in public. For instance, while comrade Biman Bose (Left Front chairperson) denied an arrangement with the Congress, Surjya Kanta Mishra (CPI(M) state secretary) not only defended the arrangement but argued for it to continue. Comrade Buddhadeb shared a platform with Rahul Gandhi. Was there unity within the leadership on this issue?
Do you think the Left should have taken the role of opposition seriously and not rushed into an arrangement with the Congress?
What I understand is the violence unleashed by the TMC - the killing of CPI(M) cadres - created a sense of panic. The arrangement with the Congress was a desperate move to contain the violence. But in a democracy we have to go by people's verdict. And the people have not voted for the Left.
Do you think CPI(M) is today unable to stay out of power?
It's not just about being in power. There was panic and concern about losing cadres - one after another. That - I think - was the real issue, and not a desperate move to get power.
But there's a general perception in Bengal that TMC violence is directed more against its own party factions rather than against the Left.
Let me put it like this. The Left could have been more effective in opposition by taking up people's issues, rather than by making violence the sole campaign issue. By mobilising people on their concerns, they could have resisted TMC's violence.
On a different note, Left governance has followed different trajectories in Bengal and Kerala. How do you define these differences?
In Bengal, the Left government implemented land reforms and Panchayati Raj, improved agricultural output, increased domestic consumption. But the Left could also have equally focussed on education and health. People want better access to health and education. The Left could have performed a lot better in these sectors.
In Kerala on the other hand, the LDF focussed on health and education reforms alongside agrarian concerns. Besides, the Left's experiments in co-operative forms of governance in running informal economic as well a health sectors proved extremely successful. Kerala's best hospitals are today run by co-operatives.
Has the Left in Kerala built a successful alternative economic model?
Absolutely. And as we know alternative models can't be just theoretical abstractions. They should be put in practice. I am doubtful if the Left in Bengal succeeded in putting such alternative systems in place.
Even though they had more time on hand in Bengal?
Yes, they had 34 years - and many party stalwarts in the state. I believe the CPI(M) should seriously introspect in this matter. The Left should answer why such a large number of migrant labourers from Bengal work in Kerala; why such large numbers of girls are trafficked from Bengal. I have to admit that we have failed to build a governance model that could have been an example for other states to follow.
Edited by Aditya Menon
Also reads:
'Don't gloat over Assam victory': CPI leader Atul Kumar Anjaan tells BJP
Bengal CPI(M) set for rap on the knuckles over Cong alliance