17 Chhattisgarh Congress MLAs could join Ajit Jogi, says suspended MLA RK Rai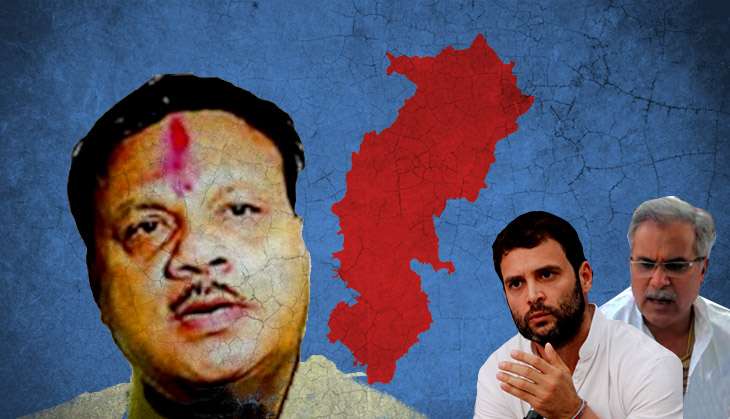 Earlier this year, former Chief Minister Ajit Jogi quit the Congress to float his own party - the Chhattisgarh Janata Congress (CJC). And ever since, fissures have begun to appear in the state Congress unit.
On Tuesday, the Chhattisgarh Pradesh Congress Committee suspended MLA Rajendra Kumar Rai for 'anti-party activities'.
However, this hasn't deterred Rai - a first-time MLA from the Gunderdehi constituency - from taking potshots at the party leadership.
The police officer-turned-politician has made a sensational claim - that at least 17 Congress legislators are in touch with Jogi's CJC, and this is going to pose major problems for the Congress in the future.
It is worth mentioning that Rai is believed to be a staunch supporter of Jogi, who launched the CJC in June.
Supporting Jogi's poll plank of an Adivasi chief minister in the state, Rai alleged that state Congress president Bhupesh Baghel, like Chief Minister Raman Singh, was not serious about handing over the command of the state to an Adivasi leader.
A perennial rebel
Rai has been in the limelight in the past for criticising his own party. He had accused All India Congress Committee (AICC) treasurer Motilal Vora of selling party tickets during the state local body polls. According to him, Vora was blinded by love for his son, and this was the reason he siphoned off money during the local elections.
These remarks led to Rai's suspension from the party in January 2015, along with Siyaram Kaushik, the party MLA from Bilha. However, he was reinducted after three months.
Rai chose to remain silent for the next few months. However, his belligerence was back after Jogi floated the new party.
Rai had stated on several occasions that many leaders of all ranks were feeling stifled within the party, and tribal representatives were being ignored.
He continued firing salvos at state party chief Baghel, alleging he was only catering to the interests of the backward castes. He did not spare the AICC General Secretary in-charge of Chhattisgarh, BK Hariprasad either. Reminding that Hariprasad had lost elections five times, Rai ridiculed him for "dreaming that Congress could win state elections without Ajit Jogi".
However, his recent remarks against Congress vice-president Rahul Gandhi came as the last straw. Reacting to Gandhi's 'potato factory' remark during his recent Kisan Yatra in UP, Rai termed the Gandhi scion as 'immature'.
"Now, one can understand why people call you 'Pappu'," he had added.
Rai's vitriol against the Gandhi scion has continued after his suspension.
"I was told the action has been taken against me for making comments against Rahul Gandhi. I can't call a donkey a horse. If the party feels my observation is wrong, then either it is blind or is acting like a blind person," a defiant Rai said in a statement.
Asked if his remarks were targeted against the party high command, Rai stated that Rahul Gandhi had failed to understand why the Congress was continuously losing elections in Chhattisgarh.
"What else can one say about him, when he cannot feel the pain of the party legislators? Why was the party leadership tolerating me for so long if I was making statements in an undisciplined manner? I am being shown the door because the top party leadership has realised that the Congress is a sinking ship," Rai stated.
Edited by Shreyas Sharma
More in Catch
'I can't call a donkey a horse', suspended yet defiant Chattisgarh MLA lashes out at Rahul Gandhi
Will Jogi's new party prove to be the Congress nemesis in Chhattisgarh?
Trouble for Ajit Jogi: ex-MLA suspects he's behind mother's killing