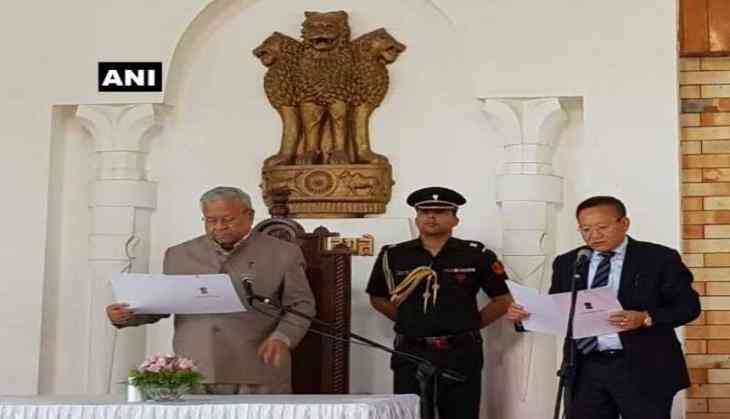 T.R. Zeliang on 19 July was sworn-in as the 18th Chief Minister of Nagaland.
Governor PB Acharya administered oath of office to Zeliang at Darbar Hall, Raj Bhavan. The new chief minister is required to prove his majority on the floor of the House on or before 22 July 2017.
Earlier in the day, the ongoing political crisis over leadership within the ruling Naga People's Front (NPF) culminated when Zeliang staked claim to form the government after Chief Minister Shurhozelie Liezietsu did not turn up to face a floor test at a special session of the state assembly. Following this, the House was adjourned sine die.
The NPF government is in its third term in the state, but this was the fourth internal crisis.
Speaker Imtiwapang Aier had summoned special session at 9.30 a.m. on W19 July on the directions of the Governor to give Liezietsu a chance to prove his majority in the in the 60-member assembly.
Zeliang- who was chief minister from 24 May 2014 to 22 February 2017 - was present in the House with his supporters MLAs, including four Bharatiya Janata Party (BJP) and seven Independents.
Zeliang was forced out of office in February following large-scale protests over holding of urban local bodies' election with 33 percent reservation for women.
The decks were cleared for the trust vote to resolve the ongoing crisis over leadership within the ruling Naga People's Front (NPF) when on Tuesday the Kohima bench of Gauhati High Court rejected Liezietsu's prayer for sufficient time to obtain the vote of confidence after the by-election to be held on 29 July, in which he is the party candidate.
Lietzietsu had moved the court on 14 July, a day before the governor's deadline for the floor test, and the court had stayed the governor's order till Monday.
The court observed that the Governor had taken the right decision to ask the Chief Minister to have a vote of confidence in the floor of the House to see which out of the two contesting claimants of Chief Ministership had a majority in the House.
-ANI