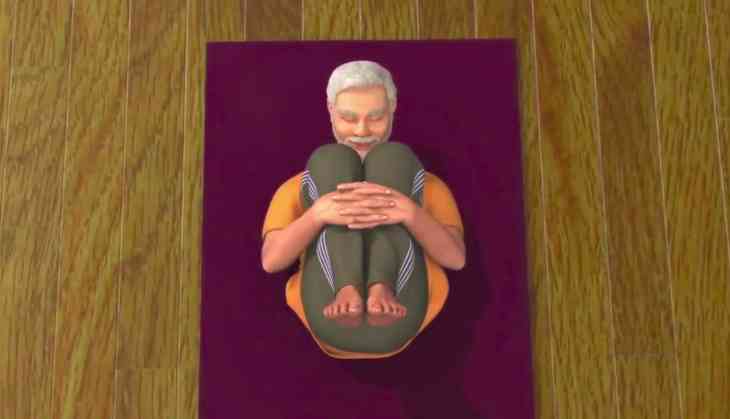 Prime Minister Narendra Modi has posted yet another video of Yoga asana ahead of the International Yoga Day, which will be observed on June 21.
In the latest animated video of PM Modi performing Yoga asana, Pawanmuktasana is also depicting the benefits.
PM Modi has been tweeting the animated videos of various Yoga asana since June 5, 2019, in the view to the Yoga 2019.
Dressed in an orange T-shirt, Prime Minister Modi's caricature version can be seen performing the Pawanmuktasana.
PM Modi on Friday (14th June) took to Twitter and shared a video with a caption, 'Sharing a video on the many benefits of Pawanmuktasana. #YogaDay2019'
See Video:
Sharing a video on the many benefits of Pawanmuktasana. #YogaDay2019 pic.twitter.com/Y4Ka8WWcl1

— Narendra Modi (@narendramodi) June 14, 2019
In the animated video, PM Modi has performed the 'wind releasing posture'.
The video has all the pieces of information about how to perform the asana at home and also about its benefits.
It is the tenth video shared by PM Modi on his official Twitter handle which is also motivating his followers and fans to follow him.
Meanwhile, the video has garnered over 50,000 views and over 10,000 likes on the micro-blogging site.
Know the benefits of Pawanmuktasana:
It is a type of modern yoga asana which is also called as Vatayanasana or wind-relieving pose.
Therefore, perform this asana every morning so that all the trapped gases in your digestive tract are released.
Read More: International Yoga Day 2019: HRD Ministry to include Yoga as compulsory subject; read details