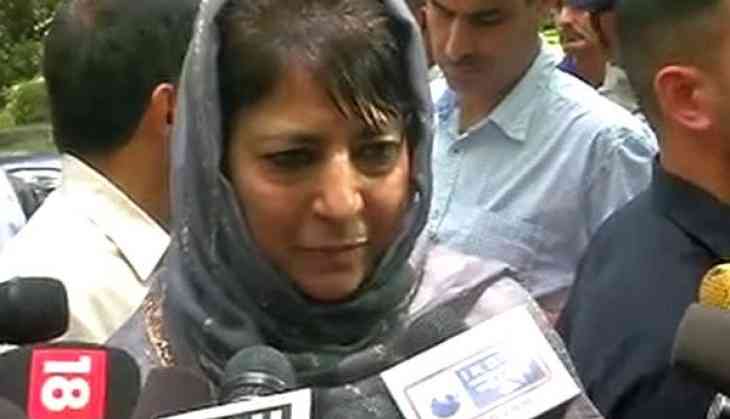 Will maintain that 'peaceful' Kashmir for which bravehearts sacrificed their lives: Mehbooba
Jammu and Kashmir Chief Minister Mehbooba Mufti on Thursday said they all have to work together towards maintaining that 'peaceful Kashmir' for which martyrs sacrificed their lives.
Mehbooba's remarks come on the occasion of 86th Kashmir Martyr's Day, while asserting that the 'Kashmiriyat' of the state is still alive.
Remembering the recent Amarnath terror attack, where seven pilgrims were killed and 15 others were injured, Mufti said the way all the sections of the society have come together and condemned the dastardly act it proves that the state is united and will not let those trying to disturb peace have to control the state.
"We remember the sacrifice of the martyrs who gave up their lives to attain a democratic state and a happy and peaceful Kashmir. Just like, all the sections of the state condemned the Amarnath terror attack, proving that the Kashmiriyat is still alive. They have proven that they will not let such things suppress them. We have to work towards achieving that peaceful Kashmir for which these martyrs sacrificed their lives," Mufti said.
The Kashmir Martyrs Day is observed on this day every year on both sides of the LoC to commemorate the supreme sacrifices of Kashmiri brave hearts they gave this day in 1931 when the Dogra troops shot dead 22 Kashmiris in front of the Central Jail Srinagar.
However, this comes just three days after the Amarnath terror attack, when a bus of pilgrims on their way to the holy cave shrine, was attacked by a group of terrorists, leading to the death of seven pilgrims and injuring 15 others.
-ANI