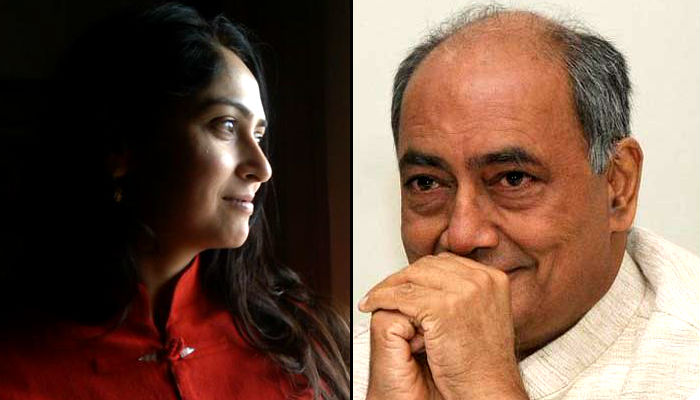 This morning the country woke up to some great Sunday-worthy gossip - that 'balding Congressi' Digvijaya Singh whom everyone hates for having a 'young journalist girlfriend' Amrita Rai, finally married her in Chennai late August. The news, confirmed by Indian Express sources, was further solidified by a post made by Rai on Facebook.
"I would like to share with my friends that I and Digvijaya Singh have married in a solemn ceremony, as per the Hindu rites. We have also later registered our marriage," reads the first line of her post which establishes that the couple cannot further be questioned on their relationship status.
It's 'love' not 'lust'
Speaking about her 'leaked pics' with Singh, Rai writes, "I was the victim of a cyber crime, but was treated as a criminal. I was trolled and abused in most derogatory language for no fault of mine.. But all during this period, I kept a dignified silence and went on with my work, believing in myself and my love for Digvijaya."
Her romantic pictures, which were widely circulated on the internet, were often shared with captions that termed her a 'gold-digger' or judged him for marrying 'his daughter' due to the age gap between them. Absolutely no consideration was given to the possibility that the couple was like any other, in love, and looking for privacy.
How could a minister be in love?
Reacting to Digvijaya Singh's budhape mein jawani tag, a rather offensive box that sexually active older people are often put into, sexual SMS/WhatsApp jokes about him being a pervert who ignores his ailing wife (for being old and unattractive, of course) and runs after younger women, started doing the rounds.
Digvijaya Singh lost his previous wife to cancer, back in 2013. Last year on Twitter, he admitted to his relationship with Rai.
I have no hesitation in accepting my relationship with Amrita Rai. She and her husband have already filed a mutual consent divorce case.

— digvijaya singh (@digvijaya_28) April 30, 2014
Once that is decided we would formalise it. But I do condemn encroachment in our private life.

— digvijaya singh (@digvijaya_28) April 30, 2014
Above 65 years of age, Singh is not considered an 'eligible widower'. And it's easily assumed that for a single woman in her forties like Rai, Singh can only serve as future investment. Like Jane Austen said, "It is a truth universally acknowledged, that a single man in possession of a good fortune, must be in want of a wife."
A clarification or an apology?
Rai's post, with each passing paragraph, reads more like an apology than otherwise: "I have married Digvijaya Singh for love. Therefore, I have already requested him to transfer all his property and belongings to his son and daughters. I only want to embark on this new journey with him, working towards a dignified, professional career."
The question here is, if Digvijaya Singh and Amrita Rai are happy in each others company, why does the general public need to question their reasons for marriage. And if there are any questions, shouldn't they be posed between the couple and within the family?
Rai furthur informs everyone that she has a mind and she can use it too: "I know, question [sic] have been raised and will be raised on the age difference between us. But I sincerely feel that at my age I know what is good for me and I can take my decisions as per my own wisdom."
Those on social media who reached out to Rai to pat her back for making the 'right' decision, spoke with an oddly unanimous voice. They congratulated her for 'maintaining her dignity' by slipping her finger through that wedding band.




The applause is a bit too loud, almost orchestrated. And it begs a question: did Singh and Rai have no chance without marriage?