Somi Das
| Updated on: 13 February 2017, 3:21 IST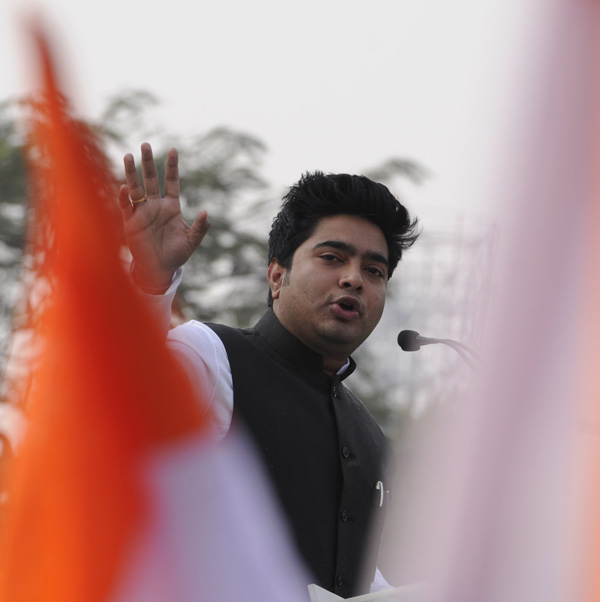 August 2010:
" I feel the way Azad was killed is not correct. Swami Agnivesh has made him agree to hold talks (with the government). What happened was not correct. I feel the process (for holding talks with the Maoists) should start"
---Mamata Banerjee, on the killing of Maoist leader Cherukuri Rajkumar alias Azad in Lalgarh.
July, 2015:
"During the four year rule (of the Mamata Banerjee led Trinamool government), only one person has died (in Jangalmahal). He is Maoist leader Kishenji. By killing him the Mamata Banerjee government has proved that people will have the last word,"
--Mamata Banerjee's nephew and TMC MP Abhishek Banerjee, on killing of Maoist leader Koteswar Rao alias Kishenji, in West Midnapore.
It is not an unknown fact that West Bengal Chief Minister Mamata Banerjee has changed her approach towards dealing with Maoists over the four years of her rule. However, her aggressive nephew, who is increasingly becoming politically relevant in West Bengal politics has put her in a spot with his statemen about Kishenji's death. While addressing a rally in West Midnapore on 18 July, he said it was the Mamata government that killed the Maoist leader.
Why this statement has sparked off a controversy?
When Kishenji was killed in 2011, Mamata was quick to distance herself from the event and denied any prior information of the killing. Back then she had said, " You know that we did not eliminate Kishenji in a planned way. That took place in a certain situation. I was then in Delhi. The police did not know about the death either. Had they come to know, then they would have announced it earlier." So, when her nephew makes a statement bragging about Kishenji being killed by her government, it makes her look bad in front of her political opponents.
Why Mamata distanced herself from Kisheji's death at the first place?
Before her massive Lalgarh election rally in West Midnapore in August 2009, Kishenji had openly thrown his weight behind the TMC leader. He said, "The Maoists will extend full support to the rally. The people of Jungle Mahal will protect all those who join the rally." In fact, during her elections campaigns in the run up to the 2011 Assembly Elections in Bengal she had even denied that anything like Maoists exist. "Let the Union Home Minister inquire into whether the Maoists and the CPI(M) have any connection," she had said in 2009.
But soon after coming to power she started having frequent confrontations with them. She even claimed that she was the top political leader on the hit-list of Maoists. Within a year of coming to power she brought the joint-forces back, which she had opposed before the elections. However, in her political rallies she would always add the caveat of peace talks to her stern statements regarding Maoists.
Was Abhishek Banerjee's statement a political one and reflects party's official stand?
Given the fact that Banerjee is seen as the heir apparent within the party, the obvious question would be if his statement is the official party line. Bengal based political analyst and a fellow of Maulana Abul Kalam Azad Institute of Asian Studies (MAKAIAS) Amiya K. Chaudhuri, however, rejects any such presumptions. Speaking to Catch, he said: "Abhishek is a young aggressive guy. What he said is not the official party line or something Mamata would stand by. He is not always politically correct and I can tell you with confidence Mamata didn't write that speech for him."